Leviticus 200/84: More Skodas .. on the Moor ....
Julian started buying Skodas a year ago … … then Laura rear ended a hapless ditherer on the A43 …. so they got another pictured here behind The Donald and the Reindeers.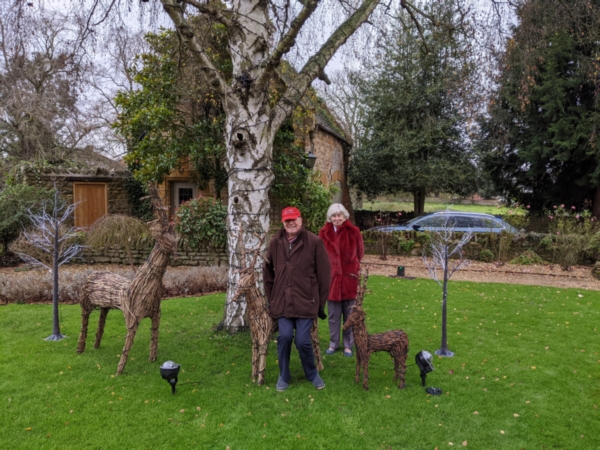 Then Mathew joined the Skoda Party ….more Skodas on Ilkley Moor by the look of it. So what's so good about them? They're both urging me to trade down from Maserati to join them with Skoda's fine new 100% Electric car that on a good day travels 300 miles between charges.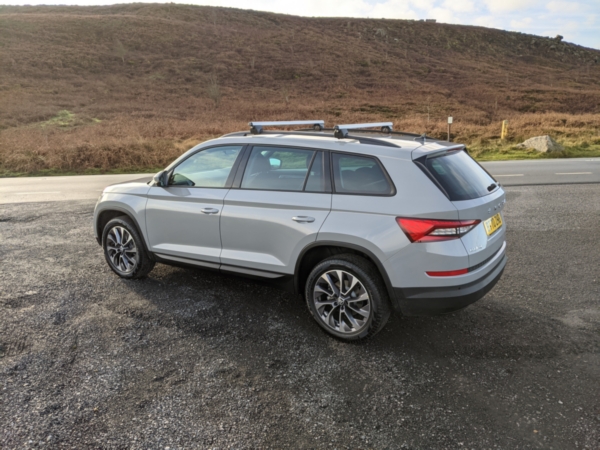 Today saw heroic efforts to reinstate the Weymouth landline. But so far not successful. It meant that when Bryan phoned on Sunday night we were unable to answer. The mobiles were working well so Avril could contact Pamela, still in Peterborough Hospital, and learn she has an order already in for Cod Mornay tonight. We're with the Second Coming of Ken's Chicken howsoever; and that well chilled Chateau Rousseau Sauvignon Blanc. I'm getting a taste for these French Savvies ….. We should have taken our Mystery Tour today as well although the fog across the Bay was obscuring all but one of our seven cruise liners. I thought they'd sailed away but as I write now I can see the "fleet's all lit up".
Skoda has been a name to conjure with for 150 years.
Škoda was established as an arms manufacturer in 1859. It merged with Laurin & Klement and established its Auto-Division in 1925. Laurin & Klement​ had started in 1896 as a velocipede manufacturer. 26-year-old Václav Klement, who was a bookseller in Mladá Boleslav, Kingdom of Bohemia, today's Czech Republic, then part of Austria-Hungary who was motivated to begin manufacture when unable to obtain spare parts to repair his German bicycle. Despite having no technical experience he decided to start a bicycle repair shop which he and Václav Laurin opened in 1896 - going into the partnership with Laurin was already an established bicycle manufacturer in the nearby town of Turnov. They moved to a newly built factory in 1898 and resolved to design their Slavia motorcycle making its debut in 1899 - the first motorcycle factory in Central Europe. In 1900 exports began and the press credited them as makers of the first motorcycle. By 1905 they were manufacturing automobiles second only to Tatra. The first model, Voiturette A, was a success and the company was established both within Austria-Hungary and internationally. After World War I the Laurin & Klement company began producing trucks but in 1924 after running into problems and affected by a fire on their premises they sought a new partner. That was to be Škoda - an arms manufacturer and multi-sector concern in Pilsen which had become one of the largest industrial enterprises in Europe and the largest in Czechoslovakia. It was determined to enlarge its non-arms manufacturing base and together began manufacturing cars eventually under Škoda's name. An assembly line was used for production from 1930 onwards. After a decline caused by the economic depression Škoda introduced a new line of cars in the 1930s which significantly differed from its previous products. A new design of chassis with backbone tube and all-around independent suspension was developed which became the basis for models right up to the final Favorit. During the occupation of Czechoslovakia in World War II the Škoda Works were turned into part of the Reichswerke Hermann Göring serving the German war effort by producing components for military terrain vehicles, military planes, other weapon components and cartridge cases. RAF and US air forces bombed the Škoda works repeatedly between 1940 and 1945 which resulted in the almost complete destruction of Škoda works.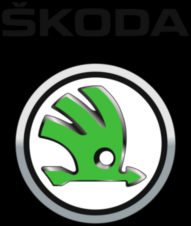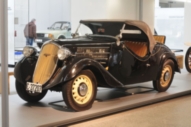 After World War II Škoda recommenced car manufacture with an updated version of the pre-World War II models, part of the communist planned economy. In spite of unfavourable political conditions and losing contact with technical development in non-communist countries Škoda retained a good reputation until the 1960s. By the late 1980s Škoda was still manufacturing cars that dated back to the 1960s but rear-engined models such as the Škoda Estelle and Rapid sold steadily and performed well against more modern makes in races such as the RAC Rally in the 1970s and 1980s. They won their class in the RAC rally for 17 years running. In spite of its dated image and becoming the subject of negative jokes – What do you call a Škoda with a sunroof? A skip! – Škodas remained a common sight on the roads of the United Kingdom and Western Europe throughout the 1970s and 1980s. The Rapid was once described as the poor man's Porsche. After the fall of communism in Czechoslovakia, a competition to acquire Skoda between BMW, GM, Renault, Volvo, Volkswagen, Ford, Fiat and Mercedes-Benz was eventually won by Volkswagen … and Julian and Mathew assert that the rest is history! I don't think I'm gonna break a habit of a lifetime though …
Published Date: December 7th 2020