Leviticus 199/84: Ken Morrison's Legacy Lives On ... and Frankie?
Reticence about birthdays can be so endearing! But dating an ageing England footballer would be a tad much at an exotic seaside resort … the yachts in the background are clearly modest ….. however the spode dinner service and the green peas set a perfect scene in front of the Aga. Early birds sending birthday wishes were rebuffed however so it had to wait till Facebook announced the event for the final salutation to be given.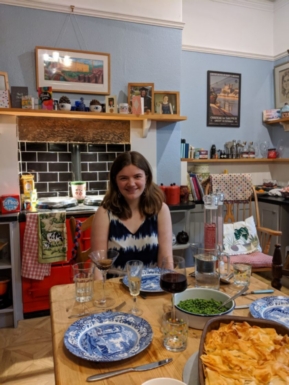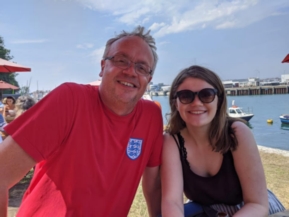 Got Joan and Susan Waters reading existentially! Just as I'm thinking of a eulogy to Ken Morrison Joan writes from Beckenham foretelling her 90th birthday and that Waters only had one 't'. Knew that really; must be a misprint! Susan's been reading too … it's the pictures that gets them as Avril wisely said. It's proving to be a browsing book, pick up for 20 minutes then do something important. Joan told of the demolition of the Robin Hood pub at Anerley which is now an ASDA with traffic jams all the while at the junction and they have another at the old Lower Sydenham gasworks. She recounts how as a child she was advised by her GP to sniff town gas for her bronchitis. That would be before Aneurin Bevin established the NHS in 1948; my advice to get a dog came long after but evidently not on prescription. My suggestion to encourage smoking to reduce obesity was laughed out of court by the same GP.
So why Ken Morrison in Weymouth? We're convinced without any research evidence that when Safeway sold up Morrison acquired the excellent store we've always patronised here in Weymouth. It has seen Sainsbury arrive immediately next door and now even a Lidl and an Aldi within half a mile and a large ASDA on the harbour. Its excellence stems from the fresh fish and meat counters and the grand displays of fruit and vegetables. The bread area has deteriorated lately as all items are now wrapped in cellophane but the date and walnut loaves are still regularly available. It's not turned over large areas to clothing yet either which is a blessing methinks. It's café is not the best; they do better somehow at Berwick-on-Tweed where we sometimes pause for breakfast en route home by car. But emailing with Joan reminded me that I always stated as a youngster [so I am told] that I wanted to be a Sainsbury's Headmaster one day. They were in my youth and just after WWII limited it seemed on bacon and eggs and cheeses … certainly not a full provisions shop. We queued at first one counter then the next and the purchases were wrapped individually in greaseproof paper. Back to Morrisons then … we decided chicken for Sunday dinner expecting Bryan and Anne to call as we sat down but then we remembered, the landline phone here is not working. Julian and Laura had told us, we'd experienced on our October visit but then forgotten, so Monday's task must be to attempt to sort it through. We couldn't find any Dorset Blue Vinny cheese either so that's another job for Monday too …
Should Leviticus revert to Exodus yet? … certainly not before 200 Blogs! That seems like an unavoidable destination … as do Brexit trade outcomes ….
Published Date: December 6th 2020