Leviticus 198/84: Escape to Weymouth via Swarkestone Bridge ...
That was 5hrs 30mins driving … ouch ... … but an essential, welcome and necessary excursion! We, the Battle of Prestonpans [1745] Heritage Trust, were duty bound to place a wreath at Swarkestone Bridge to remember the furthest point south the 'The still 29 year old Prince' reached in December 1745, 275 years ago; dutiful to the Charles Edward Stuart Society in Derby that had set such a fine example following the 250th Commemorations. For 25 years they have been a exemplar for us tardier brethren. Certainly our Prestonpans Trustee Pat O'Brien had played a leading role in ensuring a re-enactment at Meadowmill and Bankton House restoration in 1995 but we frankly made no progress beyond that until 2006. The wreath I laid was as usual created at home by Avril, this year with rosemary and red + white carnations with our 275th Commemorative Logo on the small card attached.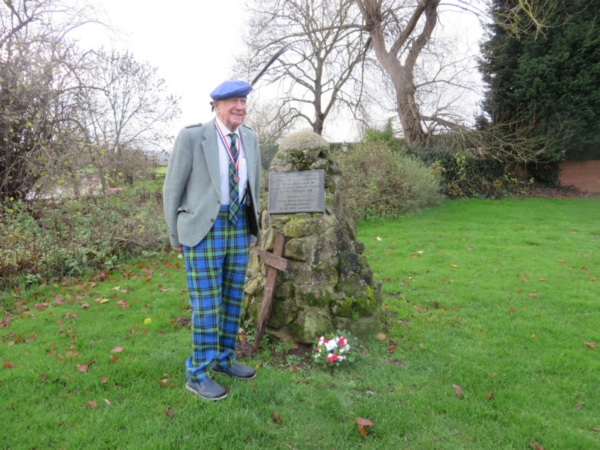 In Derby they instituted and sustained events on the Saturday at Swarkestone Bridge and on Sunday at Cathedral Square. The Prince attended Sunday church in that very Cathedral and so did Avril and I and myriad others over the years. But perhaps most powerfully of all they erected the only statue in the UK to The Prince right there in Cathedral Square by Anthony Stones in 1995. It was to Derby we turned for initial insights, visited the Exeter Room, and where we always found encouragement; and it was in Derby that Arran Johnston grew up and earnt his first spurs as Prince. [He's pictured in Prestonpans in 2018 on his own horse - no statue yet!]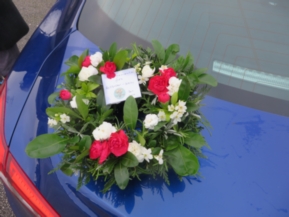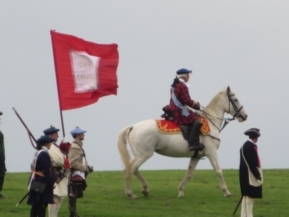 Stage 2 to Weymouth began at 1pm. The senior team from the Charles Edward Stuart Society were at Swarkestone too but under the Rule of Six we were forbidden to do more than exchange brief and distanced greetings. That duty fulfilled, and pleasantly so, with a calm River Trent flowing by, we ventured back down the M1 and the A5 then the A43 and the M40 to the A34 and A303 at last turning south west on the A354 towards Tolpuddle, the A35 and eventually Weymouth on the A354 again. The only mishap was for the A35 where flooding seemed to have given delays of 10 minutes and SatNav gave us a circuitous route that achieved the necessary avoidance. By 5.30pm we were unloading the Maserati and ready for supper - there had been thoughts of fish and chips en route but we were too early for that. Avril conjured some supper and I bemoaned my repeated failure to leave a bottle of white wine in the refrigerator each time we head back to Milton. There was good news of course; the leaky glass roof in the kitchen has been fixed and the ceiling repainted. Not such good news though from The Gothenburg where the Bistro ceiling has again received rainfall from the balcony area we'd only recently fixed!
Weymouth Bay still replete with cruise liners! Can't help noticing they're still there and despite the potential end of Peter Townshend's lease on Aunty Vi's early next year the wild swimmers [early morning dips!] were in abundance as morning dawned and I headed out for the newspapers I must perforce purchase here in Weymouth …. including the Dorset Echo of course ….


Published Date: December 5th 2020