Leviticus 197/84: Birthdays beat Christmas .. plus Coffee Machine ...
Elliot and I began at 1/84 with the Maserati … … and looks like we'll have a similar intriguing tale as we retrench again to Exodus! After delay on getting parts the car was finally ready by 9.30am today and I collected. To note, 'Elliot's' coffee machine also made its way north via Nottingham to Maureen in Ilkley after Mathew's birthday presents pickup at The Manor House accomplished beneath their timeously erected garden gazebo [as pictured]. He had dropped Kathryn at school at 6.30am so he was in Milton by 10am and ready to travel on to make Nottingham and transport Francesca home from Uni there to Ilkley, all in time for her birthday on Sunday. My next task for the day was shopping for the carnations to go onto the Battle Trust's wreath we are due to take to Swarkestone Bridge tomorrow at 1pm … and thereafter on to Weymouth. Nice card from Sasha Brown [née Daffern] for Christmas … decided my response should be Existential Normal since she did reflect on how it had affected one and all. Her father Jeff seems settled in a care home after the death earlier in the year of longstanding friend Susan, the first who came to work with us at MCB in Bradford in 1967. Sarah used to stuff leaflets in envelopes as a child but later rose to heights in the Yorkshire Police. She came with me to Acapulco in 1977 when we were in Tulsa and I had a stint with the UN there.
Mathew was singing Happy Birthday for me … His gift we are assured is in the post and must be refrigerated on arrival. Not sure whether we'll be back in time from Weymouth … and only just remembered to seek to cancel the newspaper during our absence …. but Avril beat me to it and suggested we leave as is and suggested that Jules & Laura collect and read as they come …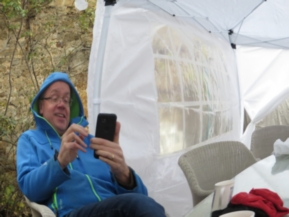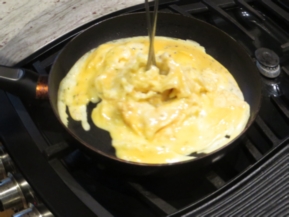 Today's Daily Telegraph reported on the craze for Eggs Tornado … …. so for lunch today Avril had a shot at it. Not for myself since I was on my Ginster's Murals Town in Cornwall Steak and Pepper Pie with grilled tomatoes. The picture tells the story and the reader/viewer must judge whether it looks like a tornado or an omelette.
Dedication to the Saxaphone .. enfin!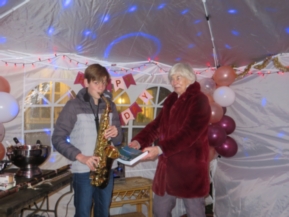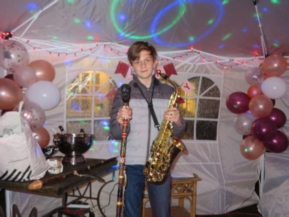 The pictures don't lie. Avril presented Elliot with his copy of the book dedicated to his saxophone and in return, Yes, Elliot played a few chords. He also had the Lochnaw Talking Stick with him to grace the occasion. This scene in the same gazebo as earlier but as can be seen bedecked now with lights for an upcoming 50th birthday surprise for a Milton friend who'd had to cancel 'all' her planned celebrations! Reports are the celebration went well beyond the time scale of invitational afternoon tea … yet stayed always honourably within that Rule of Six ….


Published Date: December 4th 2020