Leviticus 190/84: Black Friday ... but a White Queen
Pamela joins Julie in Peterborough Hospital. The troubling news today was that Pamela needed an urgent operation so yesterday she'd joined Julie Healey who was already there. News of their progressions were anxiously awaited during the day but by early evening the messaging was better: Julie was going home and Pamela had had her operation without too many complications and was in IC. More news soon ….
Catch up with that turkey dinner then … Avril was in command of the camera so I'm in the picture this time. It was an excellent bird, moist and brilliant alongside the freshly made cranberry sauce. And I needed to correct my error about HM The Queen's head on the 1st Class Christmas stamp this year … she's there, reversed out as the White Queen.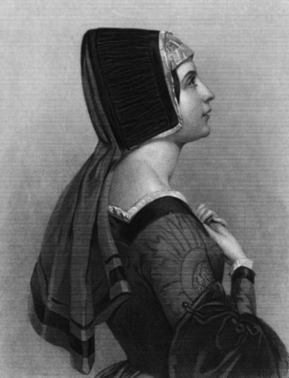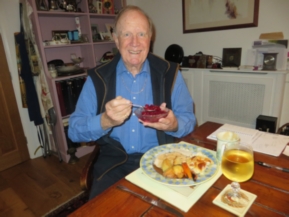 The most famous 'White Queen' was Queen Elizabeth to King Edward IV from 1464. She was born here in Northamptonshire at Grafton Regis and married him in secret. Pictured here in black … she was from a family of lapsed red rose Lancastrian supporters but married into the Yorkist cause after her husband was killed in the Wars of the Roses. The House of York wore the white rose that gave her that perpetual designation. Elizabeth's first clear contact with Edward's court came in April 1464 only a few months before their marriage. Legend has Elizabeth waiting for Edward under an oak in Whittlebury Forest, a helpless widow, hoping to plead for the inheritances of her sons of her dead husband. Perhaps he did come riding by, hear her problems and fall in love. When she became aware of his intentions and agreed to become his wife she must have agreed to collude in his veil of secrecy. Together they had 10 children one of whom, her daughter, subsequently married Henry VII later making her grandmother to Henry VIII. It will be recalled [Blog 160/84] that the Battle of Northampton was a decisive moment when the Lancastrian Henry VI was decisively defeated and captured by the Yorkists and, despite several attempts to recover the throne, the Lancastrians eventually accepted defeat in 1471. HM The Queen today heading for her Platinum Jubilee next year is Duchess of Lancaster with, Yes, Michael Gove as her Chancellor. This all seems a useful contrast to all the blackness of Friday!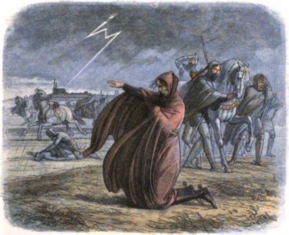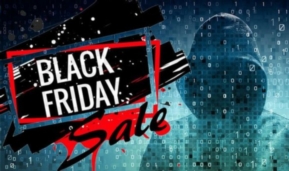 Black days of the week? Black Friday nowadays most frequently describes customer positive if nonsensical pre-Christmas sales egged on in Britain originally by ASDA, a US/ Canadian Walmart subsidiary at the time and then Amazon. But that positive use is abnormal. Black Friday didn't originate as a positive; Philadelphia Police claim to have originated the notion [and Black Saturday as well!]. In the 1960s they began referring to the day after Thanksgiving as Black Friday because it was a day nobody in the Department wanted to work thanks to massive traffic jams in the city and overcrowded sidewalks filled with not only shoppers taking a long weekend break but also attendees of the important annual Army-Navy Game! Retailers naturally saw the positive benefits and adopted the expression with glee.
So it's a fact the adjectival use of black which has graced Mondays/ Fridays over the centuries usually retelling negative tales as would be expected. Ectyping wildly first up is Monday April 13th 1360 when 1000 English soldiers in France for the 100 Years War were killed in a ferocious storm. Tuesday and Thursday, October 24th & 29th 1929 were dubbed black because on the 24th the NY Stock Market started to collapse and on the 29th the rout was complete. Black Wednesday is in my own living memory as September 16th 1992 when after defensive efforts and sky high interest rates, the UK left the European Exchange Rate [ERM] mechanism with speculators making or losing millions. One George Soros bet against the £ and pocketed over $1 billion as a result. A second bad Black Friday in my memory was October 16th 1987. Michael Fish for the BBC forecast no hurricane storm in the evening of 15th but on 16th one hit the south of England with gust of 136mph and regular wind speed of 87mph taking out as it gusted six of the Seven Oaks of Sevenoaks in Kent and wreaking billions of pounds of damage. The eponymous oak trees have been replaced several times over the centuries. In 1902 seven oaks were planted on the north side of The Vine cricket ground to commemorate the Coronation of King Edward VII. It was these that were replaced with eight new plantings. Over the road on the Old Pound Green two much younger oaks of North American origin also met their fate. Seven had been planted in 1947 by personnel from the Royal Canadian Air Force [RCAF] in gratitude for their local wartime billeting in the town and thankfully the remaining five of these still survive. The ultimate official verdict on 1902's commemorative planting was: "They were the wrong sort of trees, they were fast growing Turkey Oaks ….. …. thought that concluding phrase would be appropriate coming so close to the Thanksgiving turkeys and the Presidential Pardon segments of these Blogs … as we ponder the Right/ Wrong Restrictive Tiers in which have been placed to combat the pandemic till Christmas ….
P.S. … and of course it's Friday so Coffee Morning was duly observed and tonight @ 6.30pm it's Phone & Collect Fish & Chips and Mushy Peas from The Greyhound pub car park in the village … the service was good and the food well up to par. More costly than Richard's but closer to home and next week the pub will open its doors as well.

Published Date: November 27th 2020