Leviticus 189/84: Thanksgiving for The Donald and Returning Joe ....
It's a McGonagall Day ... For lunch it's Christmas Pudding [just testing] and for Dinner it's Turkey and Cranberries [freshly defrosted]. Can't do better than that and I began the day with 15 minutes [once again] on the exercise cycle. Then off for banter at Blisworth Post Office where, because Avril's returning Cotton Traders Parcel was gratis, the Postmaster insisted I should buy some stamps anyway. I came away with 50 x 1st Class only to discover that in return for a stained glass styled image this Christmas HM The Queen has had her head taken off … [OOps error! it is there but reversed out white] just when last night we could have watched Anne Boleyn on tv. And now I've just discovered she was born on the Blickling Estate where the only known portrait of Sir John Cope is to be found in the care of the National Trust. We had a McGonagall Supper at the Gothenburg a good few years ago … you eat the menu backwards and seek to compose the worst conceivable poetry as he deliberately did.
What to be grateful for then .. this Thanksgiving? Well some would say the end of the Trumpian Nightmare both for the US itself but also the Chinese and Iranians with whom he deliberately picked arguments. But as I've often remarked he has greater achievements than Obama in seeking to refocus issues in the Middle East, confronting China on its international trading behaviours including Hong Kong and in being willing to deescalate military engagements in Korea and Afghanistan and refraining from intervention in Venezuela. And economically his Reaganomics were a success. He is the first G7 political casualty of the pandemic; will Macron be next and Boris later? What can we now hope for from accidental Presidential victor, Joe Biden? Hopefully no nonsensical chatter about the Good Friday Agreement being infringed by Brexit; and an improvement on Obama whom, let's not forget, he served as Vice President for 8 years.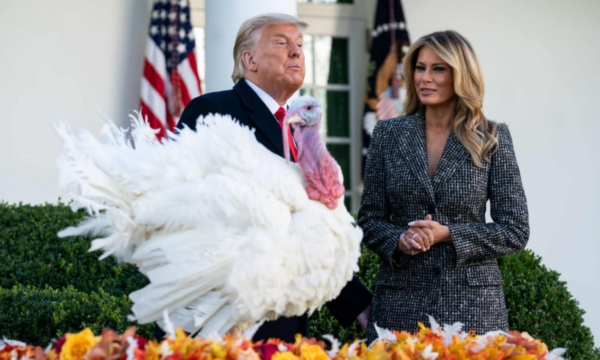 Presidential Turkey Farm offers either Corn or Cob for a Pardon. Corn was the Twitter voters winner! Here's some of what The Donald had to say: "The story evidently began with Abraham Lincoln's son pleading with his father to spare the turkey at Thanksgiving although by then it was a family celebration that had begun hundreds of years before. When the pilgrims that had landed on Plymouth Rock, the bravest men and women of the Mayflower, they had endured a bitter and dangerous winter. Many were sick, most were starving and all were praying for a miracle. Thankfully, God heard their prayers and their first harvest was good and they ate turkey. From our earliest days America has always been a story of perseverance and triumph, determination and strength, loyalty and faith. This particular week is very unusual but in so many ways has now become very good. We've endured and been able to endure, and now vaccines are coming out one after another. It's an incredible thing that happened. One of the greatest medical achievements that this planet has ever seen". Certainly these emerging vaccines stand significant comparison with that first harvest in America and that first Thanksgiving with turkey - which is native to North America so not surprisingly the centre of celebrations. George W Bush was the first President to formally introduce the Turkey Pardoning Ceremony at the White House and you can be sure Lincoln's son would wholeheartedly approve.
Tescos Click & Collect today, again. Yes, back to our local Hunsbury. Although I do a good spot of shopping for things that cannot be clicked - yesterday it was Gardeners' World Christmas issue and 5 birthday cards which gave the welcome opportunity to acquire a timeous and delicious cranberry, raisin and sunflower seed loaf of bread. No fish pie or Richards take out tomorrow though; we are opting for the tempting offer from our local Greyhound for their take out fish and chips. The Dolphinstouns commended it last week …
What Tiers would Milton/ Ilkley/ Weymouth/ East Lothian be offered? So far tolerable as Tier 2 for us all except the Prestoungranges in Ilkley in Yorkshire who are destined for Tier 3 with maximum restrictions. That implies that if we see them in Yorkshire at all it will be a one day open air visit. So far as Swarkestone Bridge is concerned December 5th/6th [Derbyshire's in Tier 3] it will necessarily be us independently laying a wreath unless we assert that it's a heritage/ funerial occasion outdoors with 30 allowed. East Lothian is in Tier 2 also so that's great for The Gothenburg team.
Our treasured public services in a quandary. The Winter Fuel Allowance system for the auld has exceeded itself by not only sending me a double helping because Avril and I are together as pensioners at The Lodge but an extra to Avril at The Manor House. After holding for 15 minutes on their Help line they were surprised. On learning of their error they resolved that they'd have to pay Avril her £150 and then ask me for a refund later. Well as promised we fessed up and I await the request for me to send some back …. Trust it's not the same computer as the NHS will be using for the vaccination programme ….



Published Date: November 26th 2020