Leviticus 188/84: Jukebox Day & Spending Review by Chancellor
Start with the financial news then … Yes, after much lobbying a temporary pause on 0.7% of GDP going to overseas aid reducing it to 0.5% was included; as was freezing almost all non NHS public sector pay whilst the Minimum Wage still rose as have old age pensioners triple lock awards. What was clear is the extraordinary sums still going into the NHS not only for the pandemic but for trying to address the myriad 'other' medical needs of the population. Once again in place of any of the promised reform more funding was 'thrown' at social care including local Council Tax precepts. Nonetheless the manifesto driven Marshall Aid approach to infrastructure investment and levelling up northwards has not been sacrificed nor has the allocation of funds to house building initiatives, skills training, FE sector improvements and employment support. All this as we are poised later this week or early next to hear how the EU trade deal has finally worked out assuming it has. Rishi Sunak was fortunate as Chancellor to be able to introduce his plans at a time when three viable vaccines appear to be on the horizon .. the cavalry can be heard afar off and we all trust it's not a Charge of The Light Brigade.
ZOOMed with EventScotland re Salvation Week September 2021. Listened in to a webinar on the EventScotland Emergency Funding approach and have readied Martha Bryce to explore what sort of mega marketing and PR campaign we can orchestrate to maximise visibility and attendances at a whole sequence of designed but postponed events. And will we be at home in the Town Hall by then even as a base? Whilst it will have cost implications it could provide an excellent anchor point for the Interregnum. It's the only idea afloat and it's not attracting any disagreement thus far ….



So now to making our musical choices … from our Jukebox! The name jukebox is thought to originate from places in the US called 'juke houses' or 'jook joints.' In the early 1900s people congregated in these establishments to drink and listen to music. It began in 1889 when Louis Glass and his partner William S. Arnold, both managers of Pacific Phonographic Company, invented the first coin-operated player in San Francisco. It was initially known as the nickel-in-the-slot machine with the coin operation feature on an Edison phonograph. It played but a limited selection of songs without any amplification but continued to evolve. When recording artists first crooned into microphones and cut records into vinyl an aspiring inventor in a Chicago music store worked nights to build a box that would play both sides of the record. "While the Blue Grass Boys played to sold-out audiences in the Grand Ole Opry, guys and gals danced the night away by playing their song over and over again on the jukebox at a local pub". With the advancement of technology today's jukebox is more versatile than ever with touchscreen interfaces responding to the swipe of a finger or controlled by a mobile APP. A vast virtual library of songs includes back catalog jukebox heroes alongside top artists of today and it's now up against live streaming! But its romance remains and the day was chosen to be Thanksgiving Eve so it could provide the right ambience as families gathered across the country. Throughout each and every era – from big band and jazz, country and blues to rock & roll, acoustic and electric and everything in between — jukeboxes have played it all.
The boxes themselves! 1889: The first coin-operated player was invented in San Francisco by Louis Glass and his partner William S. Arnold. 1905: The "Automatic Entertainer" was introduced by John Gabel and included 24 song selections. The 1930s were considered "The Golden Era" for jukeboxes as manufacturers including Rudolph Wurlitzer, J. P. Seeburg, Rock-Ola Manufacturing and Automatic Musical Instrument all competed to produce them for diners, saloons and other entertainment locations. 1946 ushered in "The Silver Age" as market demand for the newest and greatest technology soared. Fashionable and sleek jukeboxes weren't just music players they were centerpieces often flamboyant with colour and chrome. Neon and sci-fi became a tremendous influence on style as well. The 1960s was the start of a new modern age for jukeboxes. Designs went through radical changes not only because of the availability of new materials such as plastic but also because of the need to accommodate customer demand for greater song selections. In 1989 compact-disc mechanisms replaced the older record style players as such newer technology became affordable and rapidly implemented among the general population. Jukeboxes became more of a novelty than a necessity. In 1998 TouchTunes introduced the first digital networked music jukebox with customers selecting from a library with 750 digital songs. 2010 saw TouchTunes release the first-ever social jukebox mobile APP on iOS and Android which allowed users to find nearby jukebox locations, create playlists, and queue up songs on the jukebox directly from their phone. In 2011 TouchTunes again revolutionized in-venue entertainment with the launch of Virtuo, a multi-application platform designed to appeal a tech-savvy audience with users choosing from hundreds of thousands of songs. In 2014, TouchTunes introduced the next wave of innovation with Playdium, a smarter jukebox that dynamically updates the user experience to showcase the music most relevant to each location. In 2016 TouchTunes revamped the mobile APP experience to allow music fans to be the DJ like never before offering an intuitive music-first design and improved usability to better control the jukebox. What a tumultuous journey in just 129 years.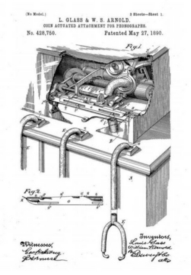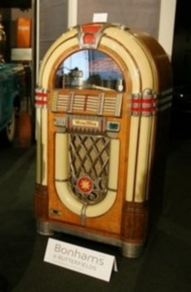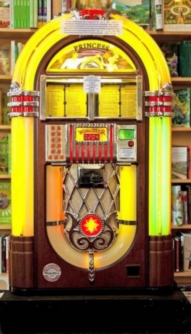 … and of course immortally from Teresa Brewer ….
Put another nickel in
In the nickelodeon
All I want is having you
And music, music, music

I'd do anything for you
Anything you'd want me to
All I want is kissing you
And music, music, music

Closer
My dear, come closer
The nicest part of any melody
Is when you're danciong close to me

So, put another nickel in
In the nickelodeon
All I want is loving you
And music, music, music

Put another nickel in
In the nickelodeon
All I want is having you
And music, music, music

I'd do anything for you
Anything you'd want me to
All I want is kissing you
And music, music, music

Closer
My dear, come closer
The nicest part of any melody
Is when you're danciong close to me

So, put another nickel in
In the nickelodeon
All I want is loving you
And music, music, music

C'mon everybody
Put some nickels in
And keep that old nickelodeon playing
Music, music, music
….. Lum, dee, dum, dee, da dee dum




Published Date: November 25th 2020