Leviticus 181/84: Hearing Hidden but definitely 'better' Audible....
Build Back Better … That's the national slogan at present so I'm doing my best with my new hearing aids. I'm also shipping the auld Specsavers set off to Bryan and Anne in Edmonton to see if they can try them out there. They'll be programmed to my needs of course so the challenge for them will be to find a specialist who can reprogramme to suit their needs. To do that you need Hearing Tests first then adjustments next … should be possible and it's well worth the effort. My new kit now in place as I type these bons mots and it gives much better 64 dimensional capture of sound and the ability to choose different noise characteristics as well as different volume levels. And there's no need for new batteries all the while; just plug earpieces in overnight and they recharge from the mains. And most exciting of all there's a special solo access to my hearing aids for a tv …. but that requires advanced plug in capabilities at the back of the tv set. We'll see … big instruction booklet to read but we moved the chest of drawers by the bed 6" left to enable the plugs to come and go easily.
Here's the new panel from Selkirk Settlers in Wallaceburg, Ontario. I told the story of Carolyn getting her local stitchers to work and of Katherine Maclennan's design but the fine jpeg's just arrived so here it is.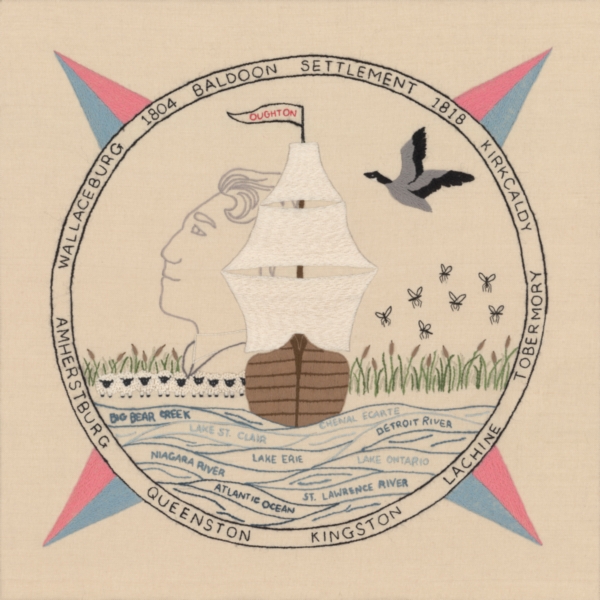 The explanation is summarised here - the gentleman pictured is the optimistic Lord Selkirk with high hopes for a prosperous settlement; the ship pictured is the Oughton that carried the settlers; Kirkcaldy, Tobermory, Lachine, Kingston, Queenston, Amherstburg, Wallaceburg indicate the departing landmarks and stops along the way; Atlantic Ocean, St. Lawrence River, Niagara River, Lake Ontario, Lake Erie, Detroit River, Lake St. Clair, Big Bear Creek and Chenal Ecarte are the waterways travelled by the settlers; the primary industry of the settlers was to be sheep farming but that did not prosper on the marshy habitat; cattails represent the marshy landscape that proved to be a breeding ground for mosquitoes with seven representing the seven heads of families that died of malaria; finally the black goose is a symbol of the Baldoon Mystery [?]
P.S.. … for 179/84 where we discussed The Ramsay portrait of Bonnie Prince Charlie. It would seem that there's a major flaw in the authentication of the portrait from the Valet's letter to Ramsay. It was sent on October 26th 1745 with The Prince already packing to leave for his march into England. The evidence seems pretty powerful that whoever painted it it wasn't Ramsay …. and the main arguments are being advanced by Peter Shaw, a long standing enthusiast for Jacobite art. Do we care at the Battle Trust 1745? No. We long ago decided to paint our own authentic artwork.
Waitrose delivery tomorrow … Thought we'd never had the honour before but evidently we have. We did do their first ever Click & Collect at Towcester quite recently and got a free box of chocolates in thanks. But today I collected my prescriptions from Tescos and en passant found 25% off Malborough Savies and Chianti Classico so long as I bought six of each …. so I resolved not to resist temptation … and when I gt home I found the 50 copies of Existential Normal had arrived. Now to get the Post Office discounts arranged for shipping with Sylvia's special wholesale deal. And arrange the impressive Handover Ceremony to Elliot Yr of Lochnaw's Saxaphone to whom the book is dedicated. He's gotta play that day … or we'll get streamed music ….


Published Date: November 18th 2020