Leviticus 178/84: Julian's Flowering Pears make The Fall
This is their first year … …. although his beech hedge is three years on now … The pears are destined to maintain their shape as they grow and deliver no fruit in the years ahead but are the new roadside look of the Manor House. In the background the sycamore has already shed its leaves but not yet the unseen here magnolia [not grandiflora] which lives on within gravel driveway extended and provides parking for the Maserati Quattroporte. The small conifer given to us by Jean and Bill decades ago and the white lilacs have been lost in the new landscape.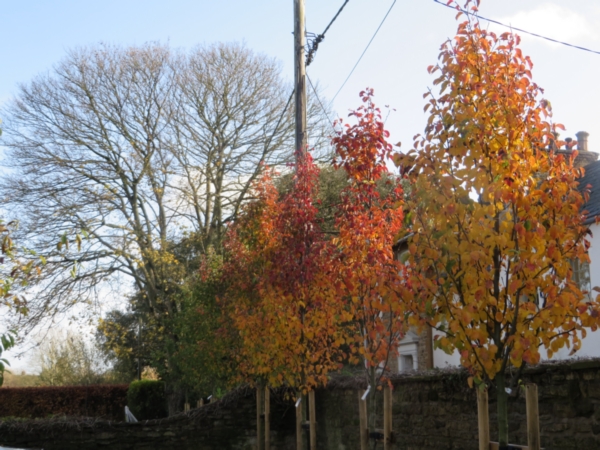 Further west along the roadside the trees and occasional shrubs were replaced three years back with a high beech hedge which can now be seen below in full maturity as autumn moves along. The holly tree by the garage still bears many berries which folklore tells will be taken away by birds on December 1st, promptly.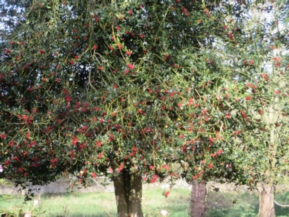 Today sees me at work still, penning Minutes of the ZOOM eMeeting of the 1745 Battle Trust. Pity to be indoors at the Dovecote because despite forecasts it's been a sunny morning. We began quietly with both the Sunday Times and Telegraph to browse .. full really of old news of The Donald/ the Vaccine/ Dominic Cummins. Scant mention of the cease fire on the Azerbijan/ Armenian frontiers and enclaves … or even comparative analyses of covid19 across Europe or the globe generally. Joe Goldblatt raised two suggestions for the expansion of the Board of Trustees that are intriguing. The first, John Rattray, is well known to us as the Captain of Golf at Leith Links when the world's first set of Rules were agreed. John Rattray joined the Jacobite army just after victory at Prestonpans on 21 September when the call went out to Edinburgh surgeons to care for the wounded. Rattray rode the five miles from his house at South Foulis Close near the foot of Edinburgh's High Street with his colleague John Lauder, Deacon of the Incorporation of Surgeons. Lauder later claimed that they treated some 300 wounded and accommodated many of these at their own expense. Rattray stayed with the Jacobites into England then retreated from Derby eventually becoming Surgeon-General and personal surgeon to Prince Charles. After defeat at Culloden John Rattray surrendered to the Hanoverians and, imprisoned in Inverness, he and Lauder were not allowed to treat the wounded among their fellow prisoners. Both were eventually pardoned in 1747 on the word of fellow golfer Lord Forbes with the reluctant agreement of the Duke of Cumberland. Joe's second suggestion is of a distinguished Gaelic singer Dolina Maclennan. Both will need following through …… He also made strong suggestions aided by Sharon and Martha on how to structure the Friends of The Bonnie Prince as a subscription group/ potential donors which will go live on the 300th birthday.
Published Date: November 15th 2020