Leviticus 175/84: Empty chairs but not for long!
Avril's idea .. beautiful Duffel coats … The idea is that we commune with those at The Manor House through the open door which avoids breaking the law! And of course it worked … at 1.45pm all four assembled, us to the west and Jules and Laura to the east. We got the latest Bulletins on Gerry's uncomfortable progress after his open heart surgery - the taking of veins from his leg to use for his heart bypasses [?] had left his right leg painful and the District Nurse had called and whistled up some antibiotics for him; news of Henry coming home with a better report [for once] than Elliot from Wellingborough - is that because he has no extra football out of school? We learnt that the new discipline is the parents no longer chase up homework, just remind the lads they face the consequences of not doing it if thy don't. We learnt that Henry fell asleep in front of his laptop when he failed to show for his mid-evening snacks … I boasted of my £6,000 Grant from Bòrd na Gàidhlig and wondered how we were going to deliver it all … and Avril got guidance on where to find Click & Collect Tesco in Wellingborough - a new destination for us. Avril went solo for this excursion at 3pm today and white Savies were out of stock ….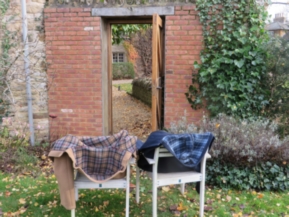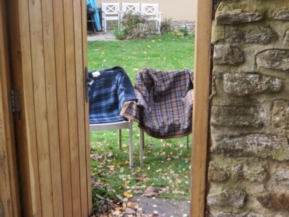 … so you're all wondering what a Duffel coat really was/is? A duffel coat [also duffle coat for example in Canada] is a coat made from duffel, a coarse, thick, woollen material and derives from the eponymous town in the province of Antwerp in Belgium where the fabric originated. The hood and toggle fastenings proved popular and the coat spread across Europe by the 1850s. By 1890 it was being supplied to the Royal Navy. There are many variations of duffel coat but the basic British style features genuine double weave woollen duffel fabric lined with a woolly tartan pattern [click to see our's] or plain in the military version. There are three or later four front wooden or horn toggle and leather fastenings and two large outside patch pockets. Originally knee length you can now get shorter with a buttonable neck strap. The toggle-fastenings are designed to be easily fastened and unfastened while wearing gloves in cold weather and the original hood was oversized to allow room for a Royal Navy cap. It was the British outerwear manufacturer John Partridge who developed the first version of the duffel coat in the 1850s. In the 1890s the British Admiralty purchased the coat in quantity for the Royal Navy where it was referred to as the "convoy coat" and was a camel-coloured variant during World War I. The design was widely issued during World War II. It became known under the nickname "Monty coat" and in Italy as well as in Greece it's still called a Montgomery after Field Marshal Viscount Bernard Montgomery of El Alamein who often wore one. [He's pictured below, secondly in his famous caravan where he kept a portrait of Rommel on his wall. In searching for these images he was far more frequently to be seen in a parka style coat.]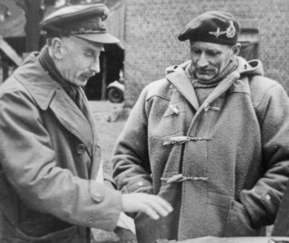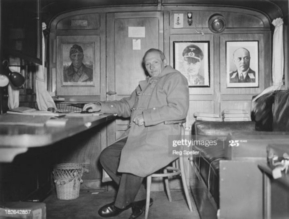 Large post-war stocks of low-cost military surplus turned the duffel into a ubiquitous item of British civilian clothing in the 1950s and 1960s, especially among students. [What will the fate be for après pandemic surplus stocks of PPE?] The firm Gloverall purchased large quantities of duffels and in 1954 started producing their own version using leather fastenings and buffalo horn toggles with a double-faced check lining, and many other modern versions copy some or all of those features.
1745 Battle Trust ZOOM was the biggest event. We'd rescheduled to 3.30pm so we could run 2 hours and still be finished for tea. There's been no great progress on The Jacobite Trail but of course Gaelic has now got extra funding. Arran and Sharon were able to report on their continuing digital activities with this coming Saturday the story of HMS Fox foundering off Dunbar. 300th Birthday Party plans are also taking good shape. Feedback from ELC tells that they are 'mulling over' our request to lease the Town Hall in Prestonpans for a peppercorn for 5 years … and Martha was updating us on the Draft Prospectus for report to NLHF at year end. The new website is looking handsome and is scheduled to replace my own long serving site on December 20th. Final news was that Sharon Beck has almost completed the elusive, missing, final panel for the Scottish Diaspora Tapestry US05. We had a sneak preview which does no justice to it all but does show some of the participating Trustees and indeed myself taking said bad photograph. … and whilst we ZOOMed a fresh wee herd of cattle appeared in The Dip.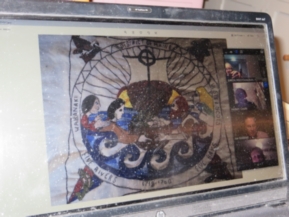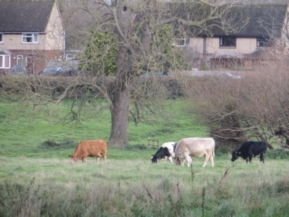 Published Date: November 12th 2020