Leviticus 173/84: Can we Adapt & Thrive with SCVO? It's Forget-me-Not Day ...
It's Forget-me-Not Day today. It comes with a double meaning. First as the day before Remembrance Day on November 11th it's intended to remind us of those who came home from conflict zones with whom we've lost touch. At a more prosaic level its secondary meaning extends that notion to all our overlooked friends and acquaintances. The message is " send a message!" Intriguingly enough the sociological evidence emerging from lockdown suggests we've been doing more of that anyway as we refrain from or at least moderate our bustle and hustle; can't say we've seemed to have done a great deal more though. Our links across to Canada and family across England and friends in Scotland and Brittany and Charente near Angouleme and more besides have all been burnished perhaps more regularly but not many of the somewhat forgotten ones - except perhaps Stuart Turner from Melbourne now London who's been in touch. Pleased to say our photographic archive this year has the two images below.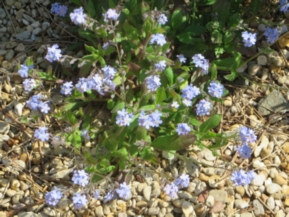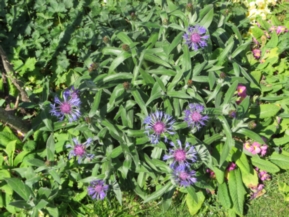 Adapting & Thriving with the SCVO is our first shot at funding our Interregnum. It's already gained digital mention here but I'm devoting as much effort as possible to 2022-2026 as Arran and colleagues are to commemorating 2020-2021. The reason is simple. We are planning to open our Living History Centre for the Battle Trust in 2027 with ELC and Hargreaves support and more BUT our momentum must be sustained during the period when we've finished celebrating the 275th Anniversary of The Prince's Victory in December 2021. There are two interlinked questions: what do we wish to do to maintain interpretation and ensure protection of the battlefield and how can we fund ourselves until we have a genuine revenue stream available from the Centre. And overarchingly, how can we successfully raise £10m capex funding to build and equip the Centre. Adapt & Thrive is a Scottish Government funding approach for charities to recover from the Covid restrictions and thrive. So we're going to make our case. We know we're ambitious to raise at least £275/350,000 for the 5 year interregnum to meet the overheads of modest plans.
Talking of modest … more support from Bòrd na Gàidhlig. We asked for £21K and they decided to cherry pick with £6,000 of elements in what we are doing but it gives us a serious opportunity to reinforce our engagement. It adds to £3,000 already granted last year. And as we make our case for the major Appeal we can demonstrate not only consistent NLHF but also Bòrd na Gàidhlig support. To apply for the big funding we had to join SCVO so after quite a bit of digital angst it was resolved by telephone!
New BT tv box arrived but still not obliging! So we gave up and called out local fellah who'd been before to see what he could do. Meanwhile it's sit in the kitchen/ diner to see the 'old' tv working fine. The news is of course well repetitive … a vaccine with 90% efficacy is seemingly available from later this year and the NHS is all systems go from December 1st. Frankly I'd have more faith if told Tesco/ Sainsbury/ Asda/ Co-op even Lidl or Aldi were in charge … they after all have a track record of performing. But the tricky piece seems that the vaccine has to be stored at minus 80 degrees so that means our new deep freezer in the garage is out - only gets to -16 degrees Avril tells me.
Surprise emails from Western Australia and Kent Ontario. The Scottish Diaspora Tapestry continues to attract over 3000 visitors every week at our website. Amongst these this week came Ann Murton, male line descendant of Donald Macpherson, an agriculturalist. Donald's daughter begat two famous sons Sir Ross and Sir Keith Smith. Donald helped open up lower northern parts of WA from 1835 establishing cattle and sheep breeding properties. Donald and his brother Duncan ran the telegraph office and post offices from their properties and took in travellers on the way up north, Duncan supplying horses and lodgings for expeditions.
Those two famous sons were WWI pilots [one RFC one RAF as in uniforms below] who took up the challenge in 1919 from the Australian government of a prize of £A10,000 for the first Australians in a British aircraft to fly from Great Britain to Australia. On 12 November 1919, the brothers, along with Sergeant Jim Bennett and Sergeant Wally Shiers, departed from Hounslow Heath Aerodrome, England, in a Vickers Vimy aeroplane eventually landing in Darwin, Australia on 10 December, having taken less than 28 days with an actual flying time of 135 hours. The four men shared the £10,000 prize money and Keith and Ross Smith were immediately knighted while Sgts. Shiers and Bennett were commissioned and each awarded a Bar to their Air Force Medals.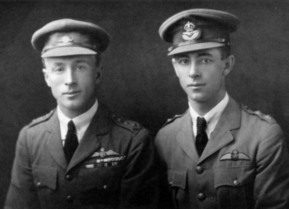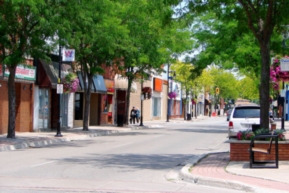 From Kent Ontario, Canada, came details of a completed rogue panel from Carolyn Beacroft telling of the fate and development of the 5th Lord Selkirk's Baldoon Settlement. The ship in which they sailed from Kirkcudbright to Newfoundland then up the St Lawrence, the Oughton, the sheep they brought and the mosquitos that killed seven of them on their unexpectedly marshy lands are all captured on the embroidered panel. Leaving the marshlands they went on to found Wallaceburg [pictured today] on higher ground nearby on the banks of the Sydenham River.
Published Date: November 10th 2020