Leviticus 171/84: In-Nov-Ate ... STE[A]M Day ...
In-Nov[ember]-Ate[th]… a secret society .. Actually a fun way to highlight encouragement of education for Science, Technology, Engineering, [Arts] and Mathematics … Many western countries have fallen behind other nations in science and mathematics education; there's a great need to motivate young kids to pursue these subjects to keep up with the rest of the world and the way future career demands are emerging. It's got a special focus on girls in the InNovAte secret society [pictured] but it's just as vital for boys. STE[A]M Day was founded just 5 years ago by MGA Entertainment to inspire students.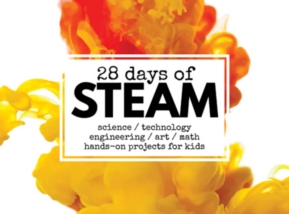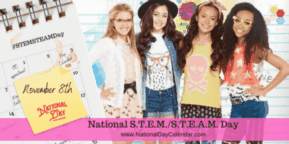 … been looking at all five books of Moses in the Old Testament. We've seen Genesis, Exodus and now Leviticus. Next comes Numbers. Perhaps appropriate on STE[A]M Day … and intriguingly it tells [I contextualise from the original Israelites of course] how after "only three days [that's today] into renewed lockdown everyone began complaining again. They whined about how much better life had been in the old days before original lockdown, apparently forgetting all the misery they had suffered! Incredibly they also forgot about the many miracles the NHS, SAGE statisticians, Foodbanks/ Marcus Rashford and Chancellor of the Exchequer had already performed to help them during their travails". How easily we become discouraged when life does not go our way. There can be no toleration of grumbling and no time to waste complaining either. We should be thankful for the way Boris - rather than the Archbishops of Canterbury & York - or even Peterborough or Brixworth [89/84] - is taking care of us, day by day.
Avril's got me reading a forgotten author Mavis Cheek. We started with Mrs Fytton's Country Life and I followed on with Dog Days. Almost stopped at that juncture but got committed to Patrick Parker's Progress an horrendous factitious tale of male ambition to outshine Isambard Kingdom Brunel as a bridge builder and the eventual comeupance his early jilted mistress delivers - as well as HM The Queen by declining to offer him the contract to build the Millenium Bridge over the Thames.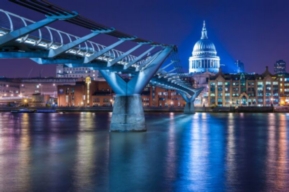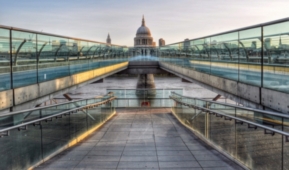 For the record, the actual bridge cost £18m and the 320m-long structure was designed by the ubiquitous architect Sir Norman [now Lord] Foster with sculptor Sir Anthony Caro and engineers Arup. As soon as it opened it began to wobble, got its immediate nickname Wobbly Bridge and closed within 2 days! The cause was people 'naturally' adjusting their steps and stance as initial minor swaying occurred leading up to a maximum of 75mm. Engineers, after much scientific analysis, fixed the swaying by retrofitting the structure with 37 energy dissipating dampers to control the horizontal movement, and another 52 inertial dampers to control the vertical movement. The bridge hasn't had a significant wobble problem since it reopened in February 2002. [Back with Mavis Cheek ..she's got a goodly portfolio of titles so it'll be the end of Leviticus before I'm done.]
2 x ZOOM ahoy this week. We've got an important Scottish Battlefields Trust session on Wednesday and Prestonpans 1745 on Thursday with Avril needing an Eye Injection at hospital Friday … before Coffee with luck and I'll be cooking that night. Maybe TakeOut F&C? Before ZOOM time on Thursday I've got to make some initial sense of funding ambitions for 2022 and beyond when we expect to see a Jacobite Trail in progress and our 5 Year Interregnum filled with myriad activities not least fund raising. Martha is busy drafting the Prospectus for the £10m we'll be looking to find as we go … not a role for which she's going to get many thanks yet. We've got finalisation of the 'Process for Choosing a Name' as well as agreeing the 'Benefits for Friends of The Prince' to receive if they make donations/ subscribe regularly. One significant ambition is to take a 5 year lease on mothballed Prestonpans Town Hall … to be able to give the tapestries and much more a regular viewing at home as well as taking them on tour. We've not yet been to the Caribbean or South America with them so there's a fine opportunity …
BT tv box arrives .. but we fail to make it fly! After a lengthy mystifying conversation to 'renew' our BT contract for tv services a new fit-your-own box which Avril [wo]manfully scrambled around the floor behind our extravagant B&O set to install. That part done we were confronted with firing it up with passwords for supplier et al - B&O it transpires is Code 0499. We're going to need help to get it to fly this coming week I can see … we stopped for tea after 2 hours trying as inadequately as we did. It was not all frustration or whining though [mindful of the Book of Numbers!] Avril did the honours outside the front gate at 11am for 2 minutes silence as HM The Queen and others did on Whitehall and she dressed splendidly in her Lochnaw Tartan for the occasion.
P.S. For the record it was also National Cappuccino Day which I idiosyncratically if inevitably celebrated with Americano and Cold Milk with Water Biscuits, Yorkshire Blue Cheese and a small glass of Port [again]. The Italian name comes from Capuchin friars' habits such that there's matching colour when just a wee portion of milk is added to darkly brewed coffee, normally espresso. The physical appearance of a 'modern' cappuccino with espresso créma and steamed milk is a result of a long evolution of the drink in Vienna as much as Italy.


Published Date: November 8th 2020