Leviticus 170/84: Albert Hall does justice .. & Biden Wins in the US
BBC presents Albert Hall Remembrance Parade. This weekend sees numerous moments when Remembrance of those who died in the two World Wars that characterised the first half of the 20th century .. and subsequent conflicts in Korea, Afghanistan and Iraq. We were all wondering how the traditional Parade at the Albert Hall arranged by the Royal British Legion would play out with the social distancing rules and now lockdown. It transpires it was pre-recorded so such an indoor event could be shared. Much was made of the 80th Anniversary of the Battle of Britain, the 75th of the end of WWII and of the current contributions that military medical staffs are making to assist the NHS during the pandemic. The irrepressible Capt. Sir Thomas Moore was there and Prince Charles represented HM The Queen and the Duchess of Cornwall thanked all military medics. And a million poppies they did fall after the evening ended with We'll meet again …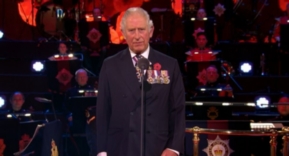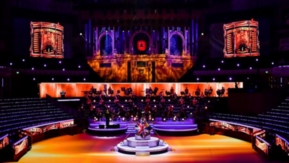 Routine Eye Test at Dane's Camp for Avril. It was a tad slow this week so I had time to go shopping at Grange Park Co-op for supper I was scheduled to prepare for Men make Dinner Day Celebrations. I took the opportunity to get some nice flowers too [at the end of blog] but the resulting menu was Farmhouse Pâté with 'Lodge' Tomatoes and Oat cakes then Sweet & Sour Rice Chicken followed by a first tasting of the new M&Ms chocolate bar [not convinced; too much milk chocolate!]. Avril was officially scheduled for just one eye injection this month next Friday [176/84], and Mathew called to give his customary encouragement and news of Ilkley's and Francesca in Nottingham's progress with the virus.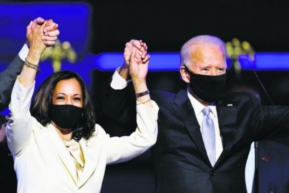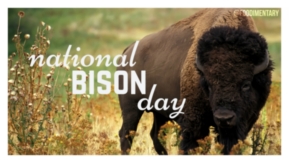 National Biden & Bison Day. Bison are specifically honoured on the first Saturday in November which is today. They are now an almost extinct [but protected] species having been hunted ruthlessly on the Great Plains in the 18th century to drive American Indians into Reservations. In April 2016 President Obama signed the National Bison Legacy Act making the American bison the official National Mammal of the USA. And today also just happens to be the very day Joe Biden and his running mate Kamala Harris proclaim their US Presidential victories over 'The Donald' as they finally take the Electoral College votes of Pennsylvania and pass the necessary 270 target. 'That Biden man' was born in Scranton of Irish grandparentage from Counties Louth & Londonderry; trained as a lawyer he's been a lifelong politician entering the US Senate for Delaware in 1973 and remaining there becoming Vice President for Barrack Obama's two terms. The lady Vice President's parents were first generation Indian and Jamaican migrants, and she too is a trained lawyer who although earlier serving as Attorney-General in California is but a recent 2017 arrival in the US Senate of which she now becomes ex officio Chair with a casting vote.
Canada called during Strictly Come Dancing with news of their snow. The call at the weekend from Canada, always greatly welcomed, usually comes at 5/6pm but tonight it was midway through Strictly. No worries, we could continue watching without blether, sound turned down, as we talked of 20/30cms of lingering snow fall and new concrete paving at the front and side of the home in Edmonton. It was the finishing touch after last summer's re-laying by Christopher of the wooden plank pathway across the back lawns to the garage. Can't see much with all that snow but it'll be on view again by March/April next year! Talking of Strictly it's managed to build and sustain a large audience [12 million they say] and we're rooting for Bill Bailey.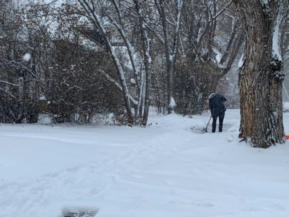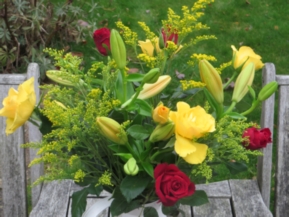 Avril's flowers are here to bring good cheer in all that snow! They are pictured on the centre table of the Australian Burke & Wills chair we shipped back to Milton 15 years ago from Main Beach!




Published Date: November 7th 2020