Exodus 07: Lockdown in England starts again .... till December
Silver lining? Yes, I'm back to daily blogs from tomorrow.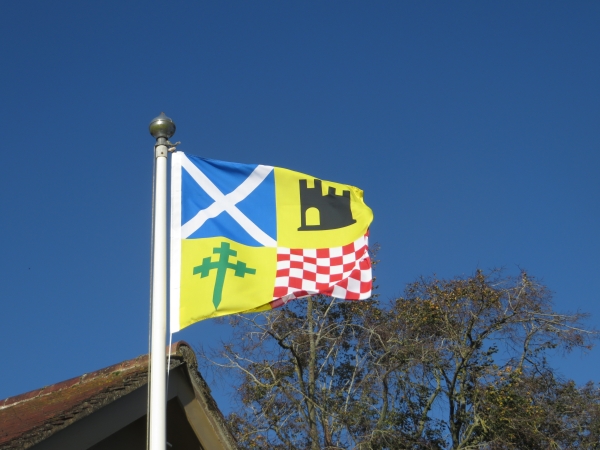 Elliot and I needed to replace the Lochnaw banner as the new lockdown began. He tied an elegant reef knot and the sun shone on a blue sky …. could it really be that blue …… the tattered flag we took down is now one more souvenir for Elliot Yr. of Lochnaw along with the Talking Stick and our Arms on the shield.
….plusieurs des choses sont contre nous? As the announcements emerged over the last weekend, although Fireworks but not Bonfire for Guy Fawkes 'Night' might still happen, lockdown afresh was legislated with Labour Party support! Frankly thousands as well as us at The Lodge are not convinced [or Weymouth MP Richard Drax who voted against!] That it's the optimal way ahead even if it might seemingly facilitate an 'open season' for Christmas. Visits to Weymouth as planned are off till after December 2nd … The statistics bandied about are frankly unconvincing and little media airtime is accorded to the contrary analyses; good/ improving news goes unheard. It's just so far for Boris' England alone whilst Scotland stays with Regional Variations and Wales exits its two week firebreak but closes the border with England.
Nothing borrowed but two times new! We've always resisted a freezer in the garage, not because it's meant for cars but because it leads to forgotten stocks. But needs must and during the coming weeks and in Avril's build up to Christmas which she is going to deliver for all who can come, she needs somewhere to store the prototype pigs-in-blankets and more! And after we'd taken a brisk walk in the autumn air along Barn Lane to the oak tree marker, we arrived home to a white van delivery … no problems; we had a palet on which to stand the black freezer and it's here below to see. Not to be out-innovated, Julian and Laura had resolved to replace their admittedly rotten south side gate [installed 1979] but the new arrival was pretty boring. After considerable ridicule and critique the decoration seen has been installed …..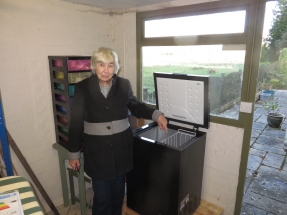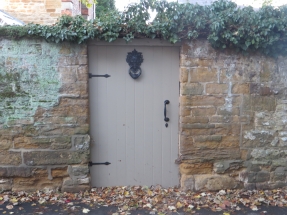 Autumn Foliage not to mention The Fall … .. is with us and Julian is hopeful his new ornamental pear trees will change to red before the leaves fall. Our beech hedge is looking good and wont be falling till the Spring but Avril's been out filling the green bin several fortnights already and Julian's hi-vis blower has moved his fallen leaves around. The American tulip is notoriously heavy leafed but his Virginia Creeper also makes a grand carpet but not before its colourful demise. The grandsons are both back at school and best academic news of the week was that Natasha gained a 1st at Birmingham University for her Masters in HRM. Francesca's House at Nottingham has avoided lockdown but Eleanor at Reading is involved with it all. Kathryn and Mathew have finished their isolation and she is back working for school but from home this week. Maureen had her eye-op on Wednesday and is cared for by Mathew and Kathryn as 'within their bubble!' Gerry came home from Hammersmith yestereve after 3 hours delay in the hospital car park for the collecting family. We had Toby the dog from 6/9pm since like so many pets he's not content with Fireworks. To complete the round up Avril had a telecon with our GP Dr Taylor in Blisworth who advised against an immediate second injection for her arthritic knee; but he did commend static cycling so maybe we had better dust that off and get active again since we are banned from tennis, golf and football!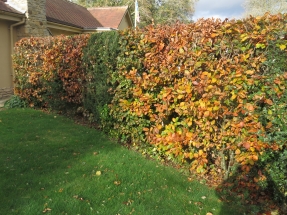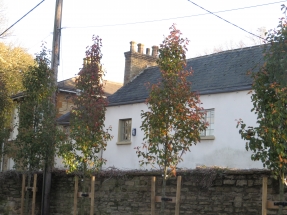 Battle excitement this week .. Not so much our own but from Glasgow University. Professor Murray Pittock gave a ZOOM lecture on the 45 and The Jacobites, Arran joined Niall Oliver on BBC4 to offer Falkirk and Culloden insights in Blood of the Clans and Culloden's Battle Tapestry showing a caricatured Jamaican black retainer of captured Jacobite Colonel McNaughton holding a horse - as depicted below it has been highlighted as part of the NT for Scotland's determination to highlight black issues across its portfolio. It can't be long before the realisation that the proceeds of slavery accumulated by the Irish Catholic emigres in Brittany, the Walshes, enabled Prince Charles to take ship to and from Scotland in 1745/ 46. The Remembrance Poppy coloured in each house for window display in our village is an innovation this year and well adopted with all church services cancelled.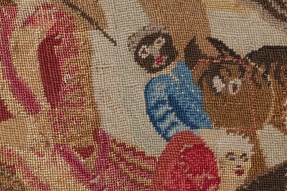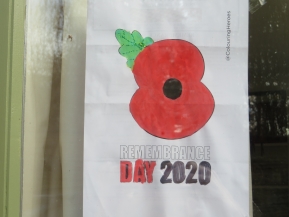 Electing a USA President. I've been in my element explaining the workings even the original rationale of the Electoral College that decides who takes on Executive Powers and takes the White House as home. It's a long while since the British Army burnt it in 1814 as revenge for the attack on the City of York in Canada the previous year. [The Electoral College has a membership equal to the number of Representatives and Senators each state sends to Congress, which is a minimum of 1+2 = 3 for Alaska. Each state has 2 Senators [100] and a share of Representatives [435] allocated in proportion to population across the whole USA.] The polls for these 2020 Elections were once again unable to give a good prediction … sounds like our epidemiologists' projections and scenarios for Covid19 in the UK. Anne and Christopher and I were all rooting for The Donald - his mother was Scottish and spoke Gaelic; I've had his 'Make America Great Again' shirt and hat from Mathew since 2016 …. but Bryan and Joan wanted Biden.
Click and Collect this week was at Waitrose in Towcester … … no slots at Tesco. But Tesco's Pharmacy was able to outwit our out-of-stock NHS/ GP Surgery to give us both 'flu inoculations to go along with our pneumonia jabs three years ago. Lastly, a close up of Julian's new decorative door knocker fish eye lensed.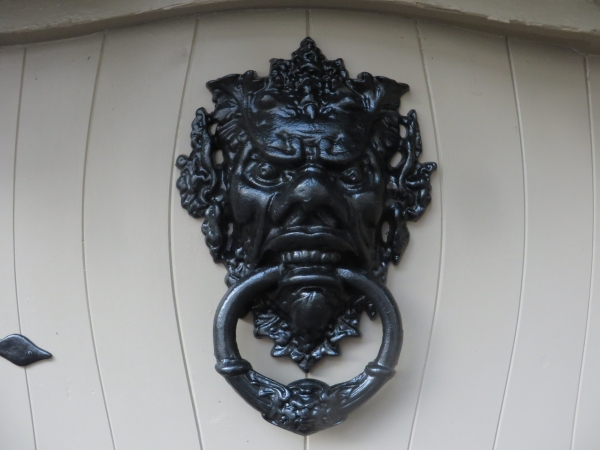 Published Date: November 5th 2020