Exodus 06: Michaelmas is with us ... and Scotland and Wales lose the plot!
Michaelmas [Martinmas in Scotland!] is variously celebrated Gregorianly on September 29th or November 8th [Eastern Orthodox] with Old Michaelmas from the Julian Calendar on October 12th. It's the day the Lord Mayor of London is elected. For us at Reed's and ReadingUni it was the whole Autumn Term. Essentially St Michael is the Senior Archangel [of either 3 or 4 altogether] who slayed the Devil often depicted as a Dragon; and as he fell he landed on blackberries which should no longer be picked after this date. But the most consistent reminders are Michaelmas Daisies [aster amellus, the perennial herbaceous plant] and Avril has them two coloured as pictured at the front of The Lodge.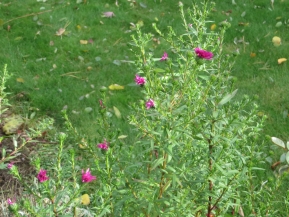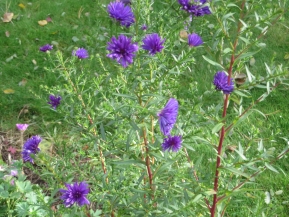 It's also Joan Wills in Edmonton's birthday this week and although she was short changed with candles at Stephen and Wendy's party she enjoyed flowers and a Chinese Take Out, one of her favourites, at home on the day itself. Anne's been out and about to more parties this last four weeks than usual; she'll be getting a reputation!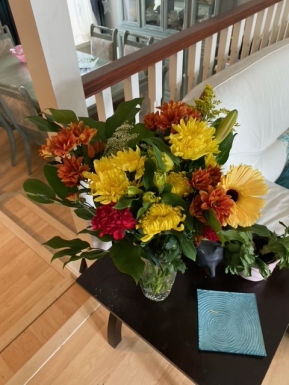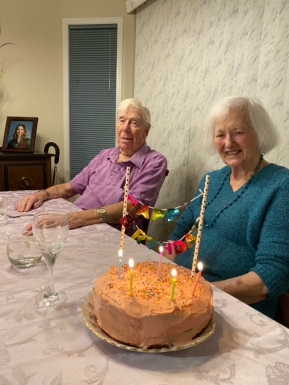 Gerry Hine headed to Hammersmith for his heart op this week. More significant than a few knees and hips, it was Laura's father Gerry's, turn to meet a surgeon's knife with an opened heart at Hammersmith. He'd been waiting a good while since his first cluster of stents proved less than adequate and although first scheduled for Monday he was knocked back to Wednesday by an incoming Emergency at Hammersmith. By today he's reported to be 'uncomplicated' and doing OK. Audrey's more relaxed now in Buckingham and we await his return soon.
The Covid19 pandemic's been heating up again nationwide … Kathryn and Mathew in Yorkshire were harbingers but Wales is in an extraordinary fire break lockdown with its First Minister telling his nation what items are essential and banning sale of the rest even in supermarkets. Scotland, not to be outdone sees its First Minister telling pubs they can open but not sell alcohol and they must close by 6pm. Across La Manche the French, Germans, Benelux, Spain and Italy are locking down nationwide whilst the quarantine from The Canaries that caught Sylvia, Tony, Jules and family has been relaxed! There's enough good copy for me to head back to daily blogging but Avril and I are too busy checking proofs of Existential Normal Blogs 01/84 - 168/84 to have time for that as well. It's starting to look good with the photographs on the dummy well clear and it's just exotic cover designs left to create. I've got ZOOMs galore and prior email iterations aplenty for both Scottish and Prestonpans Battle Trusts' eMeetings this coming month. Martha Bryce is at work on the Appeal Prospectus and others are coming up with a short list of names for the Centre to be tested. And of course Arran and Edinburgh College are developing a totally new website for the Trust. P.S. All those proofs flying in from Feuillade come of course from John and Jenny who've just seen their early Christmas trains, trains, trains steam in … they circulate electrically [?] at picture rail level in John's workshop above the garage although they seem still to be boxed at the kitchen dining table.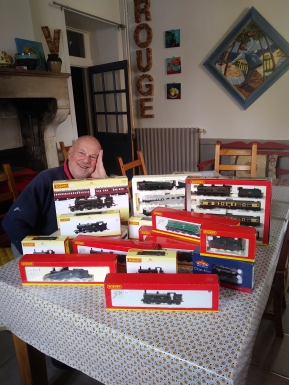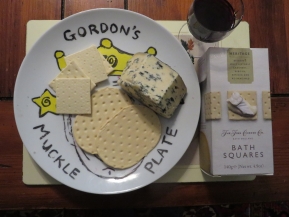 Brilliant gift midweek from Carol Oliver. A knock on the window as I proof read and there she was. Angelic, with alternative Bath Oval biscuits and Bath Squares too to assuage the mental health problems Elliot and I have been having since Bath Olivers were withdrawn from the market. Seems they can be bought online from a successful cheese and biscuits deli in Bath ...we're on the challenge for the future but presently they go very well with our Yorkshire Blue, a glass of port, and last night the last of our own garden pears.
Boris is staying with Whack a Mole for England! This in comparison with Scotland, Wales and Northern Ireland - the last has necessarily followed suit with the Irish Republic which is in heavy lockdown. Whack a Mole implies localised lockdowns for England - which Nottinghamshire including Sherwood Forest joins this week bringing some 9 million into our lockdown Level 3 - the highest. Northamptonshire somehow seems to hover without going to that level so far but we've had Click and Collect from Tesco again this Thursday night and I got along to develop hard copy album pictures as well as collecting my statins and 16mg Candesartan pills! That's as well as new found vitamin D …. and good to report my La Paz cigars are certainly helping keep obesity at bay!
Published Date: October 30th 2020