Exodus 05: Covid19 Strikes in Ilkley - and snow arrives ....
The BIG news this week was for Covid19 in Ilkley. And as we always anticipated it was Kathryn who caught it first followed three days later by Mathew. As we write the blog both are in reasonable shape. It'll be remembered that granddaughter Lorna furloughed from her London workplace had mild symptoms months back and self isolated at Linndale. It's also been isolation this week with planned op on Monday next for Gerry Hine who's due at Hammersmith Hospital for open heart surgery … wishing him all the very best of course.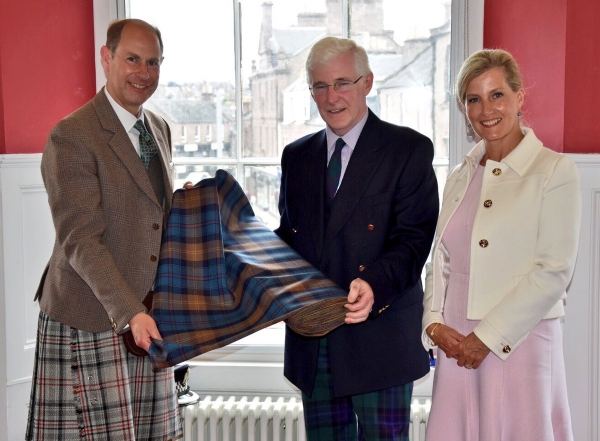 HRH Duke of Edinburgh puts out call at Wellingborough. It's a while since we had encounters with the DofE. Lifelong buddy Sarah Daffern gained her Gold Award and we had cause to reprimand HRH when his rustlers from the big city stole our painted cattle in the Pans. This time the DofE has mobilised Henry to start work for the Bronze by helping elderly persons - which with the pandemic around 'means' Avril and I. Fortunately we always have shovel-ready make-work projects and painting our garden furniture for next season was there for the taking. Very special grey whitened paint was mixed to formula and acquired after professional consultations with Brewers in Weymouth; the task now awaits the volunteer. The Duke himself no longer runs the eponymous project having designated Prince Edward his successor - who's lately added Earl of Forfar to his English titles of Earl of Wessex and Viscount Severn. HRH The Countess is well remembered of course for providing her String Regimental Orchestra to play at Buckingham Palace when I went there to receive my MBE from HRH Prince Charles, Duke of Cornwall and of Rothesay and Scottish feudal Baron of Renfrew et al. The picture shows HRH The Earl of Forfar wearing the Royal Balmoral tartan …. but ready to embrace his new unique design.
Weymouth news in comparison is modest! We delayed leaving Milton till Monday so we could give lunch to the Dolphinstouns before a potential lockdown to the Northampton area ..but that's not happened yet. [Nationwide a tranche of areas have gone into greater restrictions and Wales insanely has resolved to tell supermarkets there what they can and cannot sell to their customers e.g. not microwaves and clothing.] Weymouth's only 3 hours straight driving well away from the Welsh border but we like a stop half way at Tot Hill near Highclere; of late we've given Macdonalds a miss in favour of Starbucks there because they have retained face to face service compared with MacD's ubiquitous touchscreens. But we still toy with a picnic if only we knew a good location to lunch/dine; we've got all the kit we need with HBC logos and designs from 4 years ago.
There's an upheaval in Morrison's excellent supermarket in Weymouth though - more than the Welsh could take. The well familiar store, acquired longsince from Safeway when they left the UK, has totally restructured its layouts and added clothing - just as Tesco has in Hunsbury. We had to visit as ever for the cheapest diesel in town but also to expend £100 to get 10,000 Bonus Points on their card. It saw a major stock build for Sauvignon Blanc and some Barolo too but a chance encounter with delicious trout fillet. It provided supper on both Wednesday and Friday with Thursday a visit for supper out to The Boat that Rocks at Portland. It's a spot we always enjoy and it was good to see good custom presumably from local boatees. Since the Olympics in 2012 an ever growing population of small boats has materialised; already now there's an 8 story stacking park and a Lidl supermarket. Weymouth also saw a brave attempt from Avril to regenerate our shadowed western floral border with added compost and curry powder [yes] to scare off the cats with local snails offered a pickling jar of beer.
Who'll be where at Christmas? First call came from Bryan and Anne who told how Anne will certainly be staying on in Alberta until the New Year. Back in Milton Avril has put her hand up for cooking Christmas lunch after our being away in Ilkley last year and the Dolphinstouns out to lunch with local friends at The Walnut Tree in Blisworth. We'd normally hope to make tracks on Boxing Day to Ilkley but we'll have to see how the restrictions there work out. Comparisons with Oliver Cromwell's bans on Christmas partying are being disinterred by historians to antagonise most of the population. I'd be willing to join the surely imminent Neo-Peasants Revolt if some sanity doesn't soon return to the political scene and the medical management of the virus.
The snow was in Edmonton not Milton … ...but it did for the fine flowers that Christopher had tended for them all there. Back in Milton the 2019 poinsettia's miraculous survival outdoors has seemingly come to an end even though no frost has yet arrived. That sad encounter greeted us as we drove back on Friday. Most remarkable about our return however was the overwhelming number of parcels and packages which Elliot and Laura had kindly retrieved for us from shed and door step. Christmas gifts for others are beginning to arrive here … how they make the next part of their delivery comes later but before then of course we have the Litany of birthdays to address … Joan in Edmonton, Duncan of York in November then Lorna, Francesca, Kathryn, Gordon, Eleanor, Florence, Amanda and Laura all before New Year's Day ..not to forget live streaming for Bonnie Prince Charlie's 300th on December 20th!
Zooming and proofing going on all the while. We've not forgotten the Scottish Battlefields Trust whose Trustees gathered on ZOOM on Wednesday. Much debate ensued on the planned political lobby of Holyrood's parties to include better protection for battlefields in their 2021 Manifestoes. Herbert Coutts is back in his old times role leading the campaign.... And there's the 2021 7th Biennial National Symposium to plan for later in the year. Meanwhile Avril and I have been proofing John Unwin's pdfs for our imminent eBook that now has its working title - Existential Normal. The dummy looks excellent and almost all the wordage is complete - even the Index; just awaiting Steven Poole's Final Words selection now ...




Published Date: October 23rd 2020