Exodus 04: Thanksgiving in Canada ... and Over Here we have Restriction Zones ....
BIG news this week was the celebration of Canadian Thanksgiving Weekend. Christopher set the ball rolling in Edmonton with his invitation on Saturday for Bryan, Joan and Anne to join him in his new apartment for it first ever Turkey Roast - depicted below centre. There were also delicious scones and lemon cheese cake at the very bottom … Not to be outdone Mathew in Ilkley [remembered in Bryan's tea mug he was pleased to see as Tailend Charlie below - click to enlarge] went shopping for Bernie Matthew's turkey cutlettes and he indulged himself with many sprouts and it appears maple syrup? Stephen and Wendy, of course born and bred, celebrated on the actual day, Monday, with the whole family in attendance. More modestly in Milton Malsor Avril and I made ready with Ocean Spray Cranberry sauce with full cranberries, sprouts and parsnips - all courtesy of Morrison's which provided just a side of turkey that also came cold on Monday and fine currie on Tuesday! Avril's crop of ripening tomatoes from our front garden provided the only visible harvest across the ocean! We dined beneath the elegantly relit lamp [including Elliot's sunglasses] and for the table from our garden the still flowering Dahlias Cactus and Nerine Guernsey Lilies.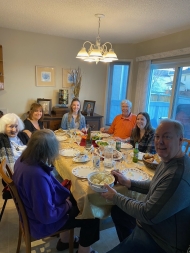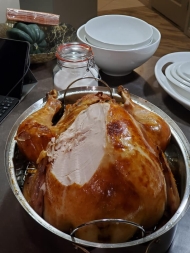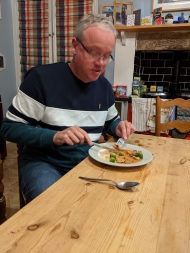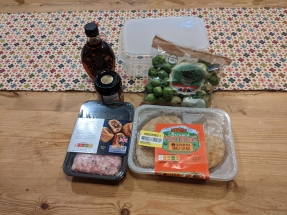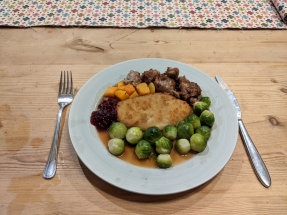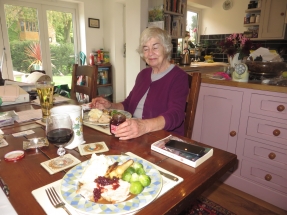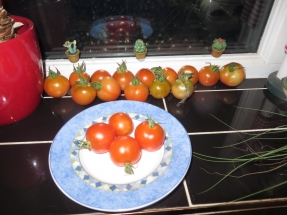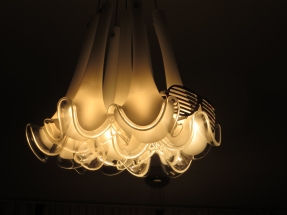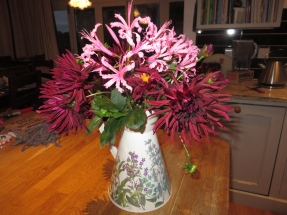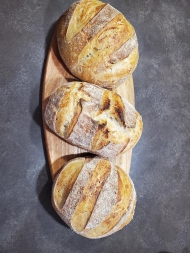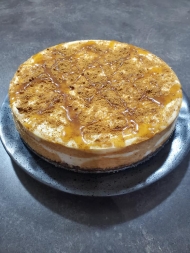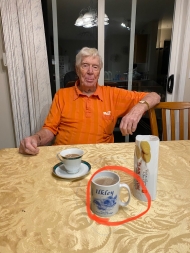 More seriously, we've gone to the Three Tiers of Restriction and stayed with the Rule of Six! This as Boris carries on the fight to better the Covid 19 virus. It has Duncan and Ilkley in Tier 2 restricting them from visiting others indoors whilst for the moment in Milton Malsor we can keep motoring - including to Weymouth for 4 days on Monday. Sylvia and Tony returned from their 2 weeks vacation in Tenerife to 14 days quarantine at their home at Silverstone to which we duly delivered her belated birthday present - Avril modelling her new masked bonnet. The Fall is arriving too @ Waitrose so we snapped that ….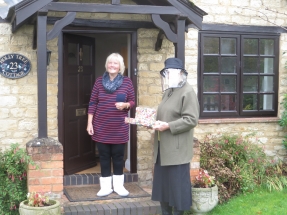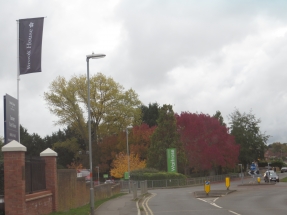 And since it's Friday it is of course Coffee Day and we headed on after Holly Tree Cottage delivery to Turweston Airfield just short of Brackley for that beverage - delightful; enjoyed with takes off/ landings as the backdrop. Wartime Bomber Command base is the best picture we can grab … but today it's the go-to spot for Silverstone's motoring enthusiasts and the new Control Tower houses the café of course!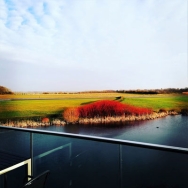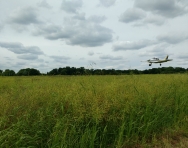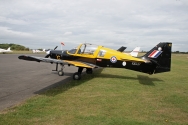 … and there was 'work' too … Busiest of all this week was finalising our request to Bòrd na Gàidhlig for an extension of their support for the Gaelic elements of our 275th commemorations. If we are successful we will be able to achieve a major step beyond the modest contributions thus far but fellow Trustees sounded a warning. Our Objects do not suggest we are in the business of teaching Gaelic to the community of Prestonpans; rather we are seeking to ensure an awareness and respect for the Gaelic legacy amongst an English speaking community. The Trustees were busier than that of course with our build up of activities later this year - the sinking of HMS Fox and the Prince's 300th Birthday. The ZOOM session on Thursday was very well attended and lasted over 2 hours with the first view of the new website that we've been creating with support from Edinburgh College's IT colleagues. [Not clear yet how all the archive we accumulated since 2006 will be repositioned but remain accessible ...but she'll be right!]
And thirdly the e-book John Unwin has been helping create that consolidates these blogs 01/84 - 168/84 is nearly restructured. Avril and I have to proof check it all before this Exodus Blog 05 appears again next Friday! We've got a working title - Existential Normal. We'll see if that survives. And our good friend Beathag has translated the Foreword into Gaelic for me to give it that extra flavour. I know now as I blog here that we'll need a final word flourish from Steven Poole …. rightly giving him Last Word[s] …..






Published Date: October 16th 2020