Exeat: Day 168/84: Exodus tomorrow ...... 'new' normal!
Exeat to Exodus … first permission sought, tomorrow we'll be gone of our own volition! After a lot of debate we've decided this daily Blog sequence ends today. We're going to start living 'new' normal. Frankly I'll miss blogging considerably more than my occasional readers because as I've often remarked it's been a personally amusing and entertaining saga writing here for 168 days .. that's 84 Boarding and 84 with Exeats from our local Bishops. We do so in the fullest realisation that as a family we are a long way yet from a life without anxiety and a predominantly forward perspective. There's more expectation that a vaccine can bring that about rather than herd immunity and the horizon for such a vaccine looks like being well into 2021.
Our 'new' normal. It means shopping ourselves, getting our haircut, eating out and holding face to face meetings as a first preference. It means visits to Scotland and Weymouth with family stop overs in Ilkley and when the new Bond movie is out a trip to the cinema. As may be feasible we need a trip to France to nail down the Jacobite Trail there for Brittany with Jean, Hubert and Thierry. It means reconvening the Ladies' Friday Coffee Mornings … but if that sounds like resuming normal there's more to come especially for Scotland. We've begun to come to terms there with encompassing the complementary and the discrete role of the digital for our Living History Centre ambitions and we've got to take it further. From now on with the learning derived from our sustained immersion in digital it cannot be an add-on or an extra suggestion; it needs to be put in its proper achievable place alongside all the human contact we have realised is so necessary.
Not back to 'old' normal then. I'm with the Chancellor [and Dominic Cummins] in wanting to ensure we get a social and economic shake out and that those who were the stalwarts under stress [e.g. bin men/ food retailers/ pharmacists/ front line health care workers/ online providers and deliverers] as well as those who fight their way out of lockdown chaos and disaster to create new enterprise are the future. Those who were the laggards, those teachers that found myriad excuses for not teaching and supporting children whilst others worked miracles [notably fee paying schools!], a wide swathe of the public sector that claimed whilst drawing full salaries to be working from home but offering a pitiful service such as DVLA, Ofqual or Passports, all need to be enlightened/ retrained and their functions redesigned creatively to deliver outcomes …. or contracted out to supermarkets or amazon.co.uk! And that shake out needs to address the NHS both during lockdown and its abject performance since with its backlog of millions of patients …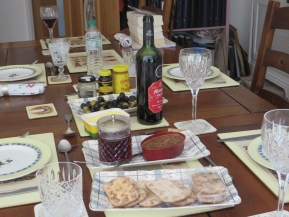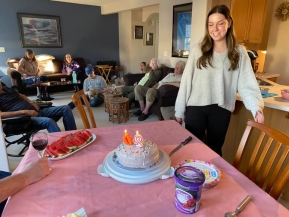 Scheduled Last Supper became our last Blogging Lunch! [It's Henry's football matches that determine what time we eat on Sundays!] It was Avril's turn to create Sunday's repast for the Milton family and we decided to go beef. Shopping on Friday morning at Morrisons had been a success with Date and Walnut loaf available and after a good search a substantial side of Rump Steak. My contribution apart from Wine Waiter was the starter for which I resolved Brussels Pâté would be suitable with some of Jacob's excellent new Ciabatta Crackers designed precisely to carry pâté. Olives black and green together with some of Avril's new Redcurrant Jelly made the whole ready as depicted. The red wine selected was Rioja Reserva and the mustard came with a choice of Newport Pagnell's own original, Taylor's, or Coleman's. [I took the opportunity to create Mr Rogerson's Yorkshire Apple and Mustard sauce.] The beef was superb, Avril's Yorkshires the best risers ever and her roast potatoes won acclaim from Henry - whose acclaimed/ rumoured skill at such roasting has yet to be seen or enjoyed by Avril and I. Dessert was Manor House Apples and Blackberry Fool - popular with the adults but less the grandsons. Meanwhile as also depicted above, across in Edmonton Robyn, aged 20, was at home with a Wendy made cake with family. Wearing the hat is her boyfriend David and just off left is Gordon, Wendy's father and at rear with Anne Darlene, Wendy's mother. Older sister Samantha is tucked away beyond Bryan and Joan. And look at that water melon … always a favourite there and so seldom seen or enjoyed here. Perhaps that can become part of our 'new' normal!
… last word to some autumn blooms … It seems more than apt that the last pictures here should be of some flowers from our garden at The Lodge. Flowers have played such a very significant part in our shared enjoyment during these 168 days that they deserve their place … the only other possible contenders would be the magpies and rooks that visit our lawn to eat the crumbs that fall from the baronial table ….. but they hate paparazzi/ paparazzo!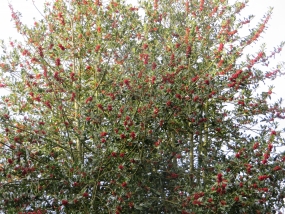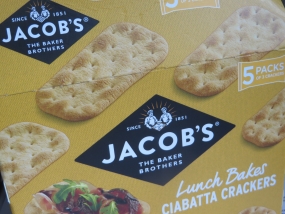 The holly and its berries are by the The Manor House Dovecote and must be picked if needed for Christmas decorations 'before November 1st' when the birds routinely arrive to consume and despoil them all! Our single sunflower seen earlier is now promising no fewer than six fleurettes! And the verbena bonariensis continues to fascinate me in our hedgerow and Burke & Wills seating.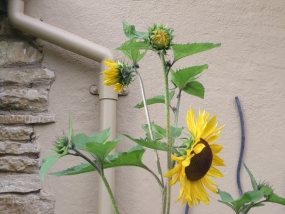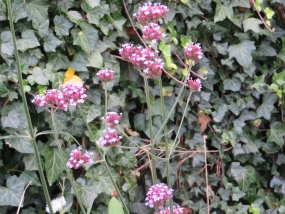 … and next there's a surprise from four rose blooms in the shrubbery along the edge of Rectory Lane and last, but certainly not least, the cosmos bipinnatus by our dahlia cactus and Christmas roses.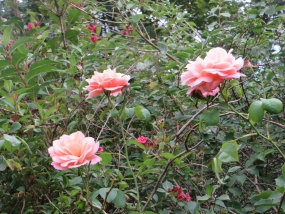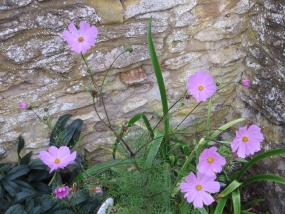 Published Date: September 6th 2020