Exeat: Day 168/84 Corollary: Reflections on Release from Lockdown June 15th to September 5th
Can 84 Episcopal Exeats really lead to our communal Exodus? These reflections are penned a week after our self-proclaimed Exodus, 84 days on from the end of our original 84 days in Lockdown. We've already seen social distancing tightened across the nation, a new Rule of Sixes breaking the heart of Prime Minister Boris Johnston as he insists it's made law, with Brexit Trade Negotiations with the EU on course to their December 31st crunch. No true Exodus yet then … in reality we've stayed in the shadow of our Bishops' Exeats. Birmingham and Manchester are both in strictest controls and our programme for Scotland September 19/ 21st 275th Anniversary Commemorations is bouncing hither and thither. And any brave enough to essay a vacation on the contient are taking big risks with the quarantine implications on their return. The international tourism and aviation industries are in the most dire of economic meltdowns. Six sometimes seven cruise liners with capacity for 15,000 guests stand idle in Weymouth Bay alone until at least 2021/ 2022.
Lockdown was a finite certainty which Episcopal Exeats have never been able to match. That's the widely expressed view amongst the commentators we read …. there's seemingly no end to the chopping and changing the government feels compelled to countenance confronted with ever changing scientific advices and data trends. The BBC in particular but most other media too continue with coverage of every scrap of bad news they can unearth and unending criticism of Ministers to which is now added a determination to apply hindsighted evaluation of the steps taken leading up to and consequent to Lockdown on March 23rd. The good news now available of children back in class, vacations happily enjoyed and office workers back to their desks often within a new home/ office balance goes largely untold.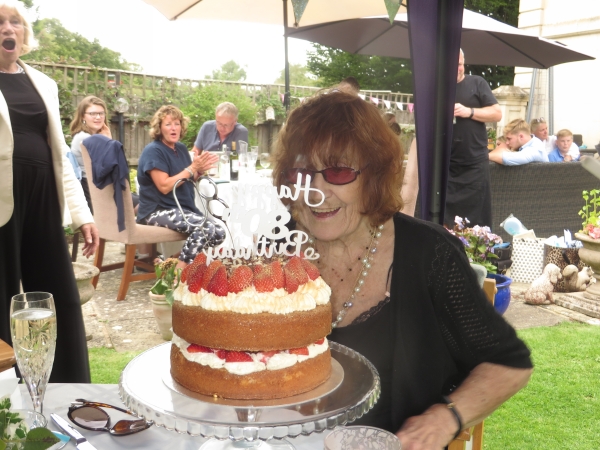 Let's look at what the blogging has highlighted during Exeat. The resolve to continue after Avril and I had done our 84 days locked down was in the expectation an understanding of how new normal would evolve. And of course the details are all there. Some things were certainly back to 'old' normal, and why not? Reading endlessly with particular delight from the late Carlos Zafón's 2400pp Barcelona titles; myriad family visits en route to Weymouth and back; weekend lunches with the Dolphinstouns; a modest revival of Friday coffees for Milton Ladies [Collingtree only actually]; face to face with Sylvia for business sessions; shopping in Towcester for Taylor's Newport Pagnell Mustard but no success with Bath Olivers; Nene Refrigeration sent a technician to reboot our failing refrigerator; Pamela celebrated her 80th birthday in Rutland; Avril went to Curry's and acquired a new tumble drier for urgent delivery; the Gothenburg re-opened and has coped well since; Northampton Town, aka The Cobblers, gained promotion from FA Division 2 to Division 1 and of course Leeds United climbed back after 13 years to the Premiership; we Clicked & Collected and visited Tescos twice to get the camera images printed out; and sure we visited Weymouth with poseur Avril out at sea eating ice cream. Some blogging habits from Lockdown have also lingered on - they've always been fun and I miss them. National Days in particular continued to fascinate me and my readers whether for Pinks, Catfish, Banana Split, Strawberry Parfait, Canada Day, Midsummer in Sweden & Finland, Fathers, St Swithin or [Scots]Man on the Moon.
Back to school too. It was not just Kathryn in Ilkley who went back fulltime to teaching school - she'd been engaged all the while with children of key workers. Mathew graduated digitally yet properly robed with his PhD in Politics from University of York. Avril had success in her search for school pictures from Walpole Grammar online and discovered after which Walpole the school had seemingly been named. Gordon had less success at Reed's where he initiated a search for the text of the Latin Grace he had to recite daily at meals when he was Head Boy 1955/1956. Grandsons Henry and Elliott followed well structured online education from Wellingborough and Francesca was given the necessary support from Nottingham University - talking of which city, its Robin Hood led us to the eponymous pub at Anerley on the corner of Elmers End Road!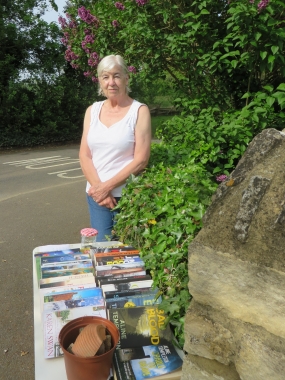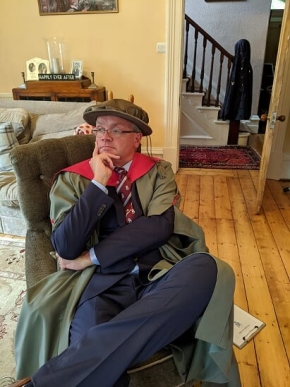 My direct contact lately with Reed's was the result of their Covid19 Appeal for Foundationers but it led me to look closely for the first time as to why Bob Drayson, my Headmaster in 1955/1956, had received the DSC for exceptional bravery and leadership in the Royal Navy during WWII. WWII was never far from our sight with VE and VJ Days and the death of Dame Vera Lynn.
Avril's Street Bookstall was a sustained triumph. It really was a significant continuing aspect of Exeats that books kept moving along and avoiding a drenching in the rain showers. Her second great success outdoors continued too in the garden both for flowers and a modest vegetable harvest of potatoes and runner beans and lately tomatoes. Indeed as I write, and as memories of the 25+ blooms on my magnolia grandiflora fade away, the solus but magnificent sunflower she has cultivated has six proud blooms to the single stand. And Avril is out weeding this morning …..
But what of Gaelic and Steven Poole? These were two truly serious aspects of Lockdown for me but they have both eluded me during Exeat. I've wondered why. Was I dispirited at Gaelic with my total inability to remember what I'd learnt the following day? That alibi was burnished when Carol Oliver wrote last week with a similar tale for my other big omission; she was alluding to the words from Steven Poole even though she like Herbert Coutts and I have the book readily to hand. Perhaps a further alibi can come from my Hip Operation during Exeat - 116-118/84. I have mastered what was necessary and can walk well without a stick and with one for half a mile. That's far enough to collect the newspapers each morning from the local shop in Weymouth or to reach King George III's Bathing Hut. Yes, it probably distracted me but whilst there were plenty of side effects to the operation loss of memory is not listed in the medicine's leaflets. As well as these failings I'm also un-woke and under-impressed with ZOOM and TEAM. Some I know got carried away, even the fellow owners at Somerset House in Weymouth want the Corporate AGM to be Zoomed - I suggested Bring Your Own in the Car Park/ at Aunty Vi's.
Call to Action in Scotland. As well as making our second post Lockdown Visit to Weymouth so that BT could install a new router last week, this week it's our first to Scotland since March 23rd. We have ZOOMed our meetings effectively and Webinar PowerPoint Lectures are clearly going to be a success but most importantly the Power of Zenn, the overlapping and discrete areas of physical and digital, has been elevated in our plans. Digital means not only that in times of Lockdown/ Distancing we can meet and share but for ever it means we can reach out to those who are never likely to make their way to the physical presence we conserve and interpret in Prestonpans and on the Riggonhead Defile. We can clearly see the digital outcomes these past 6 months as a suitable investment for the permanent future of the Trust as opposed to faute de mieux. It was a fine bonus that we were able to secure and deploy an extra £8,000 Emergency Fund Grant from NLHF thereby strengthening our case for their continued support during the Interregnum 2022/2027 and beyond.
Concluding … for now. I have to conclude that even though we have firmly drawn a line for our planned eBook at these 168 Blogs … surely we should stay with it just occasionally for the future. Perhaps weekly? Frankly I miss it far too much and I promise to ensure Steven Poole and Gaelic regain their proper places ….. resistentialism must be driven away …. les choses ne sont pas contre nous …

Published Date: September 6th 2020