Exeat: Day 165/84: Merchant Seafarers Day & Welsh Rarebit
More than 30,000 merchants seafarers died in WWs I & II … … and four years ago we attended the unveiling of Weymouth's own Memorial to them. They included the crews of cruise liners often in use as troop carriers of course as was the QE2 for the Falklands War. Paradoxically on this anniversary day the Queen Elizabeth [not 1 or QE2, now both decommissioned but] the latest ship to carry the monarch's name, just happened to be at anchor in Weymouth Bay with the Corn Moon! That's the fourth time the Daily Telegraph has carried a picture of the moored cruise liners in the past 3 months - magic PR for our Town Council. Weymouth did justice to the Merchant Navy although a major ceremony in London was cancelled. We saw a commemorative Flag Ceremony at 11am.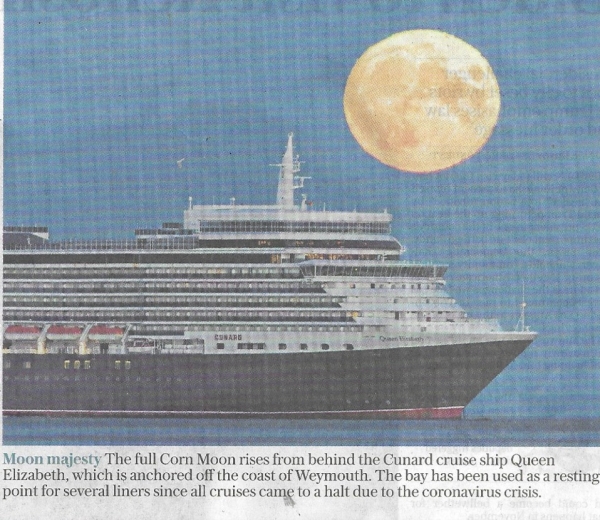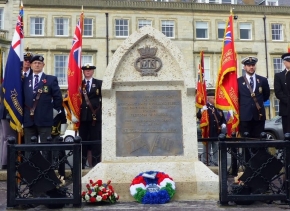 Click & Collect goes awry. Worth a reference here … our 4/6pm rendez-vous triggered several emails in the late morning. The normal, dedicated location at Hunsbury was out of order somehow so, make your way to Customer Service Desk inside Tesco and then your goods will appear from the back area of the store. It worked fine and all was accomplished in 20 minutes. Similar hiccup at my concluding moot with physiotherapist Juli at 3 Shires Hospital. She'd been caught up with AN Other client so we ran late. She was content with my knee raises and lateral leg movements and pronounced me no longer needing to visit with her unless something new occurred .. My elastic stretch band was elevated from yellow to pink for future use; Juli confirmed higher levels are green and grey! We parted with my grateful thanks. Once again, as with Mr Stock, the advice was "if you can achieve what you want to achieve be sure to stay fit to sustain those goals". For me the challenge is that my right knee replacement is now some 10 years old and reduces the confidence now readily derived from the new right hip to walk without the reassurance of at least one stick. The other truth is that I don't relish simply standing for an hour or more. But I'm certainly confident I can walk to the newsagent and along the Esplanade in Weymouth to M&S and WH Smith.
It's National Welsh Rarebit Day. Unsurprisingly perhaps, rarebit is actually a Welsh term for rabbit. But, as with mock turtle soup having no turtle in it, Welsh rarebit doesn't contain any rabbit. This dish is simply made with toast that has hot cheese poured over it [centred below]. As with any dish there are variations of Welsh Rarebit. Some recipes call for cayenne pepper, mustard, Worcestershire sauce or paprika. If one tops the cheese with a poached egg the dish becomes a Golden Buck. Add bacon and that's often called a Yorkshire Buck. Such talk always brings us back to Welshies served in Northern France most especially in Wimereux! The recipe there is typically toasted bread, ham, egg and cheese melted in beer which brings it close to the better known Croques Monsieur [left] et Madame [right].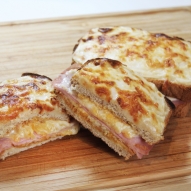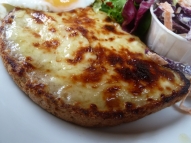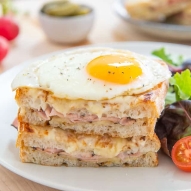 .. and last but not least, it's Skyscraper Day. For me the fascination has always been how the engineers using a concrete core up the centre of the structure can reach such dizzying heights. Minimum elevation is 40 floors and 150m to qualify today! The Shard in London is evidently the tallest in Europe [although the Burj in Dubai is away tallest in the world]. Renzo Piano designed The Shard as a spire-like sculpture emerging from the River Thames. He says he was inspired by the railway lines next to the site, the London spires depicted by the 18th-century Venetian painter Canaletto and the masts of sailing ships. His design met criticism from English Heritage who claimed the building would be "a shard of glass through the heart of historic London" quickly giving the building its name! He proposed a sophisticated use of glazing with expressive façades of angled glass panes intended to reflect sunlight and the sky above so that the appearance of the building will change according to the weather and seasons. The building features 11,000 panes of glass, with a total surface area of 602,779 square feet equivalent to the area of almost eight Wembley football pitches. The Shard was designed with energy efficiency in mind, fitted with a combined heat and power plant operating on natural gas from the National Grid. Fuel is efficiently converted to electricity and heat is recovered from the engine to provide hot water for the building. And Yes, Avril and I also love Kuala Lumpur's Petronas Twin Towers.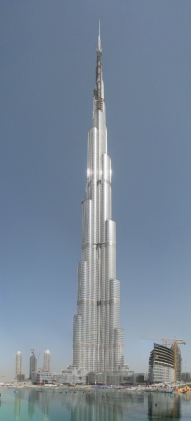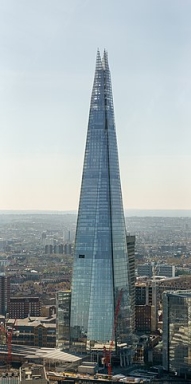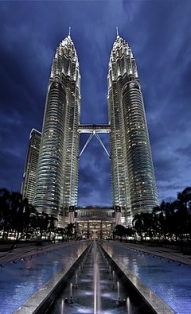 Published Date: September 3rd 2020