Exeat: Day 162/84: Guineas to Shilling for Reassurance
Last day for Eat Out to Help Out. Today is the last Monday in August so the Chancellor's maximum of £10 off a meal eaten out comes to an end today. More than 64m meals have already been consumed so perhaps we'll make 70m by closing time tonight. It's been a great success not least at The Prestoungrange Gothenburg where Calum and Michelle are extending it into September; and we've ourselves pledged to give it a re-run in the future - maybe Burns' Week 2021 or associated with our 275th Commemorations? We as the Blog records went to the Butchers' Arms in Greens Norton.
Pride of place today goes to the indominatable Jane Shilling however. Yesterday we explored the origin of our guinea fowls and 21/- guineas. Today it's pure shilling! I'm certainly the greatest fan of her regular Monday column in the Daily Telegraph in our family and she's had a good few previous references here. But today she wins absolute top honours as she extols the benefits and cultural significance of the Shopping List. She cites US journalist Bill Keaggy's seminal website grocerylists.org [he collectes fragments from supermarket trollies and sidewalks]. But she also conjures archaeological citations of such lists - Vindolanda Fort on Hadrian's Wall has shown a fascinating list of its provisions including olives as does Michaelangelo's with exquisite illustrations including fennel and anchovies. Such ephemera she suggests can open windows on life that no accounts by Generals or Lawyers ever can.
My shillings' worth of reassurance! The curatorial insights available from shopping lists give me the greatest ambition for these my 168 pandemic [84] and exeat [84] blogs. I have asked my publisher John Unwin to metamorphose them into an eBook so they can be readily accessible in years to come as is today the tale of Eyam in Derbyshire in 1665, the village that successfully quarantined itself to fight the Bubonic Plague. Many, perhaps all, see them today as an egocentric indulgence rather than a carefully thought through endeavour to structure our lives in these extraordinary times and protect our mental health - writers and readers all. Yes, I've come now to accept Avril's injunction at the outset on March 23rd that I would be better thus engaged than in crafting my cherished sequel to The Barons' Tale to encompass the two tapestries and the campaigning for the Battle Trust's Living History Centre. I often wonder if that will ever be recorded, but I do care.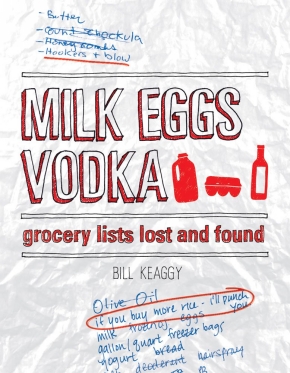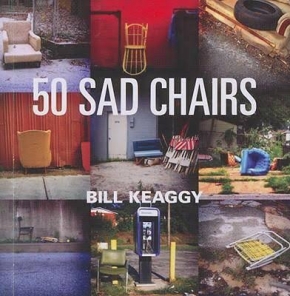 There's more to tell of this pioneering Bill Keaggy. His endeavour [well ahead of mine] was one of the first blog-to-book projects published in 2007. It's called Milk Eggs Vodka: Grocery Lists Lost & Found. So, says Bill, "in addition to the certain crisp wit you've come to expect from me you are be guaranteed 20 hilarious chapters in full-colour. It will look really cool on your coffee table". [Bill's second book is 50 Sad Chairs … I've ordered that as well! Whatever next?]
If Shopping Lists are domestication so is this … We rose early this morning because Curry's had proffered a 7am/12noon slot to deliver our replacement tumble drier and take away the broken one. But my phone rang at 10.30 to advise it wasn't going to happen today. Their driver had not shown up so can it therefore be Tuesday/ tomorrow? Not so straightforward however since we are due to visit sister/ in law Pamela in Oakham by 11am … we do have a promise to be up front on Tuesday's calls so here's hoping! And another early morning start then …

Published Date: August 31st 2020