Exeat: Day 156/84: Banana Split Day .. and memories of Swensens
It was invented/ created/crafted in 1904 by David Strickler, a 23-year-old apprentice pharmacist at Tassel Pharmacy at 805 Ligonier Street, Latrobe, Pennsylvania. He simply enjoyed inventing different sundaes at the store's soda fountain. The sundae originally cost 10 cents, twice the price of other sundaes, but caught on with students of nearby Saint Vincent College. News spread by word-of-mouth and correspondence with a recipe published in 1907 calling for a lengthwise split banana, two scoops of ice cream at each end and a spoon of whipped cream in between with maraschino cherry on top with one end covered with chopped mixed nuts and another with chopped mixed fruits. Strickler went on to buy the pharmacy renaming it Strickler's while keeping his office on a top floor. The city of Latrobe celebrated the 100th anniversary of his invention in 2004 and in the same year the National Ice Cream Retailers Association certified the city as its birthplace. There's an annual Great American Banana Split Celebration and a Keeper of the original soda fountain where the first world famous confection was made. For 2020 there's a comprehensive programme including a Virtual Yellow Tie Ball and a Run known as Just Split! One highlight is that Ball guests have the opportunity to be served banana splits from behind Strickler's Pharmacy's original counter.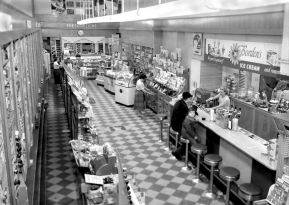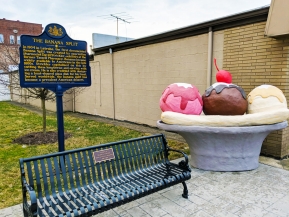 Our historic encounter was with Swensen's Ice Cream Parlor in the US … 1976. I'd been teaching at the University of Tulsa and we resolved to visit the original/ only Disney in California. We flew some, we drove some; we took a foundationer's breakfast at Macdonalds, were served rare lamb cutlets in Salt Lake City and yes, entered a Swensen's Parlor. Here for us Banana Split, or was it Banana Boat, was the order of the day.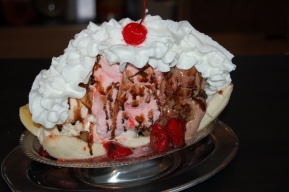 The company started in 1948 by Earle Swensen who'd learnt to make ice cream while serving in the U.S. Navy during World War II. He opened his first shop at the corner of Union and Hyde Streets along the cable car tracks in Russian Hill in San Francisco at what had been a failed ice cream parlor. Although vanilla was his lifelong personal favourite [me too], he developed more than 150 flavours which he marketed under the motto Good as Father Used to Make. The original store sold ice cream and other frozen dessert specialties such as sundaes and banana splits with, primarily, a take out service. Later other Swensen's franchisees added indoor seating and offered various types of food. I've a feeling it was at such a franchisee that we were introduced! Earle Swensen sold the rights to franchise 'Swensen's Ice Cream Factories and Restaurants' to Canadian William Meyers in the 1970s but retained exclusive rights in San Francisco and continued to operate his original store which still exists today until 1994, a year before his death at age 83. Under new management the company expanded to 400 stores, mostly franchise locations by the 1980s. However, in the 1990s it contracted to half of that size before being acquired and expanding again mostly in Asia.
Back in the Stocks! Not really; meeting Mr David Stock who did my HipOp for his final comments. I sought comparators for how well I was doing at half a mile walking/ 600 metres without sticks but he responded: whatever you wish to accomplish, go for that. Common opinion is that with two knees and an ailing left hip and a need for podiatry that present results were good. And yes, I'm satisfied and we agree that whilst Avril should stop any backsliding and keep my ambitions ambitious it was an issue for satisficing. We followed on with a trip to Currys to buy a new tumble drier and then on to the Majestic Wine store for a dozen French sauvignon blancs [2x6] - as Julian directed, from the Loire including a couple of Pouilly-Fumé - appellation d'origine contrôlée for the dry sauvignon blanc white wine produced around Pouilly-sur-Loire in the Nièvre département.
Another Irish named storm today. Since our storms usually arrive from the west Ireland's meteorologists who get the benefit first have taken to naming them - often erse! Today it's Francis; last week Ellen. Apart from the destructive power with trees in leaf it's seeking to 'Pause Anderson' at 599 Fast Bowler Test Wickets tally on the final day of the last Test against Pakistan in Southampton. He wanted a World Record 600th and he got it - Guinness perhaps?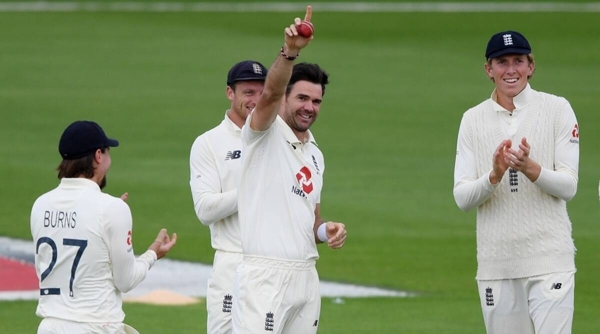 Published Date: August 25th 2020