Exeat: Day 153/84: In the 1950s and 1960s, after GCEs what next?
In bloom at last .. and feeling great! The arrival of our sunflower coincides with the ending of my own regime of blood thinners to avoid DVT after my HipOp. And frankly those pink pills have not made me feel my usual self … the only good news is that I've lost weight down from 16.8 stones to 15.9 over the 5 weeks … so exhilarated that in good sunshine if strong head winds I cast aside my two sticks and walked the 600 metres there and back to the Dip farm gate today. No sticks is of course the goal with a straight back if it can be achieved. Meeting the Consultant Mr David Stock next week to confer.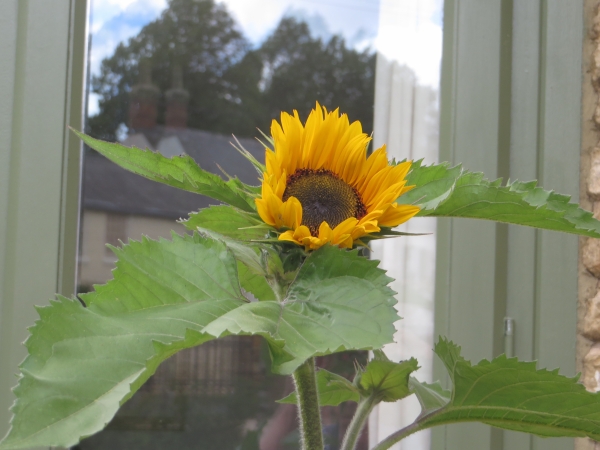 What next after GCEs? A few queries from grandchildren … with O levels/ A levels like you got, did you and if so how did you proceed with further education? With the exception of myself, the rest of the family, Avril, Bryan an Anne 'got a job'. Bryan was first out of Reed's with Matriculation at GCEs at 16 and went to work in Market Gardening with Pullenburys in Worthing living at home and helping support mother; then came his National Service in the Royal Air Force becoming an Air Traffic Controller at Cooden Beach in East Sussex. Whilst there he began some External London degree courses in Economics and on demob found a role at Bunge's, commodity traders in the City of London - a long commute from Worthing. He then moved into banking locally with National Westminster before emigrating with mother, his new wife Joan and Anne to Canada in 1961 to work until retirement with Bank of Nova Scotia. All the way he was given on the job and night school training for the jobs he was doing ending like Anne for many years as a Branch Manager - in his case held up twice by robbers!
Anne went straight to Lloyds Bank in Worthing. Her further education and training, like Bryan's, was on the job and programmes arranged by her employers. After Lloyds she solo upped-sticks with a friend to Canada [before the big family migration in 1961] and landing in Saskatoon went to seek and immediately found work with the Bank of Montreal! Her career touched dizzy heights in Victoria* and Toronto and was throughout with that bank until retirement.
Avril was straight from school to advertising in the West End. Foote, Cone & Belding [FCB] was the US agency and starting at the bottom rung she headed for night school at Ealing Tech to take the joint examinations of the IPA and AA which she completed as below in 1964. During those four years she moved into international media buying and then marketing research where we met. She holds FCB's 5 Year Award for Service - a silver ashtray.
Gordon was on the night school trajectory too. As with Avril, he was sponsored at Slough Tech by ICI for the new Diploma in Management Studies when starting work in marketing research there in 1961. He moved on quite quickly [at twice the salary] to Sales Research Services in Gloucester Place and then two streets over to FCB on Baker Street in 1964. The only courses Avril or he could take in marketing research at that time were offered by the Market Research Society at hotels and Oxbridge colleges.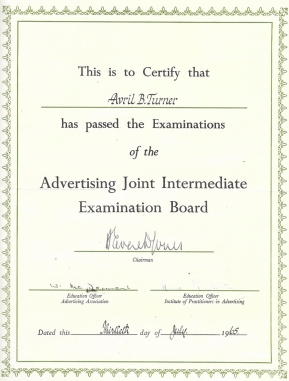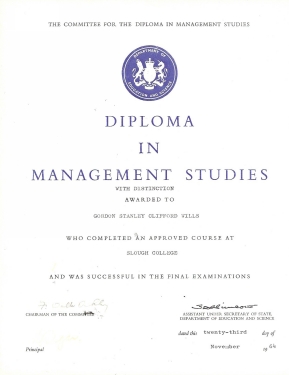 Marketing Research was a world with 50/ 50 male/ female professionals many from psychology as well as statistics. Gordon's only specific formal subsequent professional education was with the Open University where whilst at Cranfield he followed their Master of Educational Administration degree on an action research basis as they developed Continuing Studies programmes from 1976/ 1979.
How does this compare with our children then? All three boys went to University for Bachelors after which they went to work except Julian who remained in Uni at Newcastle until he reached PhD. At work Duncan and Mathew resolved to gain further qualifications and job experience - Duncan his Masters in Estate Management at Reading Uni and Mathew as a Chartered Accountant ACA then FCA. Duncan also trained as a carpenter whilst working for the Duke of Westminster then set up his own property business in York. Julian went from his doctoral work to geotechnical engineering practice but abandoned that to start LJ Lifestyle with Laura , like Duncan, which continues to this day. Both Mathew and Julian added MBAs to their training [as did spouses Kathryn and Laura. By his forties Mathew got the educational bug again and followed an MSc in Finance and Economics at Leeds and finally after working as an accountant and auditor in Health Care followed his instinct to complete his PhD in that field at York University this very year - graduating, virtually, next Thursday.
… and our grand children? Julian seems to have been the role model because with all grand daughters thus far treading the boards at Uni the present two completers, Lorna and Natasha, have both taken immediate Masters in Public Health and Personnel Management respectively. The immediate Masters degree has seemingly come to replace on-the-job training for the Bachelor graduate [although it has to be said that all Amanda's children, having got their Bachelors, have hit the workplace to learn their professions there.] __________________________________________________
* Anne got good press when she took the top job at UVic campus on Vancouver Island with views which remain unchanged on the opportunities for women at work.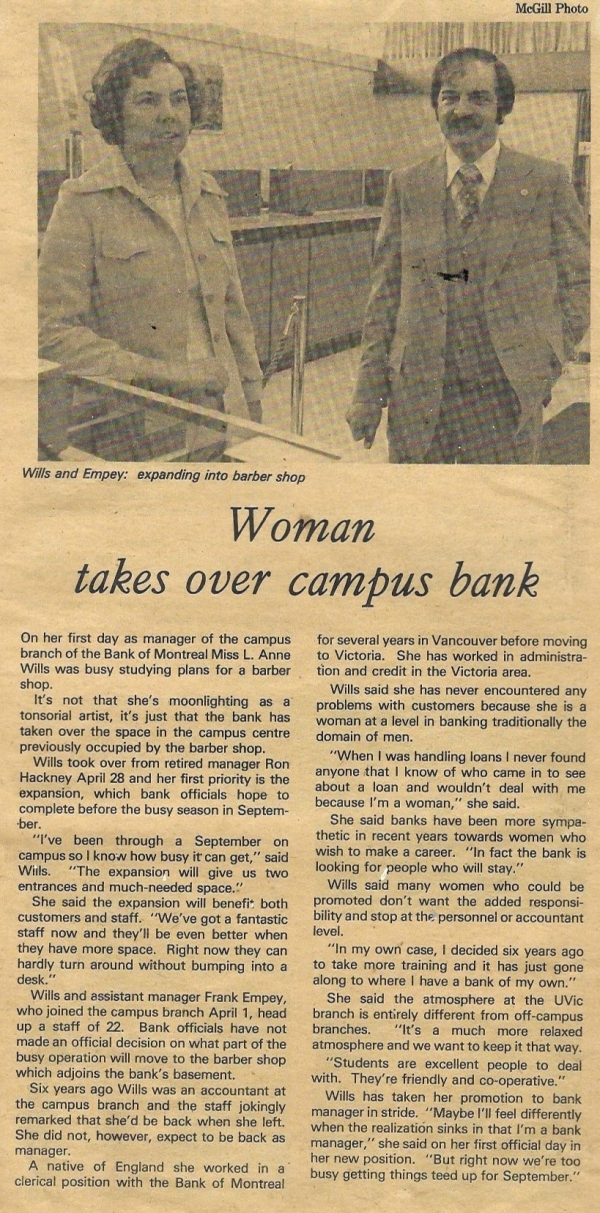 Published Date: August 22nd 2020