Exeat: Day 152/84: Aquino Day in the Philippines ...
Mother and son of assassinated Ninoy Aquino became President. Ninoy Aquino's assassination on the runway as he returned from exile was one of the most sensational events in recent Philippine history*. It led to civic unrest and forced presidential elections that overthrew President Marcos in 1986 to make way for his wife Corazon [Cory] Aquino and ultimately, after her death in 2009, their son Beningo Aquino III was elected President from 2010 - 2016.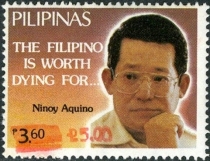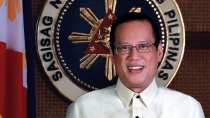 Ninoy Aquino was a well-known opposition figure and critic of incumbent President Ferdinand Marcos and imprisoned for about eight years after martial law was declared. After suffering from a heart attack he and his family moved to the United States for medical treatment and self-imposed exile for about three years but he continued his advocacy with speeches to the Filipino-American communities. He returned to fight parliamentary elections he was shot and killed on August 21, 1983 as he was escorted off an airplane by security personnel. This sparked snap presidential elections in 1986 which led to the 1986 Revolution catapulting his wife, Corazon Aquino, to the presidency.
Alexi Navlny in a coma in Russia. On the anniversary of the assassination of Aquino in 1983 and the 1940 death of Leon Trotsky after being mortally wounded comes the surprising news that a leading Russian opponent and critic of President Putin was been taken ill yesterday and has fallen into a coma. In 2011 he was arrested and imprisoned for 15 days following protests over vote-rigging by Mr Putin's United Russia party in parliamentary elections. He was then briefly jailed in July 2013 on embezzlement charges but denounced the sentence as political which prevented him standing in the Russian 2018 Presidential race. Navalny was also given a 30-day jail term in July 2019 after calling for unauthorised protests but was taken ill during that jail sentence. Doctors diagnosed him with "contact dermatitis" although he had never had any acute allergic reactions and his own doctor suggested he might have been exposed to a toxic agent. He also suffered a serious chemical burn to his right eye in 2017 when he was assaulted with green antiseptic dye. In 2019 his Anti-Corruption Foundation was officially declared a foreign agency enabling authorities to subject it to more checks. His wife is a doctor who was initially denied access to him in hospital; she is seeking to fly him out of Russia for treatment.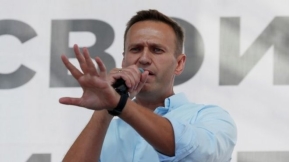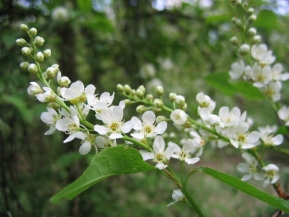 Friday is round again for coffees. With rain falling Avril headed to Gill's 'shed' which is a euphemism for a gazebo I understand. It's well outdoors for distancing and they each carry their own brews with them. Avril came home with sample tree leaf for identification … and we think it's a bird cherry - above right of Alexi Navalny. P.S. Whilst on domestic matters of import mention must be made of last night's supper which was lamb chops with the newly minted red currant jelly. Delicious along with our own runner beans and courgettes and the last of the Jersey Royals.
__________________________________________________________________
* The Philippines has a rich archaeological history dating back 65,000 years that came into contact with European colonists when it was claimed in the name of Spain in 1521 by Ferdinand Magellan, a Portuguese explorer sailing for Spain, who named the islands after King Philip II of Spain. During Spain's three hundred year rule in the Philippines the settlers had to fight off the Chinese pirates who lay siege to Manila, the most famous of which was Limahong in 1573, Dutch, British and Portuguese forces and indigenous revolts. Moros from Western Mindanao and the Sulu Archipelago also raided the coastal Christian areas of Luzon and the Visayas. Its rule saw the spread of the Catholic church and widespread education in the Spanish language. It all came to an abrupt end in 1898 when, after the destruction of a US vessel in Cuba, all out war followed between Spain and the US ending with the Treaty of Paris that year. Spain ceded temporary control of Cuba to the US [who subsequently granted independence] along with full ownership of Puerto Rico, Guam, and the Philippine islands. The cession of the Philippines involved payment of $20 million to Spain to cover infrastructure owned by Spain. The defeat and loss of the Spanish Empire's last remnants was a profound shock to Spain's national psyche and provoked a thorough philosophical and artistic re-evaluation of Spanish society known as the Generation of '98. The US gave increasing autonomy to the islands and by the 1930s they were en route to independence which was delayed by the Japanese occupation from 1942-1945. Since independence in 1946 it has seen a sequence of constitutional restructuring the most recent following the downfall of President Marcos in 1986.


Published Date: August 21st 2020