Exeat: Day 144/84: International Left Handers Day
Back to physio Juli at 3 Shires. Yes, today is 4 weeks since my HipOp. And I have already walked the half mile to Milton Church and back although it's still closed by order of the Bishops. It's ironic that whilst Avril and I have emerged from lockdowns both Mathew from Bradford and Julian from Milton/ Tenerife should be in them at least until Day 147/84. Juli was content with my progress and mesmerised by my ascent of a flight of 12 stairs so I was issued with the customary yellow elastic 'band' to attach to the dining table to allow pressurised development of the leg muscles. And walking half a mile a day is enough … but start gradually doing it with just the one stick not two. Next appointment 3 weeks hence ….
International Left Handers Day. The first I knew of sinistrality was in our mother Audrey of course. And it seems to be alive in the Wills' genes even though she was a Park. Next down are son Duncan and granddaughter Florence of York and then here at home in Milton, Henry Yr of Dolphinstoun - in whose honour we show the left handed scissors, my gift to him last year after he crafted a fine birthday card for me without the benefit. He's always kicking the football with his left foot too … Evidence suggests that whilst lefties are twice as likely to be killed in battle as right handers at sports they regularly out perform because the other 90% are less accustomed to their 'other' behaviours. Vividly demonstrated in fencing!
So why? Approximately 10% of the population are southpaws but scientists don't know why a person develops left-handedness. But, it's more likely a child will be left-handed if one parent is a lefty too. Many lefties seek to blend in because their unique quality makes them feel awkward. However, in a world designed for the right-handed, those who are 'other' dominant adapt quite well e.g. eight United States presidents were left-handed, way above the 10% in the past century, including Herbert Hoover, Harry Truman, Gerald Ford [below], Ronald Reagan, George H.W. Bush, Bill Clinton, and Barack Obama. Would the Sistine Chapel and the Mona Lisa have stood the test of time if Michaelangelo and Leonardo de Vinci had been right-handed? P.S. Osama bin Laden was a lefty but so too are ex PM David Cameron and HRH Prince William. Can't choose the company you keep!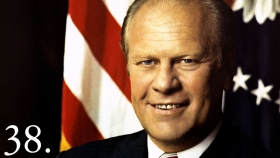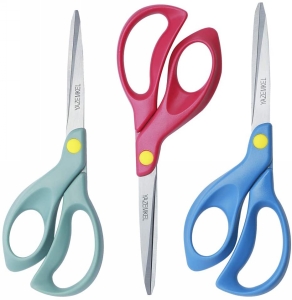 Thunderstorms at last .. It's always supposed to happen with the weather we've been having and at last today, 13th, they arrived with generous rainfall. The first drops came as I was on my longest 'Captain Oates' …. down Rectory Lane to High Street/ right along that to Malzor Lane/ left there to Towcester Road through traffic lights and road works/ made a left and walked the Towcester Road grass verge to corner of Rectory Lane then back east thereon to The Lodge. Good half mile + which I had similarly accomplished on The Glorious 12th to Milton Church and back. Talking of the 12th no sound of shot guns hereabouts … not sure how things were going in Scotland but the weather seemed foul with the Aberdeen train derailment due to land slips.
Tesco's Click & Collect action lines again tonight. Tad busy at the 4/6pm slot as we're also getting bits and bats for the quarantiners at the Big House and catering for the Ilkley in Transit crew at Sunday light lunch time as well as our own needs. All went smoothly with familiar Tesco's team on parade. We've scheduled a Far Cotton Co-op bread run on Sunday early for the lunch with Mathew and family. And I've gotta get indoors at Tesco to print out the Blog picture files since 84/84 … then of course I need to visit with Hidden Hearing to get updated kit … one HipOp outcome so far has been a deeper loss than before.
Stephen & Wendy and family love lakes. And Stephen has of course always been the family's arboriculturalist since he majored in Forestry at UofA even though he's moved on managerially to a desk lately [or he had until lockdown? Maybe he's back outdoors with the trees and energy resources ….]. Here's the view of Lake Minnewanka that appears on Facebook this morning from Wendy! It's a glacial lake located in the eastern area of Banff National Park in Canada; the lake is 21 km long and 142 m deep making it the 2nd longest lake in the mountain parks of the Canadian Rockies.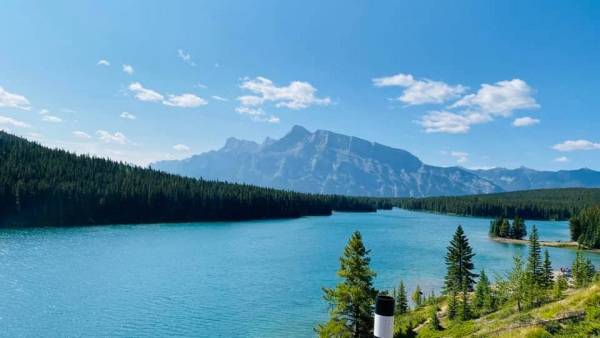 Published Date: August 13th 2020