Exeat: Day 143/84: The Butchers Arms in Greens Norton
The Butchers Arms in Greens Norton was brought back to life in 2017 …. after being rescued by a group of enthusiastic and dedicated locals. Now owned by a consortium of local villagers and investors it has been completely refurbished, extended and remodelled and is now flourishing and serving the growing local neighbourhood and wider area. It boasts a modern rustic bar, a relaxed dining area, a stylish private dining room, a multi-purpose function room and a newly landscaped tiered garden. It has become a hub for the local and wider community situated in the centre of the village and is of close to both Towcester and Silverstone. [We lived, as had Jules & Laura, at 32 High Street after we swopped The Manor House with them in 2009 before coming back to The Lodge in Milton. Bryan, Anne our mother and myself spent Christmas 1944 with evacuated Reed's School in Greens Norton Manor too - now apartments!] It was the obvious choice surely for our Eat Out initiative, the first such outing since lockdown on March 23rd 144 days ago....longer in fact - The Prestoungrange Gothenburg after the 1745 Battle Trust's meeting on March 12th …. 154 days indoors eating at home …. and for Avril add 18 = 172 - that was Mathew's 53rd birthday lunch with Anne in attendance just back from Berlin. Seems long long ago! As a foretaste for our light lunch Avril prepared a melange of garden vegetables which meant peas, runner beans and courgettes ..absolutely ideal for another baking hot 32 degrees + day again … one great bonus of the weather is that we are both shedding weight. It's too hot to eat much at all …. [below next to Mathew.]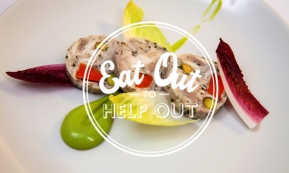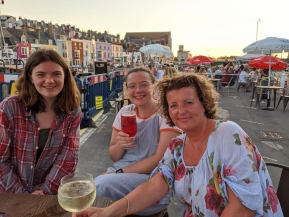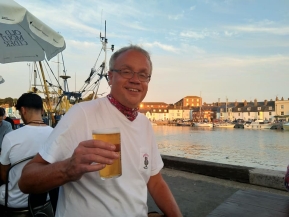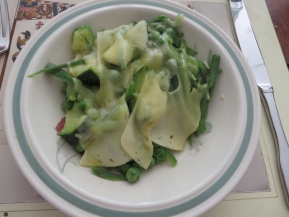 …. meanwhile, on Weymouth Quayside … Yes, there they are from Ilkley on their second wee staycation but seemingly just drinks even though it's before Wednesday … so no £10 from the 2nd Lord of the Treasury!
QR tags, Apps and new Interpretation Boards. It's three years now since we worked with John Unwin's son-in-law Eric Roseman to create the APPs we have in The Pans. It was a £25K investment but well worth it most spectacularly with the Diaspora Tapestry for exhibition visitors. However when a break in their access on line occurs it's an always difficult task to get Eric and his colleague Grant Carlisle at Atom, the coders, to sort things through. We've gotta wonder whether our burgeoning relationship with Edinburgh College might provide a more local access point to get corrections and updates addressed. For now we are trying to make the extant relationships work; as we are with Mark in Buckingham for the automatic distribution of NewsNet items which has been kaput for 3 months now … even this Blog has to be sought to be found!
… and of course our thoughts are continually with our Gothenburg in The Pans!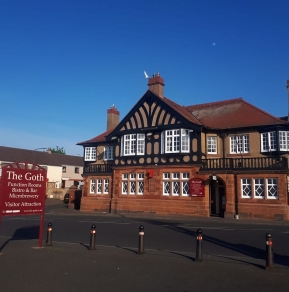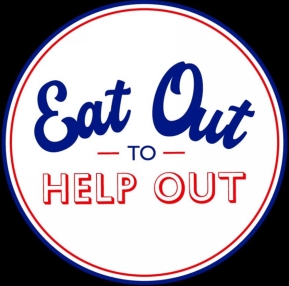 So what went down at the Butchers' Arms? As we were leaving the weather broke for a thunderstorm but fortunately it didn't happen; and Avril had risked the books with just their regular plastic cover. We parked easily and were first in for the 5.30 sitting; we liked the Highland Spring Water and the Menu opting for just one Tomato + Montzarella Salad and then Salmon Steak for Avril and Sirloin Steak for me. Both very good indeed. Her salmon came with mange tout and crushed garlic new potatoes and mine with tomato, mushroom and chips. Their coffee machine was kaput however so after settling the £50.10 bill with just £30.10 we came home to our own coffee machine.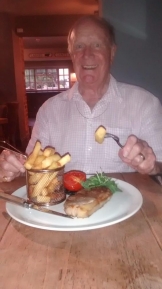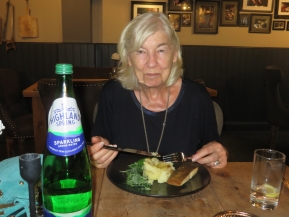 Published Date: August 12th 2020