Exeat: Day 142/84: Independence a mixed 60 year blessing for Chad
Independence Day for Chad today. At the end of the nineteenth century a Sudanese adventurer called Rabih al-Zubayr conquered the Kingdoms of Ouadai, Baguirmi and Kanem-Bornu situated in modern-day Chad, a landlocked region in north-central Africa. The region had come under the gaze of France during the 'Scramble for Africa' amongst European colonial powers. With French military support, Rabih was overthrown and the traditional Kanembu dynasty was re-established under French protection by the creation of the Territoire Militaire des Pays et Protectorats du Tchad.
Rabih al-Zubayr fought back and it wasn't until 1913 until all resistance was quashed. In 1920, Chad became part of French Equatorial Africa. As with other French possessions in Africa the end of WWII brought a change Chad becoming an overseas French territory with its own territorial parliament and representation in the French National Assembly. Then under de Gaulle in 1958 Chad became an autonomous republic within the French Community leading on 11 August 1960 to full independence; Francois Tombalbaye, a Christian from the southern Chad who had been instrumental in the push for independence, became the country's first president.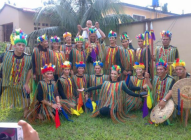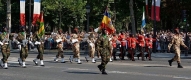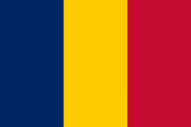 That independence brought religious and ethnic tensions and civil war and unrest that lasted three decades. Today the country is beset with problems. Chad's President Idriss Deby lately reported that Boko Haram jihadists from Nigeria would continue to wreak havoc in the Lake Chad region despite his huge military offensive against the group earlier this year. Lake Chad has shrunk 90% in past decades. The impact on local agriculture has been devastating. But there are plans that would divert 8% of the River Congo's headwaters to the Lake transforming the region's future. Chad is landlocked country bordered by Libya, Sudan, the Central African Republic, Cameroon, Nigeria and Niger. With a population approaching 13 million its capital is N'Djaména and port on the Chari River near the confluence with the Logone River on the Cameroon border.
Garden splendour from Edmonton. Anne has been regularly saying how wonderfully Christopher had planted out Bryan's back gardens this year but this is the first collection of pictures we've seen. Well up to anyone's expectations eh. Be sure to click to enlarge each image ….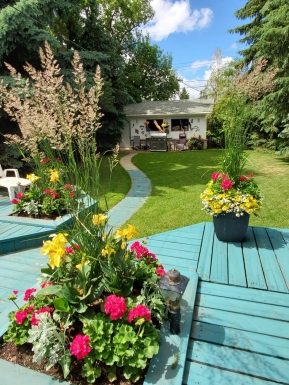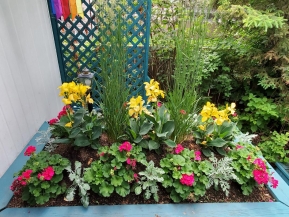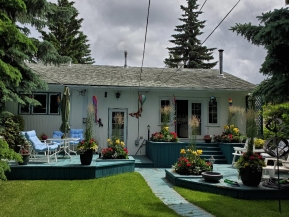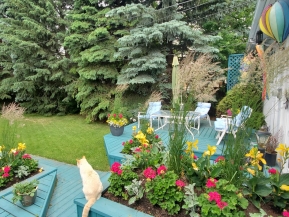 ZOOM Webinar session on AMD latest. Avril logged on to learn about the latest developments which are full of optimism although the science will take a while yet to reach its goals. Attempts via her AppleMac to gain access were frustrating and ineffective so, we used my connections on my laptop which worked for the second half hour of the lecture and discussion. Not sure how mine worked and not her Apple but at least Avril's first initiative came good and now we need to make sure we get thoughts a plenty before another occasion....
TV Licence payable now on …. Got the letter today telling me to pay up £157.50 which made me wonder; there was nothing we wanted to watch last night and the BBC's entire editorial focus on 'banal repetitive discourse', 'Covid victimhood' and 'diversity narratives' was never my preference and wore thin long since. But yes, I mailed the cheque as Avril will shortly do for the TV access at Somerset House no doubt. My own view? BBC should be a multipart service to which we can subscribe like Sky …. or alternatively [not Avril's wish!] take advertising as in CBC and ABC in Canada and Australia.
Happening outdoors as we bake in 35 degrees … Major newcomers, mistaken initially for 'sheep', are two white calves, mother close by. They seem fascinated by the bugs that must infest the 20 years ago fallen tree trunk. And at last some justice to the zinnias [left] and the very impressive yellow antirrhinum by the tomatoes in the front garden.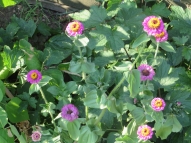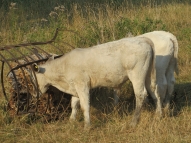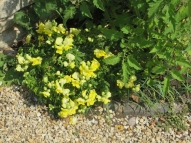 Published Date: August 11th 2020