Exeat: Day 141/84: Bets, windfalls & S'mores ... S'mores?
S'mores Day Today! It recognizes the most popular campfire treat! Millions of people of all ages love this gooey, toasted treat. It consists of roasted marshmallows with a layer of chocolate bar sandwiched between two pieces of Graham cracker. A what? - It's a sweet flavoured cracker made with graham flour that originated in the United States in the early 1880s. Usually honey or cinnamon flavoured it's used as the key ingredient. Graham 'flour' is coarse-ground of whole wheat named after Sylvester Graham. It is similar to conventional whole-wheat flour in that both are made from the whole grain but Graham flour is ground more coarsely and is not sifted during milling. The Reverend Sylvester Graham was an American Presbyterian Minister and dietary reformer known for his emphasis on vegetarianism, the temperance movement and eating whole-grain bread.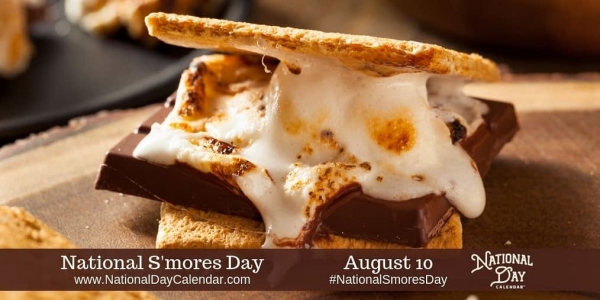 The origin of this tasty snack is credited to the 'fictional' entrepreneur Alec Barnum*. However, the first recorded version of the recipe can be found in the 1927 publication of Tramping and Trailing with the Girl Scouts. Even though the Girl Scouts were not the first ones to make S'mores Girl Scout groups describe them in their reports as early as 1925. It is unclear when S'mores became the common name but it's simply a contraction of some-more! Many variations on the original s'mores find their way around a campfire. Try spreading peanut butter on the Graham crackers before adding the other ingredients; substitute peanut butter cups in place of the chocolate bar; replace the Graham crackers with fudge-dipped cookies; add banana slices. Hershey with the ready to use kit seems determined to hold ground however!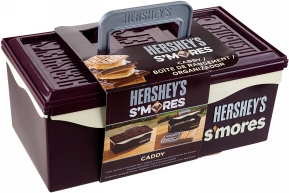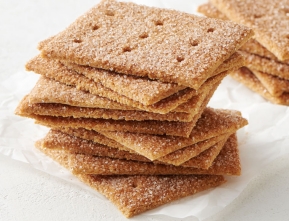 Bets and windfalls. Henry was in the spirit of Sunday afternoon tea at the Big House - even though he had a poorly neck from the 'noisy neighbours' swimming pool escapades on Saturday. He placed a bet of £1 each way that I couldn't walk unaided by sticks from the Barn Patio to the goal's cross bar at the Old Rectory End, touch it with sticks, and manage the return. I won the bet, he played me back with countdown theme … and duly paid up. Next his footballer's chance to win it back .. hit the crossbar from the Barn Patio end within 10 shots; he made it in 4 the ball skimming onwards and over the wall into Rectory Lane. He attributes his talent to the Manchester City kit he wears as pictured … Honour and quits then.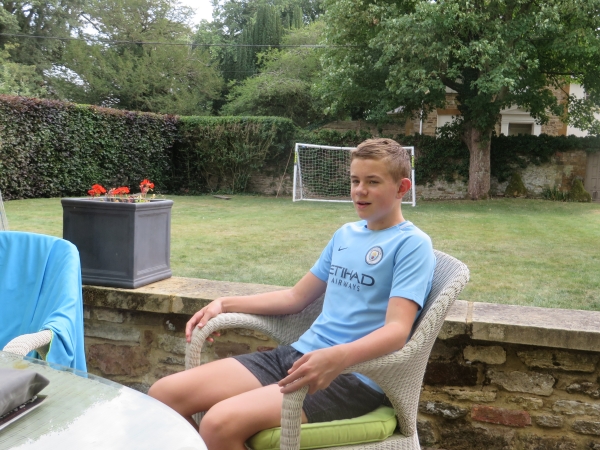 Meanwhile Avril was politely asking for Big House cooking apple windfalls and with permission duly returned home with a bag full. She then prepared a beauty for me; it's my breakfast today with coffee and brioche [2]. Very well worth remembering that delight. No picture because although hot last night it was soufflé like, cold it had visibly deflated. If there'd been any Graham crackers they might have been an alternative to try but the brioche will take some beating. Until lately never a particular favourite but with fruit e.g. peanut butter and bananas or as today with cold baked apple stuffed with brown sugar and sultanas it's in a league of its own. The blood thinner rivaroxaban 10mg just slides down without noticing … just 9 days more with this uncharming but worthy medication. And Avril spent late morning turning all the windfalls into apple puree ready for jelly making ….
______________________________________________________________
* Alec Barnum, the great American entrepreneur, is known to many as the inventor of the S'more — but few seem to know the details of his extraordinary life. He wasn't always the man history now knows him to be … Born as Nathanial Ayers in Cleveland around the turn of the century Alec was dealt a poor hand in a gambling, abusive father. But like any true American inspiration he rose above mere circumstance; age 11 he ran away from home in search of a better life, and changed his name to the more official sounding John C. Wilkons. It was in these years, subsisting as a pickpocket, that Alec had the idea that wrote him into our encyclopedia making millions on the light, fluffy air of marshmallows placed between crackers and chocolate. But the life of excess would prove to have its expiry date come the Great Depression. Driven to bankruptcy and into hiding by his creditors, our hero quickly went through a number of successive identities, a number of them female — in those times, a creative way of eluding those who sought money from him. Alec is known variously as camping enthusiast Rose Weber, Girl Scout Loretta Scott Crew, and recipe-maker Clarice Nelms. Then his trail goes cold for the better part of the 20th century until history picks up the thread in Mexico on his death bed aged 87 year.

Published Date: August 10th 2020