Boarding @ Home: Day 114/84: Covid19 Self-Testing @ NGH + Fall of the Bastille
Straightforward PreOp Self-Test … once you got the appointment! We knew it was a sine qua non that I needed a Covid19 Test before I could go to 3 Shires Hospital on Thursday but had to hustle to get the call that set the drive-through appointment at NGH. Now I'll hear by phone in 24 hours if it's positive but nothing if it's negative … and the attendant collecting the swab from me wished me a 'successful procedure' … as I drove away which was nice. My swab now heads to Northampton General's own in house laboratory that identifies patients with COVID-19 in under four hours. It's feasible thanks to the microbiology team which has installed a new Luminex Aries® Molecular Diagnostic Platform to do the tests. It apparently enables staff to target a gene unique to the COVID-19 virus using a single swab that looks for virus particles where they are most likely to be found i.e. high up in the nostrils and at the back of the throat.
July 14th is synonymous with Bastille Day 1789. You can celebrate it across the globe wherever there's a French presence but Guadeloupe, French Polynesia or New Orleans in Louisiana are all likely to be intriguing. Polynesian Tahiti sees 'National Day' as Bastille Day is known in the islands fall amid its own weeks long Heiva i Tahiti Festival, a cultural showcase that kicks off with the June 29 celebration of French Polynesia's autonomy! It's a fitting celebration for a holiday that honours freedom and liberty following missionary rule which frustrated many traditional cultural practices. But the French helped usher in a resurgence of traditional dance forms and many of Heiva i Tahiti's highlights, beauty pageants, food tastings, a handicraft market, and competitions in stone weight lifting and coconut cracking, all take place at Papeete's To'ata Square and in its open-air amphitheater. Canoe races, fire walking, and re-enactments of ancient Polynesian ceremonies are also held throughout the Islands. July 14, when it is reached, is marked with a military parade followed by a Reception in the residential gardens of the French Republic High Commissioner. Almost everywhere it's fireworks and grand military parades. And it still marks the anniversary of the storming of La Bastille, that grand fortress infamous for holding political prisoners which is now seen as the opening moment of the French Revolution in Paris - shown below!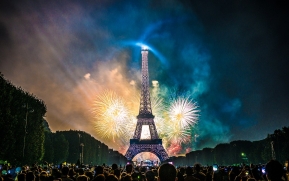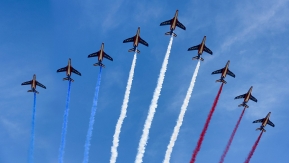 Back in July of 1789 France had already experienced a rough summer that included food shortages, high taxes as a solution to King Louis XVI's debts and the militarisation of Paris. Sensing distress, the King had earlier called upon the Estates-General — an assembly that hadn't met in more than a century — to deliver a new tax plan. The response from the Third Estate, the non-noble/non-clergy portion of the Assembly, was to break from the clergy and nobility and demand a written Constitution for France. Their Proclamation would form the National Assembly by late June but when weeks later the King removed a popular Finance Minister, Jacques Necker, it was feared that King Louis XVI was attempting to quash any political revolution. Tempers reached boiling point. That fear culminated on July 14 in a march to the Hôtel des Invalides to loot firearms and cannons and the far more famous storming of the Bastille for proper ammunition. It was a hunt there for gunpowder — not the hope of freeing prisoners — that was the main motivation. The freeing of the few prisoners that remained at the Bastille occurred but a deadly battle took place and the brutal beheading of the prison Governor and his Officers were a side effect of chaotic uprising rather than its intent. It didn't take long, however, for the symbolism of the Bastille to change.
Somewhat famously, Louis XVI asked a French Duke that evening if the storming of Bastille was a revolt, with the Duke replying "No, sire, a revolution." At first the Royal response was an attempt to compromise; the King arrived in Paris from Versailles to declare his support of the revolution and don the tricolor cockade. That bolstered the Revolution's political meaning and the idea that storming of the Bastille was a demonstration against political tyranny rather than a violent event. Feudalism was abolished that August.[But not in Scotland until November 28th 2004!]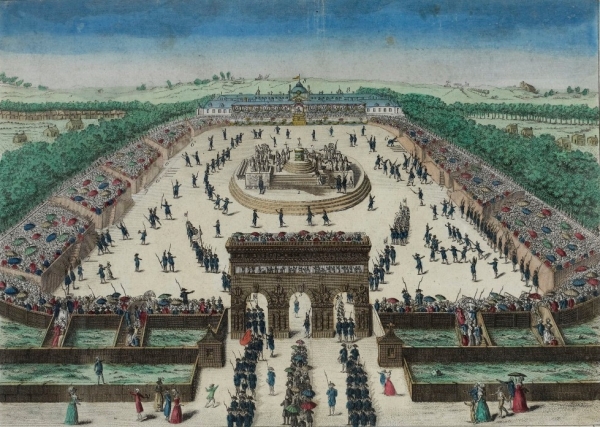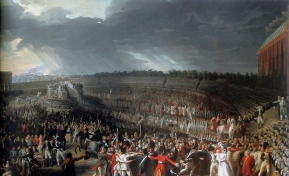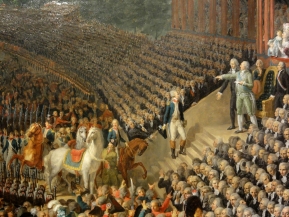 A year later, France would host the Fête de la Fédération on July 14 [pictured above] to celebrate the France's constitutional monarchy and to honour its newfound unity. That unity didn't last long and the revolution eventually devolved into the Reign of Terror.






Published Date: July 14th 2020