Battle Trust Memory Lane [32]: Captain Clarke returns to Prestonpans
The descendants of Captain Clarke contacted the Battle Trust earlier this year, and Arran Johnston was able to help them research their ancestor ...

... but there were surprises in store ...

Visit Prestongrange Heritage Museum in The Pans from September 20th/ 24th to see the extraordinary evidence behind the story

Captain James Clarke joined Hamilton's Dragoons in or before 1743, and fought at Prestonpans in 1745. He was severely wounded by a sword strike to the head, but escaped the field, as did most of Hamilton's men.

After the battle, Clarke needed fine surgery to fit a silver cap over the hole in his skull, and he then lived for many years. His skull was donated to the Royal College of Surgeons of England by the family in the 1950s.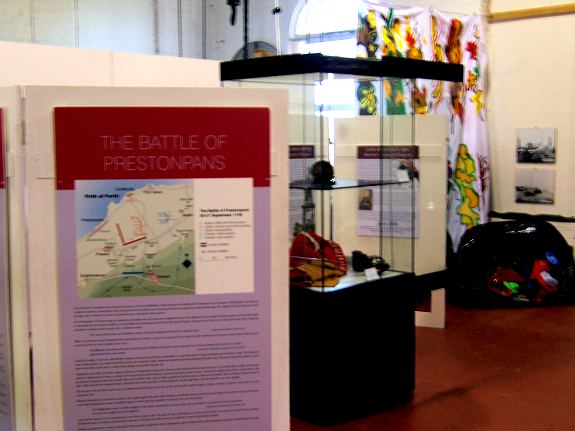 Our research this year has helped pin down the truth behind the family legend: it's a story that's never been told before> It was just be a family tradition passed down from generation to generation. Neither has Captain Clarke's skull ever been displayed before.

In partnership with East Lothian Council's Museum Service, the Battle Trust is now able to offer a wholly fascinating display - fascinating not only for its Battle significance but also for the success of the surgery involved. Word always was that The Prince demanded all the wounded on both sides be cared for immediately after the battle - and wholly at variance with Cumberland's behaviour after Culloden. Here is an honourable example par excellence.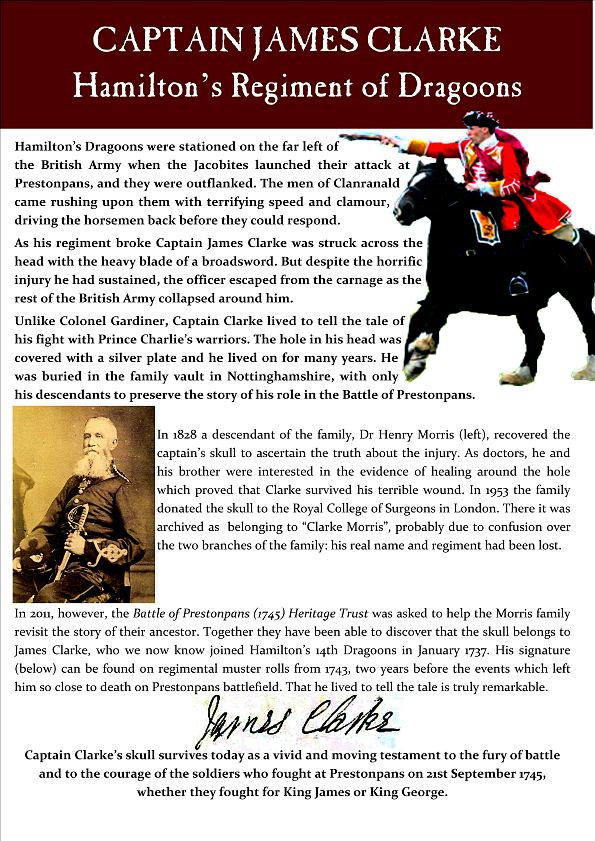 In respectful deference to the Captain and his family the skull is not directly pictured here at our website. It is on the top shelf of the display case pictured above.] So, you'll need to visit Prestongrange Heritage Museum to see it for yourself along with selected relevant cohorts from the Prestonpans Tapestry.

Published Date: July 13th 2020