Boarding @ Home: Day 112/84: Edmonton calling .... fish and chips OK
It's been a great success, the weekly phone call! It's been a feature ever since Bryan and Anne's phone companies included 1000 minutes overseas calls in their service packages. Every Saturday at around 5pm GMT/BST our phone rings with one or both of them, and Joan, on the line for nigh on an hour. Yesterday the important news was that Bryan's back had improved sufficiently for him to drive out and buy their traditional Friday British Fish & Chips. This occasion he'd gone for The Works a $40 offer which included four pieces of fish, two haddock/ two cod, ample chips, one portion of mushy peas for himself and, surprisingly, onion rings! [The images really are true news from their website!] When questioned Joan said she liked the latter but preferred them from A&W rather than the Great British Fish & Chips Shop! She insists on Marlborough Sauvignon Blancs too. Unexpected guest was son Stephen who stayed for 3 hours and shared their Friday feast on the deck in great sunlight.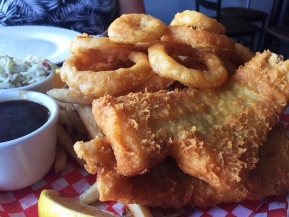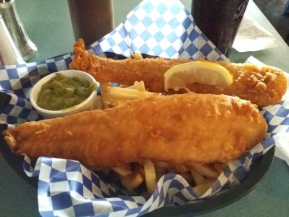 Back here at The Lodge as reported yesterday there were no chips but a Tesco's fish pie and samphire. There was more to discuss with Edmonton of course - Chris' eye operation has gone well and he's readying for the second to eliminate his double vision. Football was as usual discussed because Bryan and Anne watch a great deal but there was no talk of hockey or the Oilers. We've all got clear hopes for Leeds to finally get back to the Premiership after 16 years in the Championship and the week had learnt of the death of Leeds' legendary centre half and successful Ireland Manager Jack Charlton. Also shared pleasure that The Cobblers are going up to Division 1 next season. And then there was garden talk …. On reflection afterwards last night Avril and I both agreed that despite physical proximity here in Milton and myriad APP exchanges, the old dog & bone has enabled us to all stay in touch equally well with the senior Canadian branch of the family. And with Anne locked down at home with Bryan and Joan all has been achieved with just the one extended conversation. And, they're all looking forward to my hip operation, as am I; here's trusting I'll get some extra mobility in a couple of months.
Isolated Lunch at The Big House. We took a bottle of New Zealand Sauvignon Blanc and toasted Joan before the Chianti Classico with the silverside of beef and a splendid array of vegetables. Dessert was garden freshly picked raspberries and strawberries and home made strawberry ice cream. Elliot was noticeably absent since he'd been camping all night without sleep; Henry was his usual footballing self, pleased with the latest Manchester City result [I think they won!] His goal shooting was off colour hitting the cross bar only 4 times out of must be 50. But it was a fine sunny day and we stayed isolated at a goodly distance till 5pm. The grandsons are now on 'official holiday' until September and next stops are a week in Mallorca from July 26th and then a spell in Weymouth as and when the sun might be forecast to shine.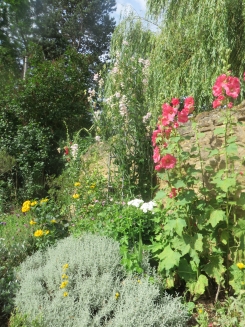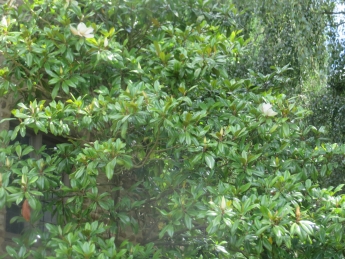 … back in the garden … Avril's mighty proud of the display this year of the santolina in front of the hollyhocks and perennial sweet peas; I'm getting over excited that the year might finally have arrived when the magnolia grandiflora finally delivers … it's not easy to see just yet but we've got the makings of a dozen or more blooms at present and you can just spot the buds if you try on the image.




Published Date: July 12th 2020