Boarding @ Home: Day 111/84: Tomatoes, runner beans, peas and courgettes ...
Dig and grow for Victory … The garden at The Lodge has been an endless source of satisfaction for both of us right throughout lockdown and our temporary exeat. The blogs have told many a tale of sowing seeds, aestivational blooms, and cropping lettuce, radishes and occasional spinach. But we were sadly asynchronous for tomatoes this week when Click & Collect from Tescos failed to include them. Yes the samphire was included and it duly appeared with our ritual Friday's fishpie along with our home grown courgettes. But for lunch platters no toms or loaf. A quick photographic observation […. which included centre below my much loved verbena bonariensis ….] of our five home growing tomato plants [3 shown below] revealed two early flowers apiece and standing-up-straight-sticks to match my own walking-stick, but of course no fruit. [The emergency was necessarily overcome by a masked excursion to Far Cotton Co-op as ever where Yorkshire grown red berries were available.] Lunch today was corned beef salad with lettuce of course, two wee first cropped peas each [no Princess would have noticed them in her bed!] and sliced Yorkshire tomato salad with fresh basil leaves.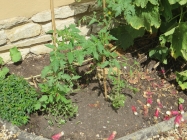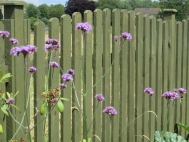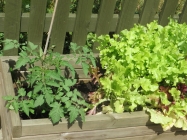 The tomato is the red berry of the plant solanum lycopersicum …. which species originated in western South America and Central America and the Aztec word tomatl gave rise to the Spanish word tomate. Its domestication as a cultivated food seemingly originated with the indigenous peoples of Mexico who shared its use in cooking during the Spanish conquest eventually bringing it to Europe by the 16th century. Tomatoes are a significant source of umami flavour and is consumed in myriad diverse ways in dishes, sauces, salads and drinks. While tomatoes are fruits—botanically classified as berries—they are commonly used as a vegetable ingredient or side dish. Numerous varieties of the tomato plant are grown in temperate climates across the world with greenhouses allowing for the production of tomatoes throughout all seasons of the year. They are vines that have a weak stem that sprawls as we know and in broadscale farming are typically left to be like that. Indeterminate tomato plants are perennials in their native habitat.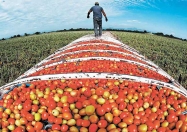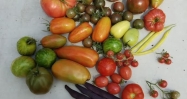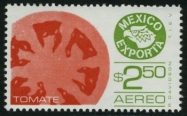 US and Mexico at war over tomatoes! Year end 2019 has seen the imposition of a 17% tariff on Mexican tomatoes entering the US after strident complaints from Florida of unfair competition. In practice many of the growers in Mexico are owned by US companies as part of their supply chain and imports from Mexico account for some 50% of all such produce consumed in the US. And many of the growers in Florida use Mexican agricultural workers …..
Domestic news in run up to hip operation … We've checking out slip on shoes and sticks, washing pyjamas and walk shorts … and getting my hair cut. Avril's early youth experience at work in a hairdressing salon means she has the confidence and some of the skills for the craft and did an excellent job. Very grateful.
Big Quick Ask from Heritage Lottery. Because we are on their wavelength with our 275th Anniversary of our battle we were asked last week whether we need any special assistance to cope with emergencies arising from the pandemic. We certainly know a little financial assistance would be much appreciated - so we applied for £8,000 to go towards our strategic refocus work for what we've dubbed the Interregnum 2022/2026 and to assist our additional e-services. It's feasible with detailed cash flows to ask for much more but we looked to a modest request and are hopeful it will be successful. The balance of this weekend will see me preparing for the Trustees ZOOM on Thursday when I have asked Sylvia to take notes for the Minutes once I emerge from 3 Shires.


Published Date: July 11th 2020