Boarding @ Home: Day 103/84: Our future is Jacarandas ...
Second day back in isolation and we chose Weymouth! The great news from July 4th is that we can travel to our beachside Somerset House isolation and/or be at The Lodge …. just one snag. The arrival of two very fine jacarandas bonsai at Milton as yet unplanted means they require TLC and Weymouth can only be a short breakaway. But it's been a delight arriving after five months absence to rusting balcony rails despite last summer's one coat Hammerite applied and lower deck door hinges that needed oil. There are bits and bats to fix of course …. and an imminent shortage of coffee beans, ample scope for pessimists if they can be found but not us … Hamiltons is reopening today as a restaurant and has been doing take outs all the while I am informed. The five gigantic cruise liners are still at misted anchor in the Bay and more at Portland Harbour but soon they'll be offering tours and afternoon teas no doubt! The climate's not the best, rain in the air no less and the beach is not packed … but I can see three swimmers as I write. The Dorset Echo is carrying Stay Alert messaging as the Big Day out of staycation lockdown dawns, with the opportunity to book overseas holidays to 70 destination countries arriving simultaneously despite Nicola Sturgeon's determination to read a unique script for Scotland that reflects her own independent political judgements not those from London [ditto the Welsh!]. Avril's gardening concerns in Weymouth are reborn and rekindled, pictured below with 1.5 metre weeds and standing proudly with the despised buddleja - Sarah in #4 thinks it's great and it certainly flourishes here as it does on most rail tracks and waste ground. [My two oleanders, so proud a reminder of Vanuatu and Queensland have survived the winter here, just, as can seen way below next to a misted P&O cruise liner!]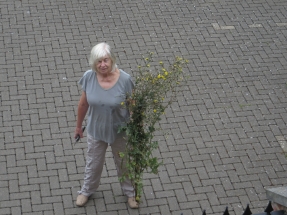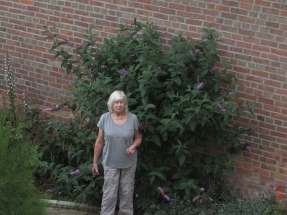 Grafton NSW takes some beating for jacarandas So far as we are concerned, despite the extraordinary sight on landing at Brisbane Airport with a jacaranda blue carpet beneath the wings, Grafton NSW is the city that takes your breath away. As pictured below, the avenues look like fallen lavender blue snow. They have an annual festival like no other in October/ November.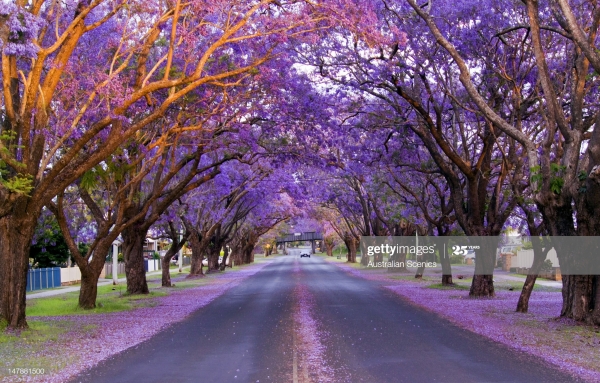 Like the more modest poinsettia tree which has kept us company in Milton since Christmas, the jacaranda is a Brazilian native tree that was introduced into Australia by natural historian Alexander Macleay, Colonial Secretary for New South Wales. They grow to 20 metres high and arch overhead enclosing you in a giant rip curl wave effect of the brightest blue flowers both above your head and below your feet. Around 15 years ago Mr Sakai in Japan made a chance discovery of a single flowering branch on a young Jacaranda tree - they normally take 15 years to flower. After careful selective breeding he finally perfected the early years flowering dwarf or bonsai jacaranda that you see below left. [More Grafton right.]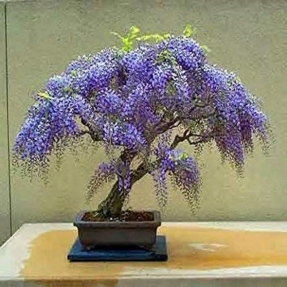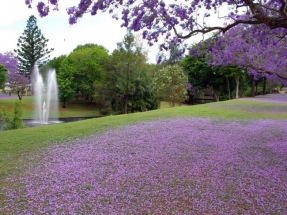 P.S. I've told the Bishops [Day 85/84] that I'm back … from Exeat … but have the advanced request to exit once again AM Saturday July 18th all being well!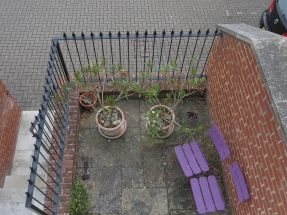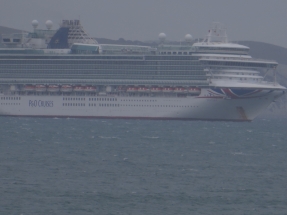 Published Date: July 3rd 2020