Exeat: Day 99/84: Cameras & UN Tropics Days
Our family's first camera from the 1930s was a Kodak Brownie. These simple and inexpensive cameras were first introduced in 1900 which meant we could, and did, take snapshots. It was a basic cardboard box camera with a simple meniscus lens that took 2 1/4-inch square pictures on roll film - see below! The name Brownie comes from mythical figures in Scottish folklore who come out at night and do all manner of chores. The sales message was: 'You press the button, we DO the rest!' All the photographs for this Blog since lockdown have been taken using the SanDisk 64 on the accompanying Canon SX280 camera.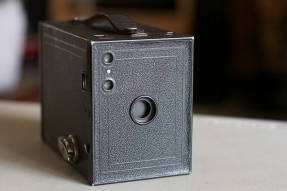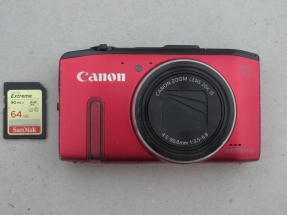 George Eastman was "The Father of Photography". While he did not invent the camera he did invent many additions that improved the use, ease, and production of the camera making it widely available to homes around the world. He registered the name Kodak because it would be easy to remember and it had a K in it, his favourite letter. The business was in Rochester NY and deployed 'razor & blades/ printers & inks strategies' with the camera deliberately cheap to reach the mass market and the profit was earnt on the film. The original cameras were large and bulky but have now evolved into something that can be as small as a pen. The technological transformation of photography over the past 150 years has seen myriad competitors and alternative approaches to imagery not least jpegs and phones. Kodak took Chapter 11 Protection in 2012 to avoid liquidation in the US and restructured. Today it provides packaging, functional printing, graphic communications and professional services for businesses around the world. Its main business segments are Print Systems, Enterprise Inkjet Systems, Micro 3D Printing and Packaging, Software and Solutions, and Consumer and Film. It is best known for photographic film products. Canon is based in Tokyo and launched its first camera, the Kwanon, in the mid 1930s. SanDisk was founded in 1988 by Eli Harari, Sanjay Mehrotra, and Jack Yuan and incorporated in California. Co-founder Eli Harari developed the Floating Gate which proved the practicality, reliability and endurance of semiconductor-based data storage.
The Tropics are roughly defined as the area between the tropics of Cancer [23*North] and Capricorn [23*South]. Although topography and other factors contribute to climatic variation tropical locations are typically warm and experience little seasonal change in day-to-day temperature. An important feature is the prevalence of rain in the moist inner regions near the Equator and that the seasonality of rainfall increases with the distance from the Equator. Cancer runs through Mexico*, Bahamas**, Egypt, Saudi Arabia, India* and Southern China including Hong Kong*; Capricorn through Namibia*, Botswana*, South Africa**, Mozambique, Madagascar, Australia*, Chile*, Argentina*, Paraguay and Brazil*. A single * is where we have visited on business and ** additionally for vacation as well. To those intersected by the 23 degrees N & S must be added the wholly in between nations we have visited Peru*, Venezuela*, Panama**, Curaco**, Barbados**, Nigeria*, Zimbabwe**, Zambia**, Kenya*, Sri Lanka**, Malaysia**, Singapore*, Papua New Guinea*, Hawaii*, Vanuatu**, Fiji**, Cook Islands** and Tahiti**. That's 29 in total … … of which we remember most our actually sub-tropical homes and business in Main Beach Queensland, Gosnells WA and Iririki's idyllic island in Vanuatu with Tom Bayer and Augustine Garae. Mexico was visiting Tony & Liz Tillett, Acapulco with young Sarah Daffern and the UN strawberry market project; Hong Kong will forever be Fredrick Tao; and Malaysia working with Ben S'ng and Ramli Khamis and the overflowing Congregation there. Curaco and South Africa were longstanding friends Yvonne & Dick Gerdzen, their beach bar, and Mohale Mahanele and lunching and holidaying in the Cape vineyards; PNG was John Wicks' territory and always a wild excursion but a chance to meet the Governor-General and PM.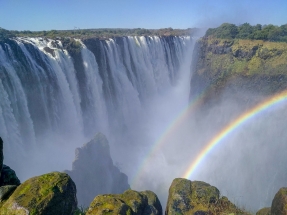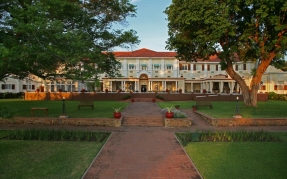 There was Rovos' Rail with Bryan and Joan from Cape Town to Vic Falls [above] on the Zambia border via Bulawayo in Zimbabwe always reminding us of our giraffe, our safari and Scottish descended redhead Bev Bruce eating ants. Cook Islands and Tahiti were delightful Air New Zealand's stopovers back to LA/ Canada with RTW ticketing whilst Hawaii was Air Canada. So what do we know of the UN's ambitions? Just the once we specifically went to assist the UK in Mexico, met the Minister but was checked by police on the way out with his wood carved gift to me; UNDP in Cyprus was of course north of Cancer. The rest was normally offering Revans' inspired IMC action based management learning to managerial groups as diverse as Gaborone in Botswana/ Sandton with National Sorghum Breweries in South Africa to doctoral evaluations of HK's new airport and it's MTR. IMCB and MCB both came together in Kuala Lumpur with Ben S'ng and it meant countless stays at the Shangri La there including, just once, a night in the Presidential Suite when they were overbooked. But the MCB Literati Club Workshops with journal authors around the globe were a delight most memorably in Sao Paulo where the local agent had made arrangements for Timmie Duncan and myself.
Refrigerator Maintenance today's ambition. Whilst recalling the tropics has been pleasurable the serious business of the day has been seeing whether the refrigerator can be fixed or has to be replaced. Either way, 15C is no help and has been the underlying cause of so much souring milk during lockdown. And, there's been occasion to capture a few more flowers including the wee geraniums kindly donated by Julian. They must have a future but presently not too impressive ….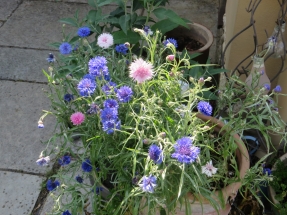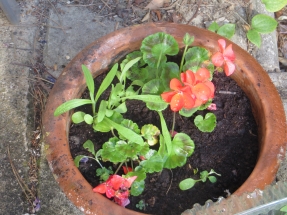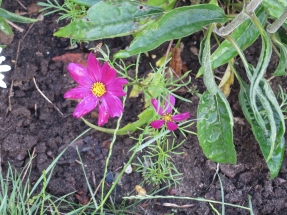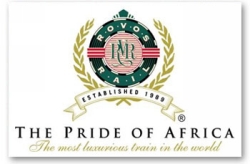 Published Date: June 29th 2020