Exeat: Day 98/84: Sunday Lunch @ The Lodge ... and Peruvian lilies
Can't get more normal than Sunday lunch or the British weather? Avril was able to show off the flavour of her black bin bag potatoes and a chicken and onion dish from Auntie Siss's 1977 cookery book that she gifted to Nan Turner … and here we are 43 years on; at least it wasn't a WWII cookbook. The Weather Watch was unhelpfully maybe rain and maybe sunshine but stronger winds than yesterday. Ever since Meteo Group took over for the BBC in 2017 after 94 years from the UK Met Office it's been unhelpful. It was the EU that insisted it had to go out to competitive tender [just as it had for Royal Mail incidentally] which was won by Meteo Group, a commercial arm of the New Zealand Met Office and Meteo which was originally launched by a Dutch weather presenter back in 1986 but is now headquartered in London as part of a group owned by an equity investment fund. There's just one odd thing about this new arrangement; the bulk of the data used by the winning bidder is still having to be supplied by the UK Met Office derived from its unrivalled network of data sources ranging from its 330 UK weather stations and 16 weather radars to information from 300 ships and airliners that are providing 106 million weather observations a day. We socially distanced, one yard + 3.39" -[bit more than 3' says Elliot!] and started outdoors with taccos and nuts but then came within but the doors widespread with the extra leaf in the table to maintain that yard.
As promised, the annual height picture from Henry & Elliot They were both in good form for their photocall [was a time when Henry would have derided the paparazzi] and both reassured us there's been no mental damage during lockdown although they've missed socialising. Parents Jules and Laura were on non-alcoholic beers and pondering holidays in Mallorca … Talking of which, Spanish cherries went down a treat and there was a scramble by Henry for the Fry's Peppermint Cream even though I confessed it came from the Merlin-furloughed Maserati. I let slip my secret source - Blisworth Village Stores which now stocks it at my personal request but insists I always buy at least 3 bars whensoever I visit.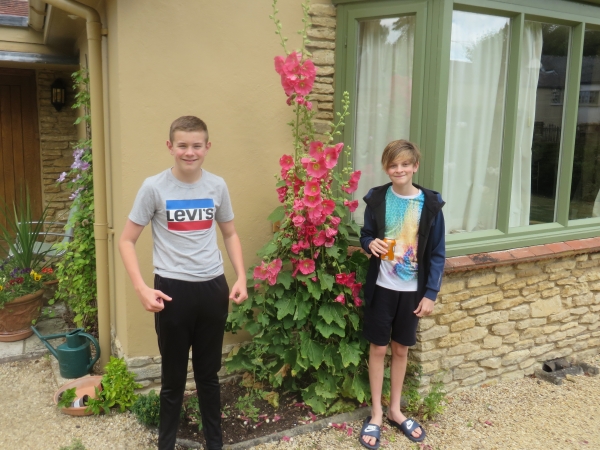 Alstromeria 'waitrosoris' in lactodorum … as pictured are a good gift after the iris blossomed and died so swiftly last week. Commonly called the Peruvian lily or lily of the Incas they last well indoors and are native to South America although some have become naturalized in the United States, Mexico, Australia, New Zealand, Madeira and the Canary Islands. They come all year round in oranges, yellows, yellows/greens, red/purples, purples and whites/ivories - this £7 display from Waitrose in Towcester.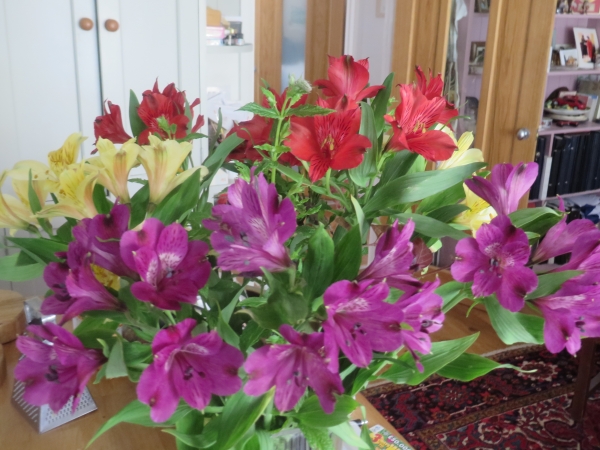 Cattle in The Dip again. Great to see over the palindromic fence and the California poppies [which have also arrived on the compost heap alongside the peas in the front garden!] and they came to talk with us before lunch.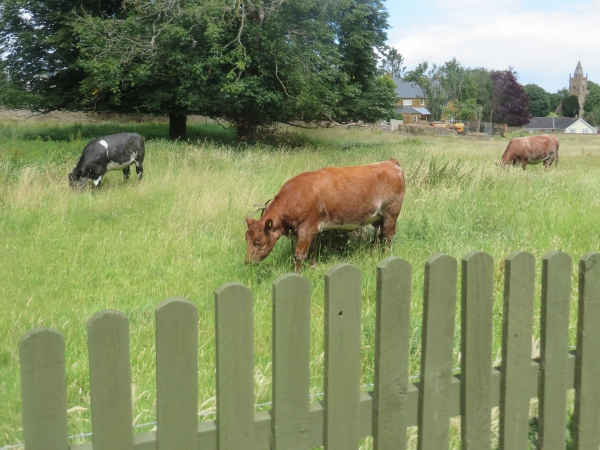 … and talking of lunch it was great news from The Prestoungrange Gothenburg that even if we were eating chicken with Milton Royals that for £9.95 including VAT there was a choice of take-out pork or beef with dessert included in Prestonpans. Not to be outdone Avril had, with Tesco's assistance, served fish pie on Friday night on the patio. Word from Edmonton Saturday PM was that they'd had haddock and chips from their Great British Fish & Chip Shop.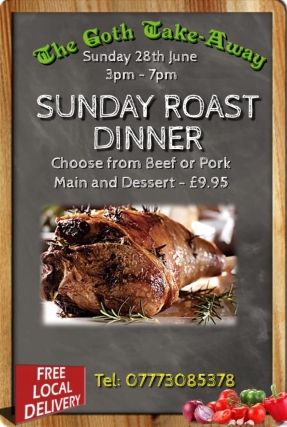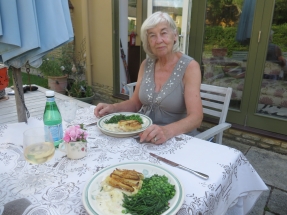 Co-op shopping @ Far Cotton. Although I've been to Tesco and Waitrose as well as Towcester's Hartwell's Deli, my preference remains my local Co-op. Easy parking, a wee trolley for refundable £1 and I know my way around. As usual nice corn on the cob and some croissants as well as those above welcomed Spanish cherries. And their cash machine was working which is one up on Tescos. Even had time to deadhead a lot of roses before lunch but had to let them fall because I can't do more than snip whilst leaning on that walking stick.


Published Date: June 28th 2020