Exeat: Day 96/84: Reinstated for Friday Coffee .. with Greta, Tin Tin and Tim Tams ....
Boris' Metaphorical approach to Exeat. Whilst I'm peddling hard here with my Exeat Blogs Boris keeps building his metaphors. He began with promises of a Road Map, and next we took Baby Steps. Then, by the by, he restructured the Department for International Development that's legally obligated to spend 0.7% of GDP each year to merge with the Department for Foreign & Commonwealth Affairs - abolishing the Cashpoint in the Sky as it had become. Now we are Coming out of Hibernation, using our common sense and looking for Bustle. If hot spots occur we'll be using a whack-a-mole approach. We approve such language; and although we loved his re-entry latin slogan after his own attack of Covid19, Salus populi suprema lex esto, it's a more powerful way to catch the imagination. He needs a metaphor for our schools at the moment. I just wonder if he could get Greta Tintin Thunberg to focus her attention on that and organise a mass protest/ sit down movement: Weir cumin 2 skool. Whers teach? Too much to hope for? Disapproved of by the Met, Bristol and Derbyshire Police? Never knew Greta's second name was Tin Tin …. As John Unwin often reminds all who listen …. Tin Tin might be a Belgian creation but he has a sharp intellect, can defend himself and is honest, decent, compassionate and kind. Through his investigative reporting, quick-thinking and all-around good nature, Tintin is always able to solve the mystery and complete the adventure. We want some of that! Not to be confused with Tim Tams from Arnotts in Australia which Boris promised last week we'd get more cheaply if we strike a new Trade Agreement with Oz [and Vegemite?] - EU Tim Tam tariff is 8%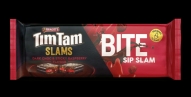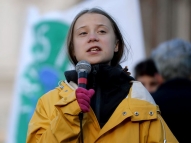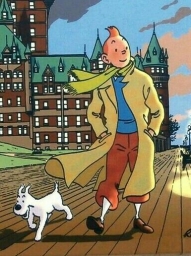 Jealous of Julian's lavender. Don't know how he did it but he's got full flower and the bees are arriving whilst we are still waiting at The Lodge. There's no delatoriousness on our part, secret accusations, as there are correctly to be levelled at his camellias. We have got our own mysterious wild flower below right though growing from a crack in the patio however … finally found it's known as linaria maroccana.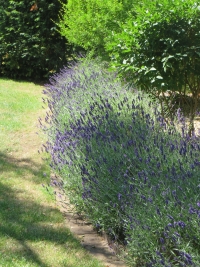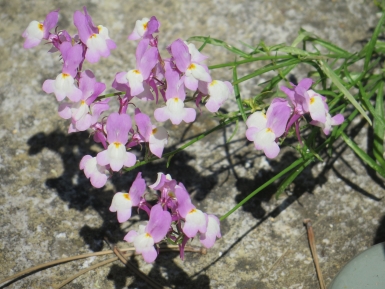 There are more flowers to come as we roam the garden and even the north side of the palindromic fence! There we find eschscholzia Californica, California poppies below right, that have seeded themselves from south of the fence yesteryear and in amongst the long grass a pale lilac malva sylvestris. That malva is famed for its medical [e.g. in Spain to treat stinging nettle rash] and culinary uses since ancient Greece; it just reappears in the leucanthemum ulgare, oxeye daisies, as well as in a smaller purple variety [row two below left] … all just close by the calendula.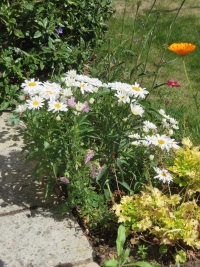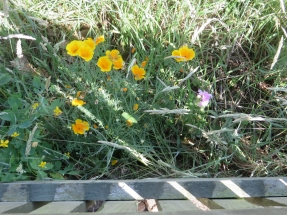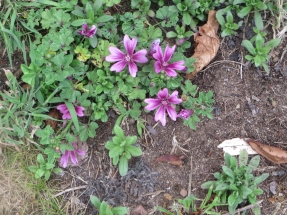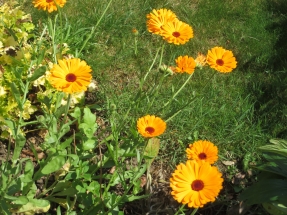 Persona grata @ Friday coffee! Actually, made redundant last week, I asked to come at 11 am since the Milton Ladies Circle was not convening this week after last week's successful coven at Tiffield with Sue and sister Anne. So here we are below, in the shade since temperatures are once again up to 30 degrees and thunderstorms promised .. we'll see .. here's hoping! Best Coalport china from Ironbridge/ Broseley House/ IMCB/ MCB days at Buckingham and chocolate rice biscuits ….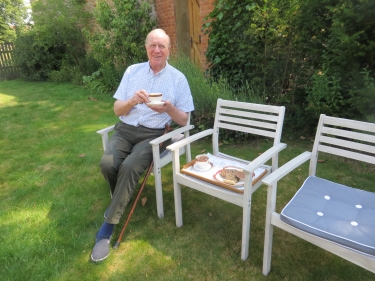 Published Date: June 26th 2020