Exeat: Day 93/84: In the Pink - Income Tax Holiday?
Good News for Cashflow @ July 31st 2020. 'Tis true. Schedule D payments due at July 31st 2020 can be postponed until January 31st 2021 … it's a few thousands so one wonders if a wise investment can increase it maybe sufficiently to settle the next instalment already due at 31st January 2021. Wasn't it President Regan who said the most dangerous words in the English language were: I am from the Government. How can I help?" This time around I believe the Chancellor … and he's also offering delay settlements on VAT. Best of all his Business Rates Waiver for 2020/ 2021 and his Small Business Grants in Scotland to the Barons Courts re The Prestoungrange Gothenburg and the 1745 Battle Trust re our Johnnie Cope Workshop totalling £35,000 were a very significant help. Now the challenge for both The Gothenburg and the 1745 Battle Trust is to reopen and rebuild the trade and participation back to former levels. It's been bitter sweet both for Calum and Michelle of Wilsons Ales, the publicans, and the Battle Trust at 275th Anniversary time. Enormous energy and inputs to reach success levels and then the pandemic lockdown. Almost everyone's in the same boat so it'll be creative thinking all the way …. particularly if the Gothenburg gets the chance to reopen the Jug Bar and the Car Park as service/ consumption areas. Meanwhile, there's the accounts and returns to be calculated for the year ending April 5th 2020 that will determine the future unknown liabilities. It will only include 3 weeks of lockdown. However the balance of lockdown will need to be encompassed for many in the message passed to HMRC about whether next year's taxable revenues will be 'similar to' 2019/ 2020. For many that's not at all likely so their assessments will need to be dramatically reduced. For us personally the impact has been modest as we refocussed activities supported by VisitScotland and the Lottery Heritage Fund to heightened digital interchanges and asset building.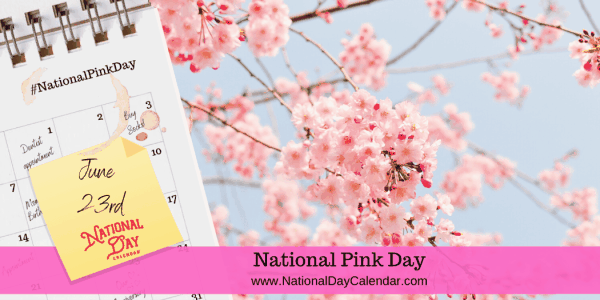 National Pink Day today June 23rd … There's something we didn't know and frankly give little thought to but once you start thinking it's extraordinary. As a colour it is first used in the late 17th century taking its name from the eponymous flower - which we've had blooming at The Lodge for a couple of months already. We have them in pink, white and even sometimes undecided! In latin 'tis dianthus.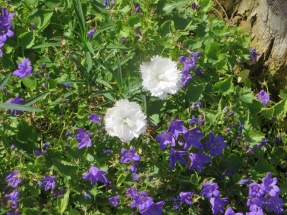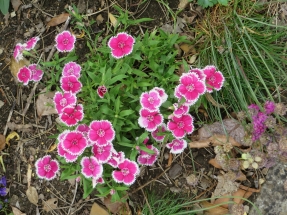 According to surveys in both Europe and the US pink combined with white or pale blue is most commonly associated with femininity, sensitivity, tenderness, childhood and the romantic. Pink, when combined with violet or black is associated with eroticism and seduction. It would have been curious to find pink used in fabric or decor during the Middle Ages although occasionally it is to be seen in women's fashion and religious art. In the 13th and 14th centuries artists sometimes portrayed the Christ child dressed in pink but primarily used pink for the flesh colour of faces and hands during the Renaissance.
The Rococo Period from 1720 to 1777 was the golden age for pink. Pastel colours became very fashionable in all the Courts of Europe during this time and Madame de Pompadour, the mistress of King Louis XV of France, was known for wearing the colour often combined with light blue. At one point Madam de Pompadour had a particular tint of pink explicitly made for her. Pink ribbons or decorations were worn by young boys in 19th century England in contrast to men who wore red uniforms. Pink became much bolder, brighter and more assertive in the 20th century and in 1931 Shocking Pink was introduced!
Pink in Language. While pink comes in numerous shades its meanings vary too. [i] In the pink refers to someone in top form, good health or good condition.[ii] When someone sees pink elephants they are hallucinating due to too much drink.[iii] When an employer gives a person a pink slip it means they've been fired or dismissed from a job since 1915 in the US. [iv] Pink-collar workers refers to persons working in jobs conventionally regarded as women's work. [v] Pink Money/ £/ $ describes the economic spending power of the LGBT community. [vi] Tickled pink is when one is exceptionally pleased! As we are here …. with those tax benefits for our cash flows …
Historically since the 14th century to pink means to decorate with a perforated or punched pattern. Many a family has pinking shears! Long way from colours methinks … but why?
Avril's Walpole Grammar School Friends Reunited … She's in the pink too … she's got the Google searching bug and after weeks of endeavour here finally she appears third from left front row - as a young lady with legs on display as always in Switzerland on a school vacation …. Inspired by her success, I am asking Reed's School to give me details of the Latin Grace I recited before every school meal 1955/56 when I was Head Boy …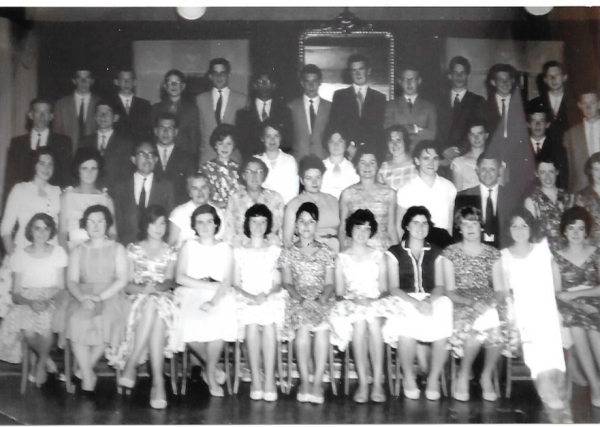 Published Date: June 23rd 2020