Exeat: Day 85/84: Permission from the Bishop to leave the Parish
Nice word Exeat! Means we've got permission to leave the Parish or Boarding Home. Our Diocesan Bishop is The Rt Revd Donald Allister who was installed as the 38th Bishop of Peterborough on 17 April 2010. Bishop Donald [below left] was born in 1952 and spent much of his childhood on the Wirral where he attended Birkenhead School. [I did my Square Bashing at West Kirby on the Wirral.] He was a choirboy [I was at Reed's/ Guildford Cathedral and with the RSCM at Lincoln with Sir Gerald Knight!]. He was back home as Vicar of Christ Church Birkenhead from 1983–89 which involved part-time hospital chaplaincy and Rector of St Mary's Cheadle from 1989–2002. He was Rural Dean of Cheadle from 1999–2002 and served as Archdeacon of Chester from 2002–2010, after which he came south east to Peterborough as Bishop. In November 2011, Bishop Donald was commissioned as Assistant Bishop in the neighbouring Diocese of Ely which means that despite the diocesan boundary running through the city, he now speaks for the Church of England on all Peterborough matters. In 2014 Bishop Donald was admitted to the House of Lords where he speaks for the Church of England on matters to do with farming and rural affairs, prisons and criminal justice, mental health, and North and South Korea. Fortunate to have been born in Liverpool though with Scottish roots [that's common enough in Liverpool], Bishop Donald has supported Liverpool FC for as long as he can remember. He enjoys hill walking in the Lake District and Scotland and is married to Janice, a GP with three grown-up children – one of whom is a Vicar in Nottingham.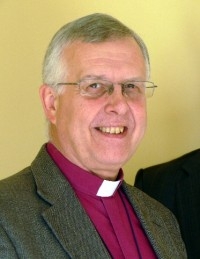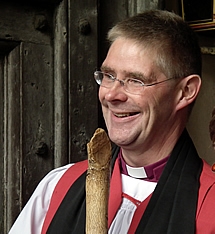 However our local man is a Suffragan and just up the road at Brixworth from which the famous pâté comes! It's The Rt Revd John Holbrook who was installed as Bishop of Brixworth on 29 June 2011. Bishop John [above right] was born and grew up in Bristol where he was educated at Bristol Cathedral School. He went on to study theology at St Peter's College Oxford and then trained for ministry at Ridley Hall, Cambridge. He served as curate at St Mary's Barnes in Southwark Diocese (1986-1989) and then as senior curate at St Mary's Bletchley in Oxford Diocese (1989-1993). Here he was also curate in charge of North Bletchley Anglican-Baptist Local Ecumenical Partnership (LEP). He went on to become vicar of Adderbury and Milton and Rural Dean of the Banbury area (1993-2002). Immediately prior to his appointment as Bishop of Brixworth he was Rector of Wimborne Minster in Salisbury Diocese (2002- 2011) and Priest in Charge of six small rural churches at Hinton Martel, Holt, Horton, Chalbury, Witchampton and the Crichels and Rural Dean of Wimborne Deanery. As a student he spent nine months working alongside the Anglican Chaplain in Amman, Jordan, and has visited most countries in the region and since been involved in church-related projects in Sudan and Pakistan. He's a particular concern for education chairing the Diocesan Board of Education which recently established the Multi-Academy David Ross Educational Trust and the Nominations Committee of the University of Northampton. For some years he was involved in an Ashridge Business School project to develop a programme in work-place spirituality there. Bishop John counts sailing, swimming, football (he is a life-long Bristol City fan), and current affairs in the Middle East amongst his interests. He is married to Elizabeth, a tax accountant, and they have two grown up children.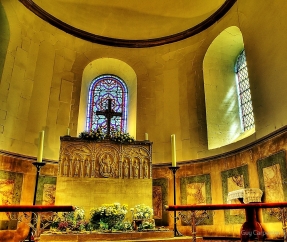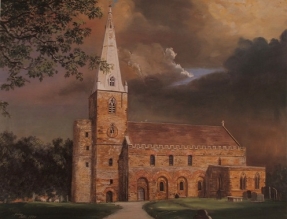 How come Brixworth has a Bishop? It's steeped in history but surprisingly only had its Bishop's Seat since 1988. The explanation probably comes from that history however since All Saints' Church [above] is one of the oldest, largest and most complete Anglo-Saxon churches in the country. It was founded circa 680 AD and has been called the finest Romanesque church north of the Alps. In June 1839 Brixworth was the scene of notable public meeting addressed by the Chartist Robert George Gammage of Northampton. Before the meeting took place, Gammage and his two companions attended a service in the parish church where the Vicar Rev. Charles Frederic Watkins rebuked them and threatened the three with arrest if the meeting proceeded despite which attendance at the roadside assembly later that day amounted to several hundreds and Watkins' efforts to persuade the constable to arrest those who addressed it were unsuccessful.[Echoes of our police this last week?]
So why is Brixworth famed for its pâté? Brixworth's culinary delight last year won the Carlsberg Local Artisan Savoury Product of the Year award. Brixworth Paté is the creation of Stuart Bates whose grandfather founded the butcher's shop in Northampton Road. Stuart first made it one Friday as a seventeen year-old student at Catering College and sold it the next day in the shop. It became so popular that he has continued making it for the past forty-five years. Known at first locally as Pytchley Paté it was re-christened Brixworth Paté by the Vineyard Restaurant in Northampton when they first put it on their menu. Stuart continues to be responsible for its production which is quite a physical process - while Jane Elmore who used to run the Co-op opposite the butchers manages the packaging, deliveries and invoicing. The paté has been made at the same premises on Ironstone Way for the past 30 years, after Stuart moved its production out of the butchers'. Most weeks Stuart makes a batch on Mondays and Thursdays for delivery the next day. At Christmas it's made every day, with Stuart and Jane working flat-out. Just under one tonne of the pâté is made every week and four or five times that amount in December. It is all made by hand with the ingredients [chicken liver, pork, bacon, some sherry and brandy] delivered by local suppliers. It's processed – twice – through a massive hopper and mincer then measured into 1kg aluminium foil containers, cooked, blast-chilled to a temperature of less than 5 degrees and vacuum packed. While the cooking method has been slightly tweaked over the years, the pâté still tastes very similar to the original recipe. Every year a little bit more pâté is sold as sales continue to grow through recommendation. Stuart undertakes no active marketing or sales activities with distribution through pubs, delicatessens and agents throughout Northamptonshire and the surrounding counties. Stuart once heard that it had been found as far afield as Cornwall. Given its resounding success Stuart has tried on several occasions to expand to include other types but it complicates production too much so he has stuck to his familiar formula!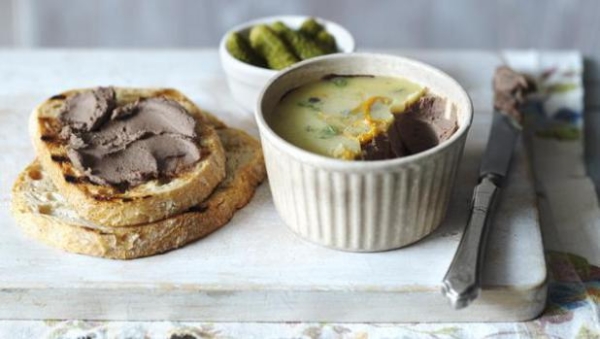 Published Date: June 15th 2020