Boarding @ Home: Day 84/84: Going Out Tomorrow ... all quiet on all fronts!
Last Day today .. from tomorrow we've gotta get out and about again … So to make a start Avril invited the Family Dolphinstoun to a barbeque as Sunday lunch. Burgers were all sold out at the Co-op so it was pork kebabs and sausages. Surprise gift from Julian was home grown radishes to go with Avril's lettuce. Grandsons pulled a face at the lettuce [complained it was green!]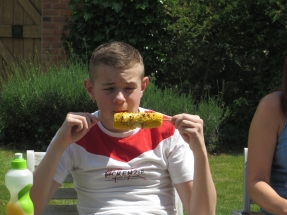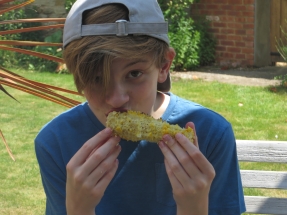 …..but enjoyed the sweet corn; and two kebabs; and two sausages; and Elliot shared the 0% sparkling rosé wine from Saumur with Avril whilst the Dolphinstouns and I drank the More% from Furleigh Estate in Dorset. Dessert was Avril's new speciality of gluten free Chocolate Brownies with a mini Snickers Bar centred + Sicilian Lemon and Blackcurrent Ice Cream also from the Co-op. We were proud of ourselves reprising Days 81/84 and 83/84 with the Corn on the Cob & Rosé Wines.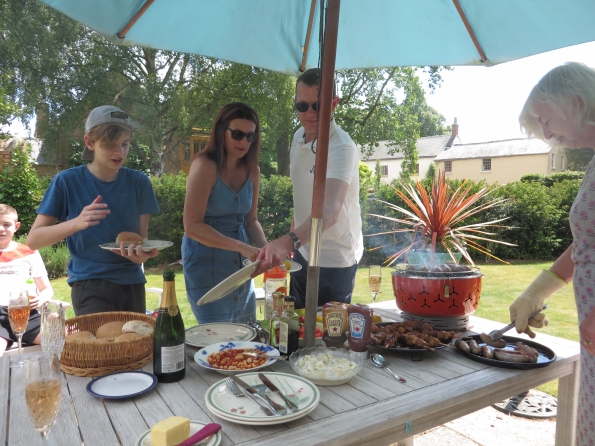 Renewing subscription to East Lothian Courier. It transpired that our one year subscription had expired as the pandemic began not that Glasgow had given up shipping copies because of it! Telephoned renewals finally scheduled for Monday so here's hoping to hear news by post here this coming Friday/ Saturday again. Other plans, modest of course, are to drive the Maserati to Peterborough for TLC - booked in for later in the month on June 24th for a day for so.
Found time for another Gaelic lesson as well as finalising Press Comment on the SEA plans in East Lothian. A Halifax [rather than Churchillian] Syndrome is starting to set in for our next phase with ELC. Our former longstanding MP John Home-Robertson and Herbert Coutts are going to lead the Conversation guided by Arran's red lines. No surprise perhaps with Churchill's statue boarded up … he wouldn't have made much of that in 1940/ 41 methinks.
All quiet in Edmonton too. The family there was out a-visiting Christopher's new condominium. Think we'd been told but forgotten although Anne updated by email. Sitting expecting the phone to ring we watched Part 1/3 of the Salisbury Novichok poisoning by the Russians. We always drive through Salisbury en route to and from Weymouth. It's a fascinating tale of how the city launched immediate lockdown because they quickly established he was ex-Russian intelligence and Porton Down Chemical Weapons Research Centre was close by the city and could explain the challenge. Unlike Covid19 the impact of Novichok was well known! Wednesday we're back to Cardinal, the Canadian Scandinoir series which despite its bad reviews fascinates me because it's Canada!
Avril's Promotional Skills Shine once more … … instead of presenting books end on at her Rectory Lane Bookstall the merchandise is showing the OFC. With the Shetland series from Anne Cleeves it's seen them flying away; same works in chat for Ian Rankin when you say "That's Rebus of course!". We're thinking of putting Mathew's and Julian's PhDs out and saying their authors went to Milton / Bugbrooke School. Not so sure Jules' geotechnical engineering Cleaning Up would fly but Mathew's Care for the Elderly - Sustainably Funding a Marginal Welfare Programme should find plenty of concerned readers in the village. Talking of famous authors that lived at The Manor House … it's unclear how the Milton village flash mob will respond to James Harrington's Blue Plaque on the gates of the Manor House. I've suggested to Julian that he check James' backstory carefully because although he was a warder of Charles II on the Isle of Wight he fell out with Cromwell on the imminent publication of his Commonwealth of Oceana. By order of England's Lord Protector Oliver Cromwell it was seized when passing through the press although Harrington managed to secure the favour of Cromwell's favourite daughter Elizabeth Claypole so the work was restored to him and appeared in 1656 - newly dedicated to Cromwell himself. Harrington and others in 1659 formed a club called the "Rota" which campaigned in favour of rotating magistrates with formal voting but with no success. P.S. I'm not sure how many Dolphinstouns have read James' epic work that I have gifted them but I've always counselled that if you live in a plaqued home you need to know to whom it relates! Just read the Introduction very carefully. The same requirement applies to Much Honoured Scottish Feudal Barons who should not only know their backstory but honour what feudalism stood/ still stands for … noblesse oblige.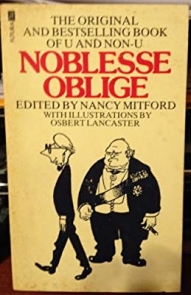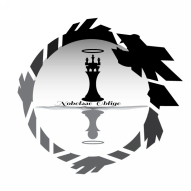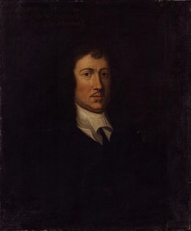 _______________________________________________________________

There will be a Summative and Reflective Corollary published of these 84 Days Ablogging: Reflections on The Great English Lockdown March 23rd/ June 14th 2020 just as 1/84 included the Prequel.







Published Date: June 14th 2020