Boarding @ Home: Day 65/84: Operation Dynamo started today!
Evacuation from Dunkirk 1940. Most of us know the story of how by June 4th some 338,000 troops [British, French, Belgian & Dutch] had escaped capture by the Nazis in northern France returning to England in a collation of 845 boats large and small. Named Operation Dynamo Churchill gave the formal go ahead at 7pm. The man creating and executing that Operation was 'Retired' Vice Admiral Bertram Ramsay. He'd joined the Navy in 1898 and in WWI when Churchill was First Lord at The Admiralty he was already working off Dover by 1915. His first command, HMS M25, was a small monitor which for two years was part of the Dover Patrol off the Belgian coast. Promoted Commander he took command of HMS Broke, Dover Patrol's Faulknor-class destroyer, taking part in the second Ostend Raid. Ramsay had retired from the Navy in 1935 but was coaxed out of retirement by Winston Churchill to help deal with the Axis threat, promoted Vice-Admiral and named Commander-in-Chief at Dover Castle on 24 August 1939.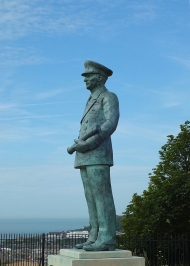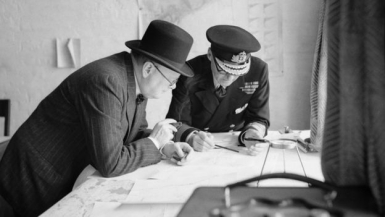 His duties included overseeing the defence against possible destroyer raids, the protection of cross-Channel military traffic and the denial of the passage through the Straits of Dover by submarines. Churchill would not have known Ramsay from WWI but his knowledge of the Dover Straits must have made him the ideal person to appoint and he most certainly rose to the occasion. He had eschewed a typical career to specialise in logistics which made him the go-to man. His extraordinary achievements in the Dunkirk evacuation he led saw him summoned by HM King George VI who knighted him on the spot. But he was not yet done; no scope to retire quietly. He worked on Supreme Allied Commander General Eisenhower's team as Deputy Naval Commander for Operation Torch, the Allied Invasion of North Africa in 1942; Naval Commanding Officer for Operation Husky, the Allied Invasion of Sicily 1943; and finally, promoted Admiral in 1944, as Naval C-in-C for Operation Neptune, the D Day Landings. In this he executed what has been described as a 'never to be surpassed masterpiece of planning' - coordinating and commanding a fleet of almost 7,000 vessels delivering over 160,000 men onto the beaches of Normandy on June 6th alone with over 875,000 disembarked by the end of June. He died whilst still on active service when his plane crashed on 2nd January 1945 at Toussus-le-Noble in France. His statue stands today overlooking the Straits at Dover Castle from where he led Operation Dynamo.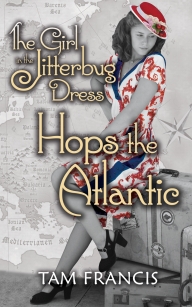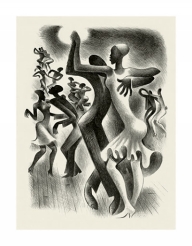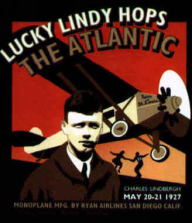 It's also Lindy Hop Day. Better known to us as as Jitterbug it's the original form of swing dancing which evolved in the 1920s and dominated dance halls throughout the Great Depression. It is an unabashedly joyful dance that closely reflects its music from the late 20's hot Jazz to the early 40's Big Bands. The name was inspired by American Charles Lindbergh's flight to Paris in 1927, when the newspaper headline read LINDY HOPS THE ATLANTIC. It's authentic Afro-Euro-American Swing dance drawing on African and European dance traditions. The embracing hold and turns are from Europe while the breakaway and solid earthy body posture comes from Africa. It's a social dance in a playful lead/follow relationship that evolved with the African American community in Harlem
along with the new swing music from earlier dances such as the Charleston and the Black Bottom.
'The Spirit of Dunkirk'. It's tempting when every commentator suggests our pandemic has created unprecedented consequences. But here am I, tempted a day after remembering that at Whitsuntide/ Pentecost the Holy Spirit Came Down to the Apostles, recalling that there's a well established belief that since the Royal Navy with 845 boats was able to conjure up in the nation 'The Spirit of Dunkirk' that we can do it again. Starting today. And as fortune would have it Boris Johnston has invited us all to do just that. Open the nursery and primary schools on June 1st; and secondaries by mid June [when our 84 days in lockdown is accomplished]; get ready for family barbecues; open car showrooms and open markets next Monday; make ready for pubs and restaurants and sports events …. Be melorist, just be confident that the world's getting better by our own efforts. Alfear, uncontrollable fear, is now the enemy not Covid19. Avril and I are planning that envisaged barbecue with the Dolphinstouns and our second home excursion to Weymouth and shopping again for ourselves at Morrisons. Scotland must wait!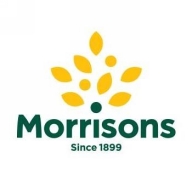 Published Date: May 26th 2020