Boarding @ Home: Day 61/84: Maserati Going Spare ...
Two celebrations today! National Maritime Day & National Work From Home Day. That second one sounds a tad obvious but let's start from there. Never in the history of mankind [probably] have more men and women worked from home - by law so to speak. The instruction on March 23rd was, you'll recall, that if you can do just that do it otherwise carry on going to work - if there was any to go to. Our Prestoungrange Gothenburg was closed as were all pubs and restaurants and there was little if any to be done from home. But Take Outs and Community services emerged and Michelle and Calum in Prestonpans worked miracles - online pub quizzes/ take outs/ home deliveries/ 89 breakfasts for youngsters in the town. We certainly worked from home from where apart from visits to Scotland has been where it all happens already. The email iterations and Zooming did the trick needed to overcome even that minor travel restriction. There's much talk in the media at present that all manner of enterprises will opt for a great deal more at home/ hot desking than before using this deep immersion as a catalyst for a trend that had been emerging for a long while. Like the end of decent business lunches we recall from the advertising world of the 1960s/ 70s, the water cooler chat and the after work bars will all take a hit. Or will they? Surely we've had enough of not being out and about? I do sincerely hope so.
There's no way Tim Howard who helps make this laptop fly could come visiting today so he quickly went on line taking control of my computer at a distance. Fortunately it's been a long developed technology for individuals working away from base. I've had horrendous trouble with thumbnail images and all those flowers at 60/84 were resized via Pictures direct. Took 5 hours to get 52 sorted to Avril's satisfaction.
At last to Maserati! That's been a tale of woe since Day 1/84 for Merlin but the phone rang at 2pm with news that the spares are no longer in Milano but Birmingham and being collected there today. So next week should see the job finished and they're throwing in a sorely needed free car clean into the bargain- just when I was going to offer to pay their £350 asking price. I'd better take them some English Wines to celebrate English Wine Week.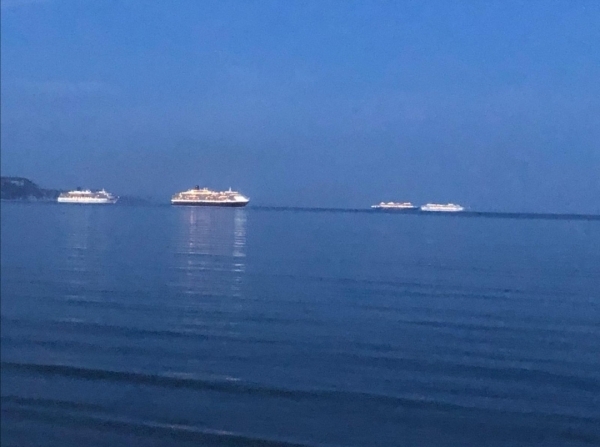 National Maritime Day.What better introduction to more details of the Queen Victoria and the Queen Mary 2 and others anchored up in Weymouth Bay. Cate Steele from Somerset House sent along the picture of the ships lit up at night. The town has a long history, dating back to the days when Melcombe Regis was the east bank of the river and Weymouth the west. But then came the creation of Portland Harbour for the Royal Navy which ensured the most enormous activity right through to the 1980s. It was especially renowned for its submarine base whose research centre briefly became a hotel where we celebrated our wedding anniversary in a gale. The wind is virtually always strong over on Portland but a regular destination to the lighthouses. 'Twas only two years back that we made our way along the Esplanade to see the unveiling of the Memorial to Merchant Navy sailors.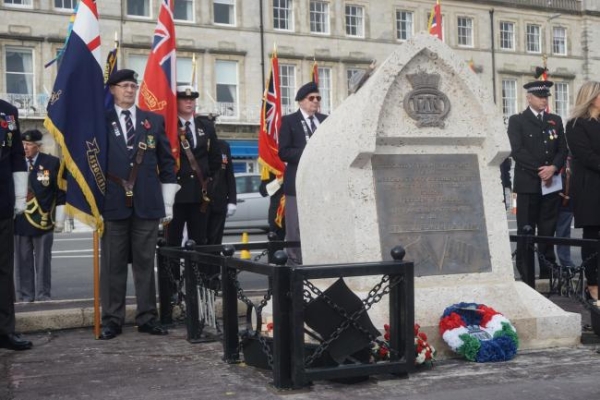 Published Date: May 22nd 2020