Boarding @ Home: Day 43/84: Twenty four hours from Tulsa; and palinode for Van der Valk
Distinguished Visiting Professor of Business Operations 1976? It was Jane Shilling that triggered my creative best antejentacularity construct for today's blog. She was waxing eloquent in the Daily Telegraph again, read before my breakfast of brioche with peanut butter, orange juice and black coffee. She has detected the onset of 'saliency syndrome' as she takes her daily walk to the butcher and baker. She's been noticing things she never saw before even though they were there - rows of floral cottages, trees with unexplained ribbons around them …. Took me back to Cranfield in 1976, just returned from working with the UN in Cyprus and the phone rang from the University of Tulsa's Gene Boone, a well known marketing/ logistics academic and author. He was off to Melbourne Australia on sabbatical and wondered if I would care to take his place at Tulsa. 'Jungle' Jim Johnston would look after me! Gene was already on the same path as Philip Kotler with his own standard text Contemporary Marketing eventually reaching 14 Editions. Well yes please! I'd just stood down from Chair of Doctoral Studies and was awaiting to start as Chair of Continuing Studies. But where was Tulsa? All I knew was what Gene Pitney had sung to me. He never got there … distracted 24 hours away … But before long Tulsa was jumping out at me from newspapers and tv, friends were sending me cuttings. Avril and I borrowed Gene Boone's home which came with tv in every bedroom; Olivia Newton John came to town and Sarah Daffern too. She and I went to Mexico for the UN on strawberries with Tony and Liz Tillett and spent the weekend in Acapulco; Gerald Ford was President and HM The Queen came to the USA on the 200th anniversary of US Independence. I got speaking engagements all over to explain what the Brits thought of Americans … and Mathew and Julian both went to school for a good semester. And I got several lessons from fellow Professor Jacob Naor on how to survive teaching US students, especially their grade negotiations. If you don't like the weather in Oklahoma wait a minute, it'll change..." Will Rodgers for us but also Mark Twain.
Botany Bay Inne at Winterborne Zelston near Blandford Forum. We can't drive past this Inne without remembering our only visit, so far. It's the route we seldom take to Weymouth because it's on the A31 and we prefer to go via Salisbury. But the name evokes Australia so we were hooked and pulled in. The only thing, really the only thing, we can recall was that it had no Australian white wines on offer; not even Kiwi. That was perhaps five years ago so we better get back. The online menus look good as I write. Just up the road lies the home of Richard Drax MP with a fantastic stag above one of the gateways to his ancestral home, Charborough House, along its three miles of brick built wall. One of those ancestors was an early plotter to overthrow King James VII and II, the last Stuart King forced into exile in 1688. It's what Englishmen and Hanoverians call the Glorious Revolution but of which Jacobites take a less sanguine view. It's intriguing to see how well all the eventual plotters who wrote Inviting William of Orange to land at Torbay and then create mischief in Ulster. They were dubbed the Immortal Seven. [Click to enlarge.]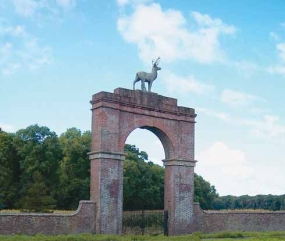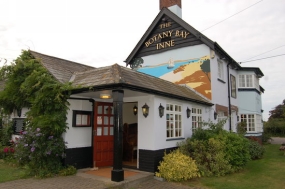 Lord Talbot became Duke of Shrewsbury; Lord Cavendish Duke of Devonshire; Lord Danby Marquess of Carmathen together with Duke of Leeds; Lord Lumley Viscount Lumley and Earl of Scarborough; Bishop Compton of London crowned the Prince and Princess of Orange as King William III and Queen Mary II; Edward Russell became Earl of Orford; and finally Henry Sidney became Viscount Sidney Earl of Romney.
Pixilation gives way for Van der Valk. She can't be labelled an anonymuncule because she not anonymous nor really are her comments petty. Avril voiced her disillusionment as our tv for reasons unknown suddenly gave us a clear live streaming picture to see Episode 2 of Van der Valk. It provoked a necessary palinode, a full scale recantation. Last week tv critic Anita Singh had asserted Episode 1 of this new series had promise; this week with a murdered lesbian nun and deliberately scripted facinorous content, the most wicked imaginable behaviour, she concluded she was wrong, Van der Valk had no promise. It was bafflegab, not worth a moment's auscultation, no attention at all even in lockdown for Covid 19.
Avril rose early to take a birthday card to Loredana and … … returning with her saliency of the day as pictured below - her's was spontaneous compared with my reliance on Jane Shilling. Most fascinating for Avril is the hawthorn along Rectory Lane in full bloom; we've just planted some of our own along with blackthorn. So I pledged to take my camera out - the longest walk [barely 250 yards!] I've made outdoors since mid-March and found it for certain as well as at least one [if not two] oaks growing in the emerging field of winter wheat.Sgoinneil agus beannachd! Brilliant and goodbye!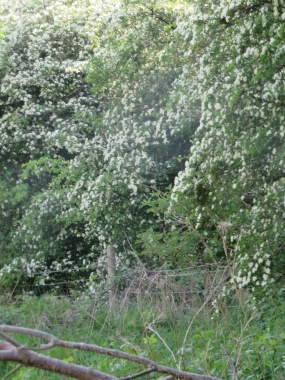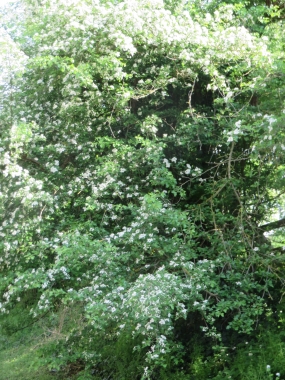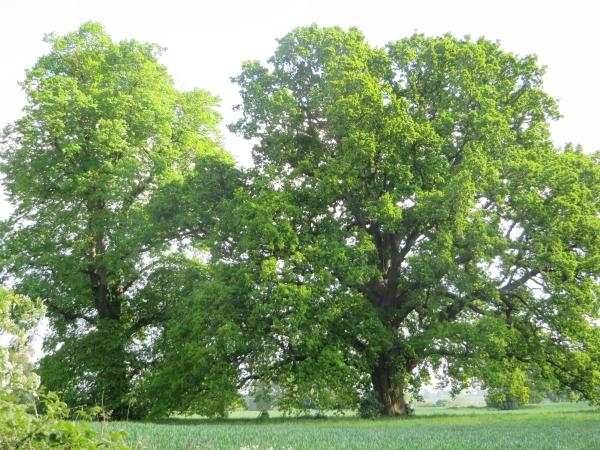 Published Date: May 4th 2020