Boarding @ Home: Day 36/84: Boris Returns; quid consilium?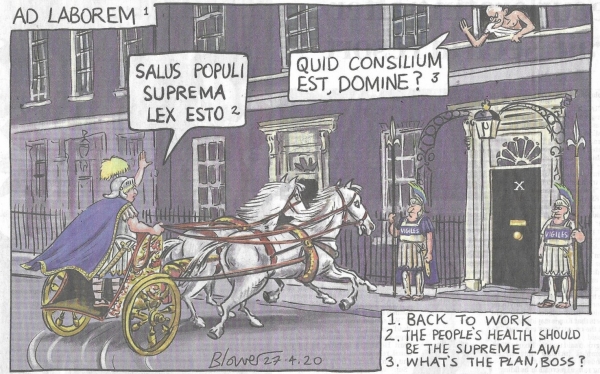 It's National Gardening Week all week. Here's hoping by overmorrow that the nimious ban on garden centres will cease or more appropriately they just reopen anyway and trade like supermarkets. They're a superb example of the supply chain implications of lockdown. The growers who need to deliver to the centres are at their most extended financially having borrowed to the hilt to fund their growing season … and if the stock cannot move it's composted. Only sensible course of action if you've already sold and leased back the land you use is to go into liquidation at the expense of your creditors. And then buy it back! Seemingly there is for many plants a chance to save the season and the great majority of members of the supply chain if they reopen pronto. We'll see what the week brings.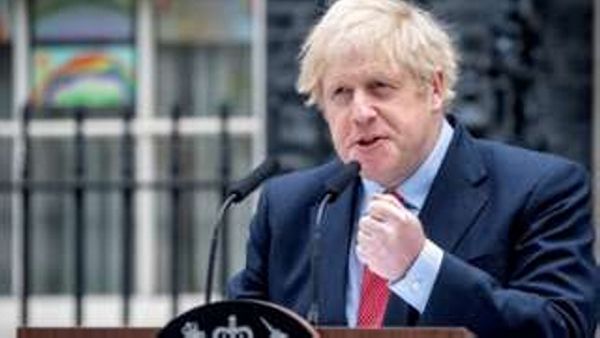 Quid consilium est, domine Blower's magnificent cartoon from the Daily Telegraph welcomes Boris back to #X. Herbert from Dunbar responded when I copied the cartoon with tales of Dunbar Grammar having redeployed its Latin Tutor to Nautical Studies and more recently to Computer Studies. Only last week the obit on Sir Eric Anderson former Head at Eton, recounted how he had reduced Classics Tutors there from 23 to 15 to make way for Modern Languages. He was from the Kinloch Anderson family that today sells more tartans in Japan than in Scotland! - oops; Avril will say tonight "you're rambling".] I wonder if Boris can fix the tv for us? The pixilation reported days ago persists so we still watch most programmes in the past as dictated by Jane Bonnar. Julian seems to have the same problem next door so we called a tv aerials person's answerphone. We'll see. Can't believe in miracles in lockdown now can you - except when our GP phoned back.
Consilium est …. Boris came to the steps at Downing Street today and confirmed that Phase 1 was now complete; we've been mugged by the virus but we donned the sombrero. We're now in Phase 2, a time of maximum risk when a second wave could be triggered if social distancing was relaxed. Yes we will start later this week discussing how the lock down can be sensibly and gradually ameliorated but we've got to trust him and stay firm and focus on the 5 Principles already shared. He called for the spirit of Captain Tom Moore … who from today till Friday will receive birthday greetings from every post office franking machine in recognition of his quite extraordinary achievement. He's already got over 120,000 cards on show in the Great Hall at Bedford School. Not to be outdone, offstage the Chancellor upped the Government Guarantee from 75% to 100% for Small Business Loans of 25% of turnover capped at £50,000 with no charges or interest in the first year. Room for thought there … might help Wilson's Ales at The Gothenburg where we are still awaiting the £25,000 Grant for Barons' Courts.
Halò. Hello. Yes, today is National Prime Rib Day. The internet suggests going to a restaurant but the best we'll be doing is having a second meal from a nice piece of beef Avril found in our freezer and which made Sunday Lunch yesterneve. It was accompanied by an exquisite gift from Laura at The Manor House of 25% of their family Bakewell Tart on fine crested Doulton china. I'd donated a bottle of Shawsgate Bacchus to them which they've not commented on yet. I bought 12 online and although the first was thin the second and subsequent had body. Mysterious ..all the labels say 2017 - am I losing my sense of taste?. Talking of wines just went online to send Mathew and family a dozen bottles of Furleigh Dorset's Bacchus Fumé which they rather like. Hope it's there for Captain Tom's 100th on Thursday. £28+ million … I ask you.
Published Date: April 27th 2020