Boarding @ Home: Day 33/84: Work Again - Save the Economy - Plan your Vacation
Keira, Nicola and Boris. An interesting trio … K&N making their marks before Boris returns, now rumoured to be Monday next, exactly five weeks after Lockdown. Boris returns to a country where collective wisdom is in a crapulent state and all we want is compotation, having a drink together, a 'faighinn deoch còmhla, preferably in The Prestoungrange Gothenburg. Nicola's getting away with it north of the Border often pre-empting decisions made at Cobra and presenting them as 'her' uniquely Scottish approach. Yestereve she pressaged her exit strategy which contained nothing not already trailed in London and which reiterates the open ended continuation of shielding for the over 70s and offers equally little hope for pubs and clubs let alone sporting fixtures. Forget us not svp!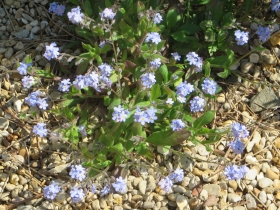 Kenneth Clark put himself on record that any incarceration of the over 70s would be widely flouted so imaginative outcomes will be needed here or the jails will be the new care homes! Truth to tell there's good evidence led by the likes of B&Q that the disciplined social distancing supermarkets have effortlessly demonstrated can be emulated by others. Certainly garden centres. It should have been no surprise, however, that many businesses had to close and rethink their workplace designs before they could reopen. I'm hoping, very selfishly, that Marshalls in Solihull will finally get my Ghibli spare parts to Merlin in Brackley - hope's a great motivator.
Indesient suppression of good news till Monday? One has to wonder. Why does Boris' sombrero we are now clearly wearing, with falling admissions to hospitals where there's a choice of beds, and falling average daily death rate remain deliberately uncommunicated, at every press conference and particularly from BBC/ ITV? Currently the bad news advocates are majoring on care homes and how Singapore has had to introduce lockdown. Has a logodaedalus, Machiavelli himself suggested the good news should be saved for Boris? Does Monday promise the moment for bold antimetabole, travel in the opposite direction?
Work Again - Save the Economy - Plan a Vacation. Come on Dominic Cummins; you can easily do better than me! Some might be anxious that with both Dominic and Boris having been very badly infected they might campaign to 'Stay Home - Avoid Second Peak - Forget the Economy.
Socially distancing at social destinations. It's gonna be wonderful to see what creative ideas restaurants/ pubs/ clubs and events organisers come up with to get up and running again. It doesn't need government bans, edicts or policing; it needs to allow local creativity to flourish to achieve requisite safe distances. The challenge every single enterprise faces, which is seldom comprehended by public servants, is to get sufficient levels of custom to be able to trade again and cover the costs. This is where three month VAT reductions and even time limited State funded spending vouchers i.e. helicopter money, can sensibly be mobilised.
Friday is of course Coffee Morning here in Milton. So yes, once again we took coffee together, as the tray suggests, although Avril's picture pose was intended to display the bluebells - Spanish.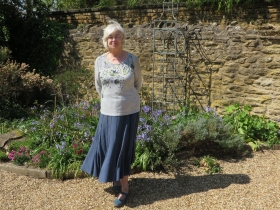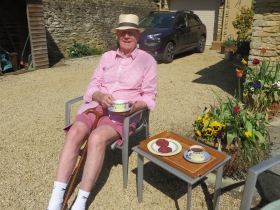 Using the NHS and more today. Avril called our Blisworth surgery at 9am and the doctor phoned back by 12 noon and wrote a prescription to collect at 4pm …. but unfortunately we 'had to' take the long route via the canal back home. Need petrol soon I can see. Great lilac in the Doctor's garden too, a week ahead of ours at The Lodge. It was also time to post off the 24 raffle tickets for the Macular Society … could win £7,000 or less. But we value their Newsletter although it's not able to report too much by way of advances except, and this will be good, the advent of an injection to last three months if you must rather than a single month.

Published Date: April 24th 2020