Boarding @ Home: Day 30/84: No thought for the morrow?
"...Take no thought for the morrow … " St Matthew .. but I must. Avril criticised my Blog 29/84 as 'rambling'; could have been worse ... logodaedalus, roynish, bafflegab, scrannel or even jacstance. Today's Blog will be a punctilio, every word crafted comme il faut. [That string is for Carol who it transpires has been motivated to acquire her personal copy of Steven Poole. Will she be learning Gaelic next?]
… starting with Lucinda Riley's Sun Sister, just reading its 832 pages … and can see that there's a promise of a sequel with seventh but missing sister Merope turning up! She writes extremely well does she not and her tales thus far of the five adopted D'Apliése Sisters have never failed to hold my attention throughout - and over 20million sales so far. Extraordinarily Avril and I have been able to relate through our working lives to each of the locations she's so far chosen to capture whether Swiss lakeside, Rio, Bergen, the Highlands or Spain. I'm expecting jet setting Sun Sister Electra to be a challenge although NY, Paris, Rio and Kenya/ Lake Nivivasha so far [page 220] have been on our own list. I was a fan before this series captivated by The Olive Tree again where we knew the territory in Cyprus. I worked there for the UN before the Turkish invasion and subsequent partition and edited a book, Creating & Marketing New Products, 1973, high up in the Troodos Mountains when Nicosia was unbearably hot. [Dare I mention it's high up in these mountains that the vineyards lie producing some always enjoyable white wines.] Well before the UN role we'd holidayed as a family in the now Northern Turkish Cyprus at Famagusta and much more recently we holidayed with the Dolphinstouns in Greek Cyprus which was great fun and included the Troodos Mountains.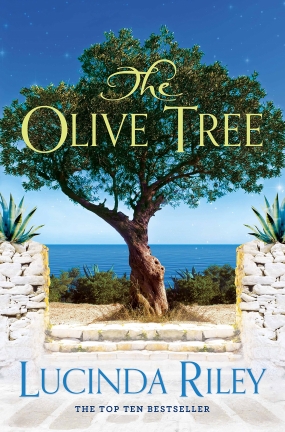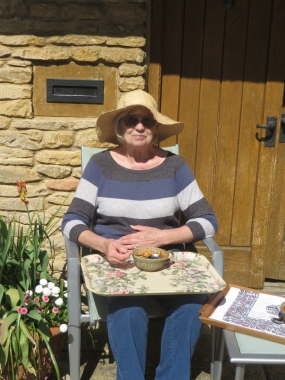 Jamie Oliver was his ever persuasive self. I'd never paid much attention to Jamie's food programmes before but at times like these he's a calmingly sensible voice. Last night he was encouraging us to make minestrone soup, a centuries old intergenerational standby that can use everything to hand and so long it has some beans, pasta, canned tomatoes, chopped up vegetable stalks as well as myriad veggies - it can't go wrong. Avril, seated beside the olive tree, has been practising WWII recipes but so far no Spam Fritters. But she'd boiled up the chicken bones from the weekend to create a good broth and that rather than three rashers of bacon Jamie used was the base. Lunch today saw us seated out of the breeze by the front door eating 'chicken bone broth minestrone'. Sùgh sgoinneil airson lòn. Brilliant soup for lunch.
Prince Phillip praises our binmen … and Tuesday, today, is their day hereabouts. The Duke of Edinburgh has been little heard of since his car accident outside Sandringham because he has formally retired from public life. But he's surfaced from self-isolation at Windsor with HM The Queen and chose this week to issue his own letter of support and thanks to, yes, the staff of the NHS, but also to our binnies, posties and supermarket staffs. Quite right; and personally I'd add Judith who delivers our Daily Telegraph each day and the Dolphinstouns in The Manor House who do our shopping.
South Africa whites... and New Zealand. We first began visits to Sandton, Johannesburg working with Frank Carlisle and later Mohale Mahanyele of National Sorghum Brewery, the emblem of black empowerment. That was sorghum; it wasn't until Dick Gerdzen and Yvonne took their unique Business School Nederlands franchise to Cape Town that we got the benefit of their white wines with languorous lunches under vineyard palms and later at Dick's beachside fish restaurant. They're still there today and their own children have both married and settled there whilst two adopted local youngsters have travelled to The Netherlands and back. It was management education that took us to New Zealand too, South Island at Timaru, where long standing friend and librarian colleague Beth Wooding from Bradford had inherited her family home. And equally longstanding friend the late Barrie Pettman had developed an enthusiasm for second-home life at Akaroa close by Christchurch. Together we interviewed a doctoral candidate in logistics, Hans Maurer, an East German escapee migrant. After his graduation he developed IMC/ Revans University programmes from Wellington and Auckland across North Island, picking up the baton in in Vanuatu and eventually becoming our third and final Principal/ Vice Chancellor. I've already related our journey to Blenheim in the Marlborough region but truth to tell we were for ever devoted to New Zealand whites after an overbooked vacation trip to Waitangi that saw us retreating and finding somewhere on spec to stay by 3pm on a boiling hot day … and our host immediately offered us the necessary chilled glass. And the next week I was teaching with Anchor Butter in its home town of Pukekura, Waikato - so there's another preference ensured.
Which leaves just Canadian and Scottish whites … The former I'd always drink if offered, especially from the Niagara lakes area where the apple orchards of the 19th/ 20th centuries have all given way to vineyards. It was our five years as President of the Canadian School of Management in Toronto that gave us the opportunity to explore and enjoy these unknown whites. We had offices on Bay and at the foot was our splendid apartment [have furniture and paintings here with us in Milton] overlooking Lake Ontario which Greg from the Yukon had found for us! The family over in Alberta never really took to them; Joan is 100% loyal to NZ where her family had emigrated when she went to Canada in the early 1960s and Bryan developed a taste for a white from Oregon! Talking of Bryan, I had my one and only touch of malaria when we were due to open our Scottish Tartan Society Suite in Cockenzie so he was my standin at that evening's reception - but before I succumbed I purchased the finest Monarch Scottish Silver Birch wine; still have a bottle today. Chan eil math. Not good. It's made from the rising sap of the silver birch tree, which is tapped in early spring. Queen Victoria mentions it in her diaries as Prince Albert's favourite drink when in residence at Balmoral. Serve chilled.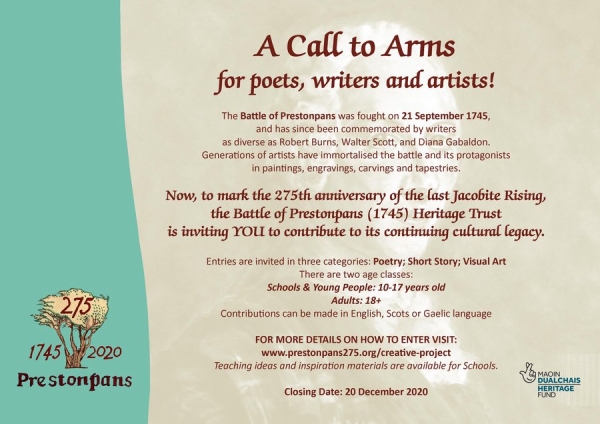 275 Action lines from Scotland .. for the Adults please as well as the 10/17 year olds .. and in Gaelic too! A suggestion I made a month ago comes good … as Harry S Truman remarked "You can achieve anything if you don't mind who takes the credit". Same approach being applied currently to the Clans on September 20th.




Published Date: April 21st 2020