Boarding @ Home: Day 28/84: White wines of England, France, Spain, Italy, Australia, South Africa, New Zealand, Scotland and Canada
Why white wines then? It's chicken as our Sunday fowl today, Is toigh leam cearc, I like chicken, and I have to confess I prefer white therewith …. but as you'll see, I'm no connoisseur of wines. Our English loyalties are quite recent as general availability. I first purchased an English white out of curiosity in a restaurant in Long Melford High Street pictured below.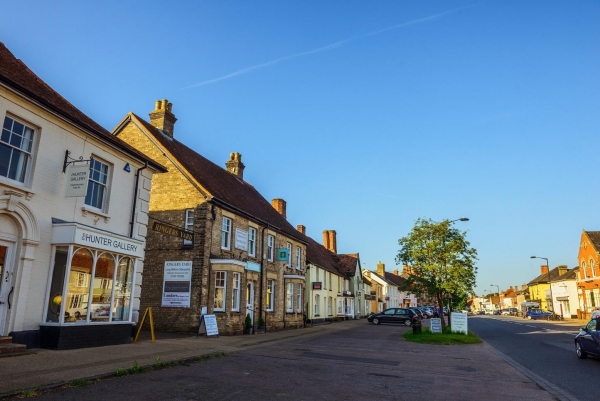 My in-laws lived close by at Glemsford and we were visiting from Bradford at the time, so it must have been in the early 70s. It was expensive and not at all memorable; I felt no need to seek out any more. So it was pure happenstance that took us to Suffolk 40 years later where Burke's Peerage warehousing/ Prestonpans Tapestry T towel designers/ Prestoungrange Gothenburg Brun Coo teapot and commemorative mugs maker Tony Carter of Debenham, could all be found within 25 square miles of one another; and close by Bacchus Dry White from Shawsgate Vineyards at Framlingham which swiftly became a valued source. [Researching details here today has just enabled me to order 12 bottles on line/ by courier during lockdown! Result!] Our next acquaintanceships have arisen in Dorset entirely attributable to Mathew's family research when holidaying at Melcombe Regis. He located Furleigh Estates at Salway Ash just north of Bridport and we've never regretted the Bacchus Fumé they craft. There's another at Crawthorne, just north of Dorchester, Langham's with luncheon space as well but they specialise on sparklers and I'm not a great fan. Fourthly, Mathew again, discovered that Sherborne Castle has a Special Reserve White - the castle's claim to have pioneered wine production in Dorset in 12th century seems unimpeached plus in the 17th its then owner Sir Kenelm Digby invented the sparkling wine bottle!
French wines derive from a farmhouse holiday there when Julian was learning to drive up and down the farm road. The in-laws were with us again but we must have been living in Milton Malsor by then. The farm was close by Bergerac so those were whites we drank there and always buy on sight back home. On the way down we'd overnighted at Vouvray and enjoyed their white wines too but whenever searching back home they were always demi-sec. So on the way back last year from John and Jenny Unwin at Feuillade, our longstanding publishers, we made the deliberate detour with another overnight stop and made a visit to La Cave des Producteurs de Vouvray and without hesitation selected Vobridius; not too dry but certainly not demi-sec. But once again it has been Mathew's family that has consistently accorded prominence to Ackerman's Vaults [always sparkling] in Saumur, further west along the Loire, where they regularly went camping and we almost always shared a few days with them - not camping but hoteling! [In the picture below, right, we've got 0% rosé sparkling for Avril!] There's surely much more to say but to round off for France let's stray for a moment away from whites to Armagnac - always Avril's preference although she's long since given up imbibing. [That just triggered a reprise for me after a salad luncheon - with digestive biscuit, black coffee and Easter Egg]. I think we started in on Armagnac as we took our first ever [only one more - in Norway looking for fjords] family coach tour of Les Chateaux de la Loire and as a bonus we returned sans charabanc on the final leg home aboard the QE2; it arrived late into Cherbourg and we slept whilst it crossed to Southampton! [White Wines, including Scottish Silver Birch, will be continued another day ….. too much to tell!]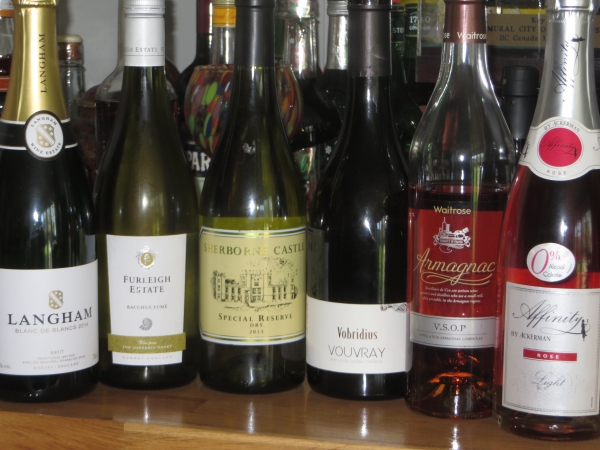 Can it be that looking back has more interest at the moment than forward? Can this truly be true? Avril's great niece Sarah and Jamie at Market Harborough have a baby arriving in less than a month as do Boris and Carrie just SW at Chequers. Wellingborough school term has just started online for the grandsons in The Manor House and, finally, there are leaks of an emergent exit strategy from purdah. Not just 84 days as originally planned for us [and immortalised here in these Blogs!] as 70+/ poor health cohorts; we it seems are to remain shielded until a vaccine appears and we get a shot in the arm! Nevertheless reminiscing seems good value and more interesting, possibly, than tv's diurnal tales of woe and deprivation.
It's a hell of a challenge for us in Scotland. We are deep in the process there of investing £200,000, enough to buy a house, in sharing the story of Prestonpans 275th Anniversary far and wide. But who will be listening? That includes £50,000 of our Restricted Funds for a Permanent Home for The Tapestries. So far we have made good strides advancing our website and Facebook services to 2500 which will stay with us 'for ever' but how much further should we/ can we go believing we will be getting a handsome return on that huge investment of £200,000. Will we be busy fools, as Herbert would ask, spending because the budget is already secure … or should we think deeper thoughts and restructure what might be realistically deliverable in 2021 … as the world gets into re-envisioned patterns with so much of everything to recover and to invent anew. Across that horizon, perhaps to 2022, what will those who we previously knew to be our target audiences be wishing to prioritise? What will their narrative about 'heritage' be? Can we cost effectively/ should we even, seek a place in their lives with the funds we still have in our locker; or should we hold those funds ready for when the value of our uniquely discerned and understood heritage reasserts its significance once again? Maybe we've got just the tonic everyone needs in English or Gaelic or howsoever … but maybe we're delusionaries, barmicides ….


Published Date: April 19th 2020