Boarding @ Home: Day 27/84: Australis in touching distance
Message from DownUnder. Always a delight to hear from Australia; so many happy years there at Main Beach. This time it wasn't real estate advertising from Queensland's Gold Coast but a message from Maggie Brady, she of Aussie Gothenburg initiatives especially in Aboriginie communities. Got my camera flashing on the cordyline australis we have potted on our patio and the painting of an imagined Queensland pandanus spiralis we have nursed in Milton since we left Main Beach in 2000.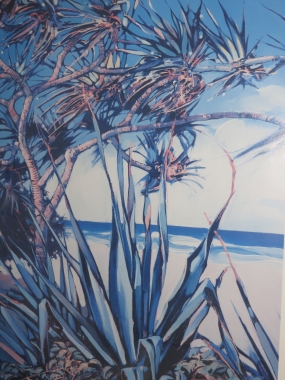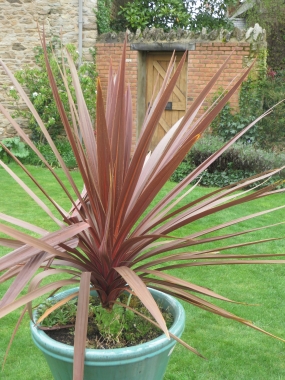 "Just a note to hope that you are all well and weathering this particularly nasty storm! We are comparatively well off in Australia and in fact Canberra is probably the safest place. It's also gorgeous autumn weather - after a torrid summer season of terrible bushfires and smoke - which means I can at least enjoy my walks on the hill behind my house. But I am chafing at the restrictions, particularly the travel restrictions. Our borders are closed. What is happening with the Goth in Prestonpans - has it had to close? Do you think it, and the other Goths, will survive?" Well Yes, Maggie, we're pretty confident we can survive in Prestonpans. We are a low overheads social enterprise …. but of course time will tell because reopening pubs like ours is way down the exit strategy agenda in any nation and so far we don't even have a whiff of any sequencing. The insane nationwide closure of garden centres continues as supermarkets increase their sales of that merchandise. And my Ghibli spare parts are still unable to move to Merlin in Brackley!
Herbert now has his own copy of Steven Poole's A Word for Every Day of the Year… so was able to respond in the spirit of the matter: "Having not long emerged from my consopiation, torpor, I have determined to send my thanks to you for Steven Poole...… It is a fascinating assemblage, but when I delved into it I was quickly overcome by nimiety, excess, and so I will observe the author's guidance and limit myself to digesting the word featured on the page for the day. Anything more, and I would decline into onomatomania, word memory loss. The next time I appear at a meeting of Dunbar Community Council I will pepper my contribution to the debate with some of the words Steven Poole has excavated from the past. No doubt this will ensure great respect at my sagacity (a first), or as is perhaps more likely, they will summon the men with the white coats". I warned him in response that there is presently a severe shortage of PPE white coats so he may escape such a fate.
Edgelording Arran on Clans generated a result! Some clarity emerged as Arran responded to my Briefing for Clan Chiefs. Evidently a matter of Museum Ethics that we give equal space to the British Army Regiments. That wont be so easy any more than it was for Captain Tom [99] of the Duke of Wellington Regiment [Tanks] in WWII. He captured the nation's wish to help well beyond our banging and clapping on Thursdays at 8pm Crowd Funding £20m plus for NHS charities by walking around his garden 100 times with his zimmer. The best today could muster as The Duke's Guard on Honour was the 1st Battalion, Yorkshire Regiment, from 2012 its successor- proud names removed! The reality of course is that the Clans live on today across the globe with recognised Chiefs whereas the old Regiments are reduced to de-named Battalions and their colours, decorations from VCs [9], Conspicuous Gallantry [1] downwards, and Officers' Mess silverware can only be found in museums. My serious point as a a marketor is that we can niche-engage Clan members to log on at the websites, come to Prestonpans and even enthuse eponymous street residents living today on the battlefield of 1745 in a much more meaningful way. Museum ethics …. are they irrefragable, undeniable, ipsedixitismatic, so obvious as to need no further explanation ….. or simply bafflegab, gobbledegook? Oidhche mhath mo ollamh! Good night Professor!

Published Date: April 18th 2020