Boarding @ Home: Day 23/84: Making sure we welcome The Clans that Came Out with The Prince at Prestonpans
Latest Clans Plans for September 20 - 275th Commemoration: We were committed to giving an update to Annika Wolf for our grant for VisitScotland's Clans & Historic Figures and I sent it yesterneve, yesterday evening. Must confess I acted as an ultracrepidarian, opining beyond my expertise. This key element of the 275th Celebrations is the Anniversary Weekend, September 19th/ 21st and where we'll be at by then is frankly incognoscible, unknown. Undaunted and indesient, unceasing, we are doing our digital best to conjure a doable alternative if needs dictate. Normality we do not expect but there might well be the opportunity for limited social interaction f2f in the Town Hall with the Alan Brecks as hosts. Such an occasion would be a relief but we are planning for no such outturn. We are planning for a wholly digital occasion. The Clans will not Turn Out as they did on September 21st 1745 but they will come live online; they will share their banners, tartans and stories and the Trust will share its own remembrances with video footage and more not least the 2018 Parade of The Clans. Better still the information panels we originally created for HomeComing 2009 will be updated and offered in Gaelic as well as English and after editorial input from the Clans. And we'll once again seek to engage in The Pans with residents on eponymous streets. Finally the Trust's website will develop a permanent locus for these particular Clans which will in due course have their own role related in the Living History Centre. But what of the British Army that day? … them too as best we can thus far with much scope for development in the years ahead. As of now we have just their regimental designations and the Britons Strike Home green banner from Gardiner's 13th Dragoons - shown both on the 2018 battlefield and as Founder Trustee Peter Mackenzie leads a battlefield walk in 2019. [Click to enlarge.]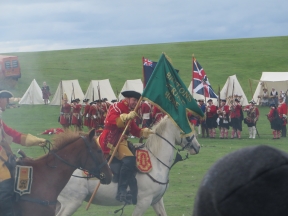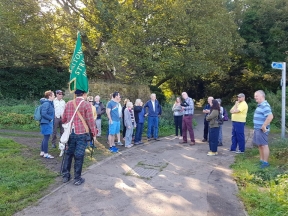 Yesterneve was busier still. Not only did Annika get her progress report but [I know I'm repeating this one but it's been a long wait!] Arran had at last delivered up for HES his Dunbar 1650 Report #8 dealing with the period after the 2019 re-enactment which I duly emailed that off along with our final claim for £4,000 towards the expenses [ - has to be pdf to avoid fraud]. Alas the Dunbar interpretation boards are not yet installed but by next September 3rd when that battle has its anniversary the trail will be well delineated. More than that however, watch out soon for the crucial output from the whole three year sequence with HES: the Scottish Battlefield Communities' Guide with the attendant opportunity that presents for the SBT to develop its role across the nation well beyond East Lothian.
The 2005 Gaelic Language Act - Implementation in East Lothian. When at end 2019 ELC tabled its first Plan with Bòrd na Gàidhlig our own modest efforts at the Battle Trust featured as perhaps the most significant. That realisation encouraged us not only to ask for and receive a wee £3,000 Grant for the 275th Anniversary but also to develop a partnership application with ELC for 2021/ 2022 that would engage much more deeply with the language. Sharon Saunders, Head of Communities at ELC was the contact and behold, that same yesterneve our joint application for £23,500 was submitted. Big day; three admin jobs achieved, all virtually! I'd better get back to my online Gaelic classes …. Time for coffee …. Ùine airson cofaidh!
New deal on placing orders for home deliveries! The Dolphintouns at The Manor House continue to be our kindly shoppers, normally taking down our requests on the dog and bone but the sunshine today tempted a Korean style 39th Parallel meeting at the garden gate; and lots of time to catch up on the grandsons and the fact they're back to virtual school on line later this week. Laura and Avril brought their own chairs and cuppas to the scene of their list exchange!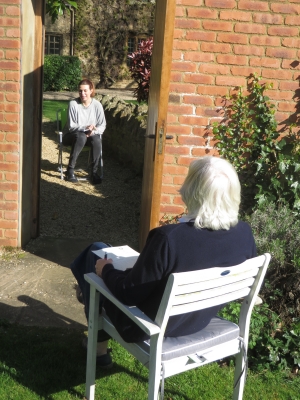 … and the binmen came today too - blue and green. We seem to be fortunate in South Northamptonshire DC, soon to be merged into West Northamptonshire; no problems collecting all colours and cheerfully too in today's sunshine. Thank you ….Tapadh-leibh.
Published Date: April 14th 2020