The Joke's on us, but we're Thinking Positive here in The Pans!
Never rains but it pours!

As many will know, 2017 is VisitScotland's Year of Heritage and more. They take a discrete focus each year with great success.

In 2017 they have given a consortium grant of £40,000 to four of the nation's great heritage institutions to support a marketing campaign under two slogans - Jacobite Trail and In the Steps of Bonnie Prince Charlie.

Brilliant idea you might think until you see what it amounts to. It's the Consortium's Campaign to visit their properties which have some associations with Jacobites. The majority of the Jacobite related properties and locations are not included. And as for Bonnie Prince Charlie neither of his two victories at Prestonpans or Falkirk get a look in. Neither do most of the steps he took from Rome in 1744 to Paris, St Nazaire, Eriskay .... and then back to Paris the Rome after his defeat at Culloden.

Our own omission has been aptly [and politely] described by Iain Gray MSP as "a joke!"

See the story here from East Lothian Courier

P.S. For the record, we've complained to the Advertising Standards Authority [# A17-379783]. It's misleading with mis-spoken alternative facts, even if it's not quite Fake News!

George Kerevan, MP for East Lothian, has also taken the issue up with the Consortium .. and we are all hopeful 'commonsense' will prevail by May!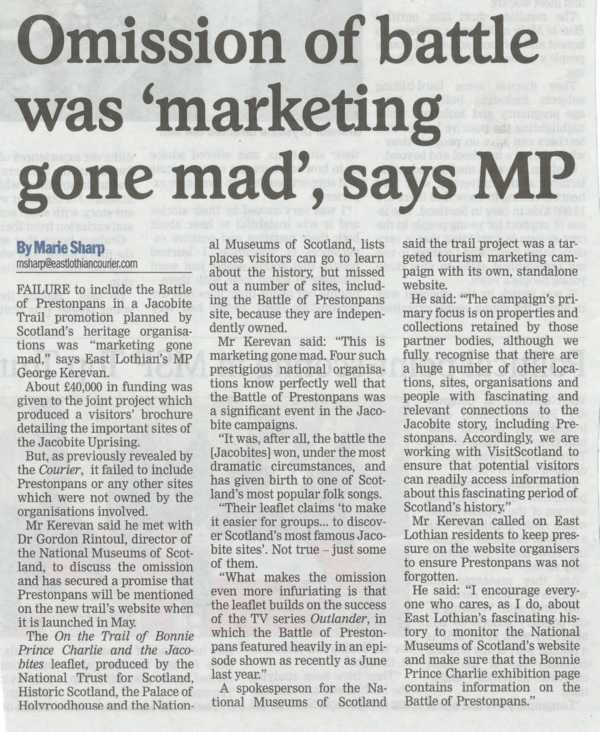 Well, that's the Bad News ... yet ...

On our own initiative from The Pans in 2017, our Prestonpans Tapestry which is one of the most comprehensive records of The Prince's Footsteps with approaching 500,000 visitors to date including Bayeux and St Nazaire, will be exhibited without anyone's invitation. It will show in Prestonpans and Edinburgh - and for the record, it has been invited once again to Brittany where it will show at the Festival Interceltique in Lorient [FIL 2017] from August 2nd for a month.

If you can't wait, you can download our APP that includes all its panels, GPS on the battle trail itself and the 1722 Waggonway, all free from Apple and Android @ prestonpans 1745

.... or go to take a look at its website: www.prestonpanstapestry.org

And the really good karma is ...

The 1745 Battle Trust in partnership with the Scottish Battlefields Trust and all properties connected with the Jacobites outwith major and minor battles, is setting in hand a comprehensive Jacobite Trail to be ready by September 2018. That's when the next major re-enactments take place in Prestonpans and our two Memorial Tables in the Field of Remembrance will be dedicated.

It will encompass 'The Jacobites' in Italy, France, Ireland, Scotland and England, a saga that began with the overthrow of James VII and II by the traitorous English Parliament backed by the Dutch invasion in 1688 right through to the death of 'Stuart King' Henry IX in Rome in 1807.

It's a very significant and fascinating period of Scottish history and, as the saying goes, if a tale's worth telling it's worth telling well.

Let's do just that .....
We'll certainly be making an application to VisitScotland for a Growth Fund Grant in support ....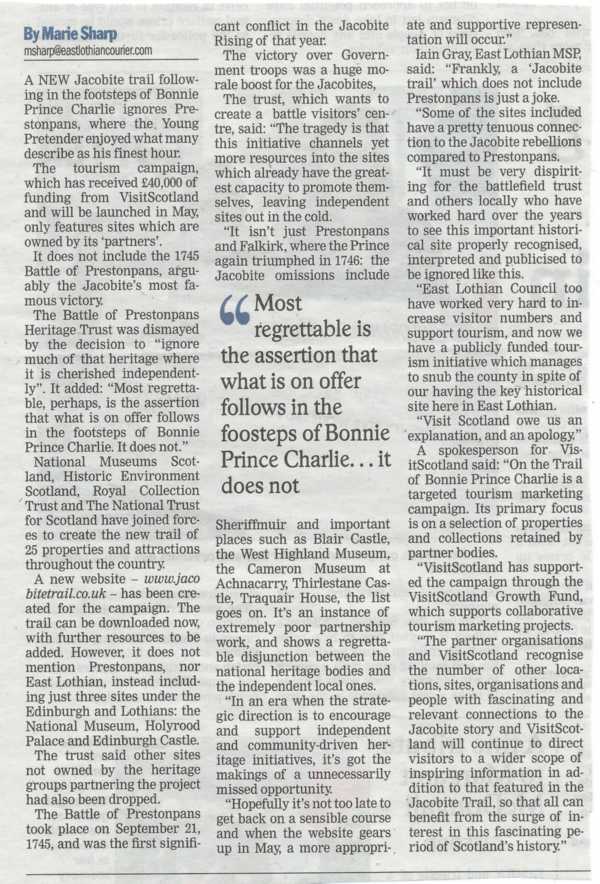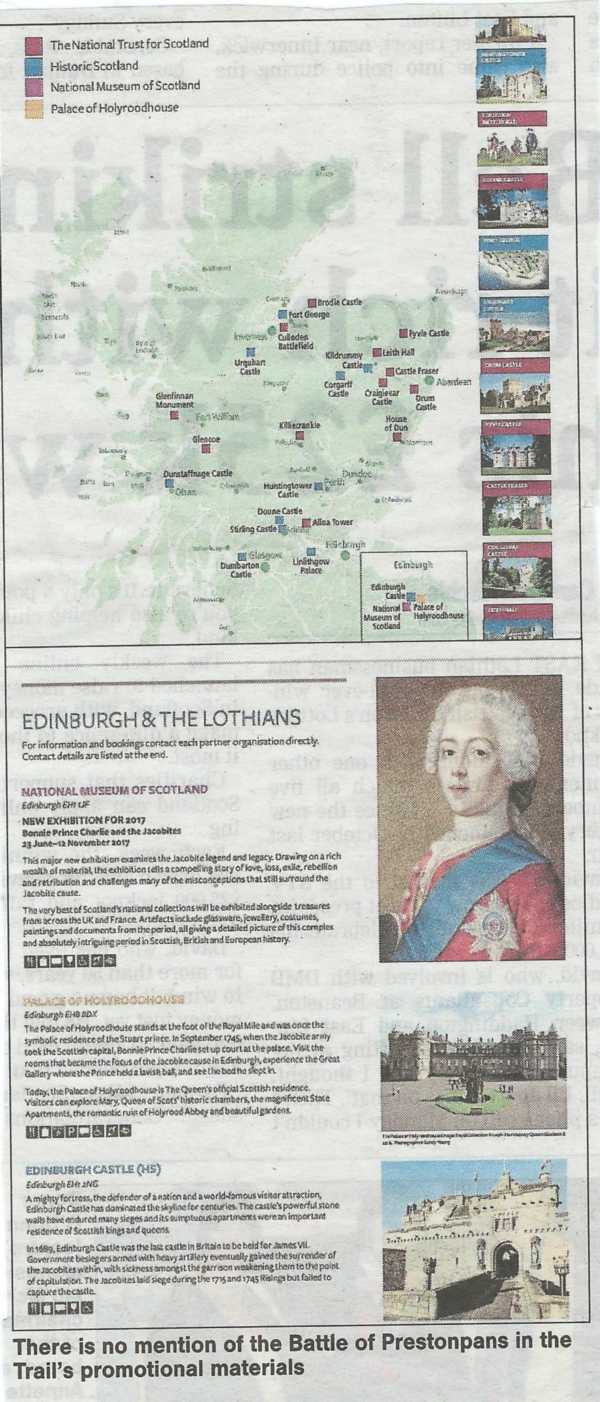 Published Date: February 15th 2017