The Cauldron Comes to the Boil
Malcolm Watson's Production of Roy Pugh's 2nd Witch Play - Saturday and Sunday October 28th and 29th at The Prestoungrange Gothenburg

The final arrangments are now in place for The Cauldron, the second outstanding play by Roy Pugh as Prestonpans remembers its 81 Witches so wrongly put to death but eventually Pardoned in 2004. At the time of the Pardon at the last Sitting of any Baronial Court in Scotland, the Arts Festival pledged to arrange a formal Remembrance Ceremony each year. This takes place at 2.45 pm on Sunday October 29th at The Witch Experience Murals in the South Gardens of The Prestoungrange Gothenburg where herbs will be laid. Everyone is invited to attend who so wishes.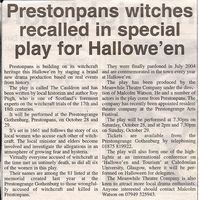 The Prestoungrange Arts Festival's new residents, The Meanwhile Theatre Company, are presenting The Crucible under local thespian Malcolm Watson's direction.

A trilogy of plays as 'The Prestonpans Witches Cycle' has been commissioned from leading East Lothian expert Roy Pugh and once again national media attention is focussing on our town and recalling the desparate times when so called witches were so fouly treated.

Tickets are available at The Gothenburg personally or by phone on 01875 819922 for performances at 7.30 pm on Saturday and Sunday October 28th and 29th, and for a 2 pm matinee on Sunday October 29th. Combination theatre suppers/lunches can also be booked.

4th performance in Glasgow at Caledonian University

A fourth and final performance of The Cauldron will be presented at Caledonian University's International Conference on Hallowe'en and Tourism, on October 31st for delegates.

click on all pages of the programme to enlarge






Published Date: October 20th 2006